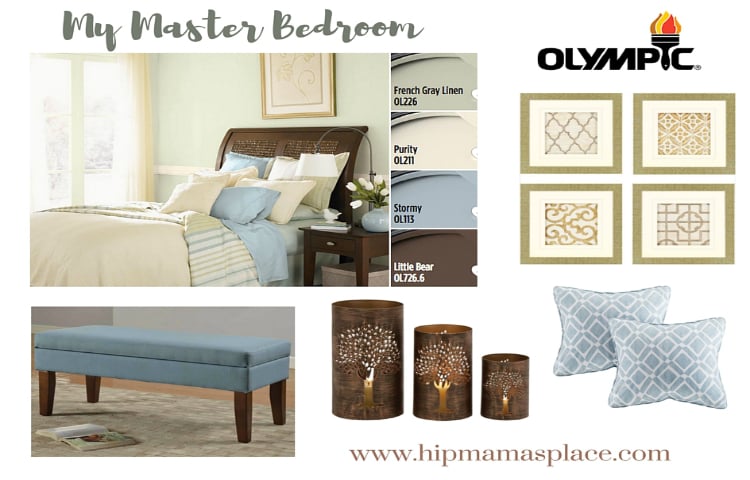 This post was sponsored by Olympic Paints. All views and opinions are mine.
Are you enjoying spring yet? Is your calendar full? Spring cleaning. Spring concert. Spring fling… our schedules are busy, but with spring, there's a sense of a renewal as well. With that, my husband and I recently updated our bedroom furniture which are dark, rustic brown colors. And now the next step to finishing this current project is a change in our wall colors.
We are opting to create a peaceful bedroom, and have decided for this great color set from Olympic Paints. This neutral color set is great to layer warm natural and non-competing colors in our furniture and décor.
Finding paint colors that inspire and coordinate
We chose these colors because we want to coordinate, without over-matching, and without making the room too dull by having only one color for everything. By choosing from the gray paint family, we knew that there truly are more than 50 shades of grey, and finding something that is peaceful was our goal.
By selecting this color set, I could then move forward with matching the coordinating decor by looking at the mood board that I created while purchasing the updates for our bedroom. From pillows to wall decor, I have this set theme and can be inspired to find the peaceful scenery of a summer's morning on the beach, or go for the serenity that you find in the wilderness, just as spring is coming along. These colors can inspire imagination, as well as creating a peaceful place to slumber.
Creating Beauty in the Home
The Olympic brand is engineered to endure and create beauty in the home. By visiting the Olympic website you can not only see various color families, you can also upload and repaint your room online with their paint visualizer. The benefit here is that you can test and see what you think of the colors before you purchase.
For people who like to really see to believe (like my husband and I are), you can visit the Lowe's exclusive Olympic Paint Color Center to see the various color options, as well as what various finishes truly look like in person. Olympic Paints and Stains Color Center allows people to browse paints and stains in one place and are organized to make finding and comparing shades easier than ever.
Making it Easy for You to Find the Right Colors
Something to consider: At the Lowe's Paint Color Center, room brochures are arranged to allow shopping in three ways:
Color (through the chips);
Lifestyle (through the lifestyle brochures);
Project (room and project brochures)
From sample cans to just the color cards, you have plenty of options to help you find the colors that really inspire you in the room of your choice with the new Color Center. Olympic Paints and Stains is a brand you can trust. Choose the colors that inspire you in your project and know that your home's colors will look great and last for years to come.
You Might Also Like…