This post was sponsored by MyPigeonForge.com. All views and text are my own.
Planning a family vacation takes a lot of time and research. You have to plan where you will stay, what you will do, and decide if the kids will like it. But, when it comes to staying in Pigeon Forge, TN, I have done all the work for you.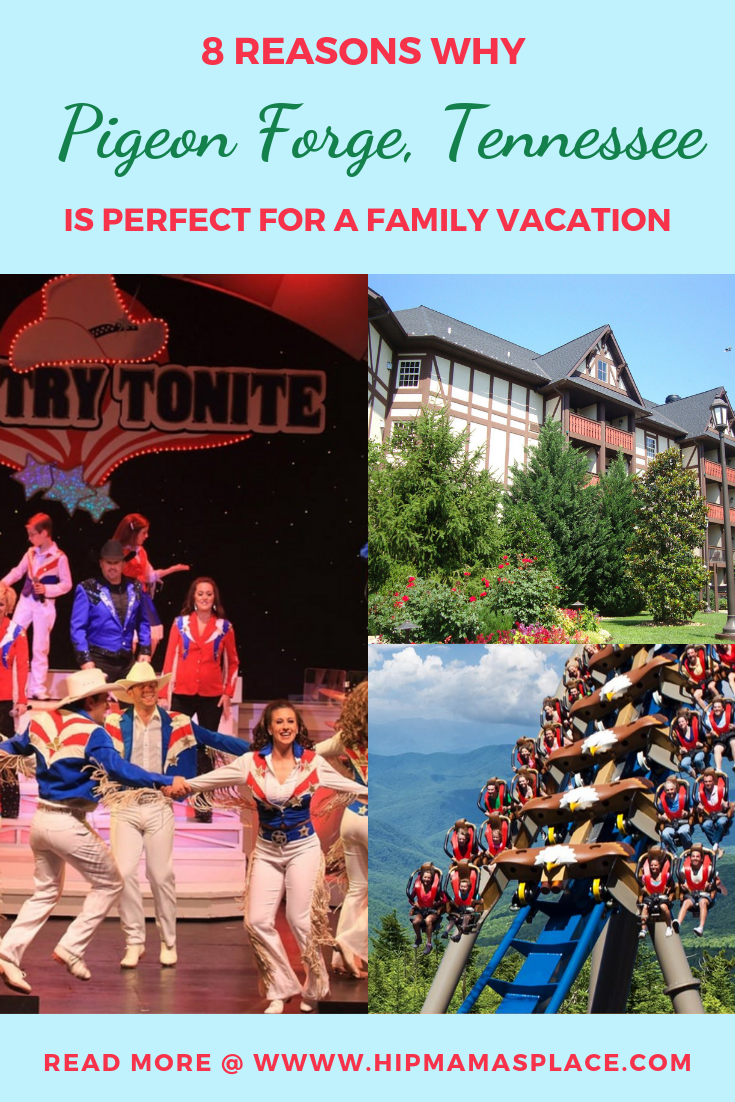 Pigeon Forge is a family vacation destination that is located at the foothills of the Great Smoky Mountains. There are, in fact, many vacation resorts in this area and choosing which to go for requires considering what you and your family enjoy most. Some offer family entertainment packages, some have outdoor facilities like pools, and some have a more relaxed woodland theme (Click here if this sounds like what you're looking for). But today we're going to be looking at Pigeon Forge and what it has to offer. It offers you a distinct variety of new and established entertainment and activities that will inspire unforgettable memories and stories for your family.
I visited Pigeon Forge, TN with my husband five years ago and we loved it! The minute we arrived at our hotel in the middle of Pigeon Forge, we immediately felt welcomed. The atmosphere is fun and yet, relaxing. We enjoyed the scenic beauty of the Great Smoky Mountains as well as the number of great activities during our stay. The next time we visit again, we are definitely bringing the kids. We were surprised at the number of family-friendly attractions and activities Pigeon Forge has to offer, which is why it's the perfect destination for a family vacation.



Here are 8 reasons why Pigeon Forge, TN is the perfect family vacation:
#1 Family-friendly Resorts and Cabins
When organizing your family vacation, the first thing you have to do is figure out where you are going to stay. Pigeon Forge is home to some of the best family friendly resorts and cabins in the states. Here are just a few of the best:
#2 Top Family Attractions
Of course, like a vacation destination there are top attractions that everyone wants to see. Pigeon Forge is no different and has some of the best family-friendly attractions to fill your day. Here are just a few of the best attractions you can see:
#3 Free Things to Do
Along with the top tourist attractions that can get pretty pricey, there are also free things to do in Pigeon Forge to make your vacation a memorable one. Take a look:
#4 It's full of rich history
During the 1700s, travelers coming from Carolina followed the Smoky Mountains along the river to what is now called Pigeon Forge. Pigeon Forge got its name from the large flocks of pigeons that would feed along the river banks on Beechnuts. Later, the iron forge was established and a mill was built. The old mill still stands as a National Historic site.
Other sites include Elkmont, Little Greenbrier, and the Wheatlands Plantation.
#5 Spring festivals are the best!
In the spring, you have more than just the ordinary. Pigeon Forge is home to some of the best spring festivals. Here are just a few you should check out:
#6 Theatre Entertainment
If you just want to go somewhere that entertains you for the night, the Pigeon Forge theatres is the place to be.
From music and dance to comedy and the mystery of magic, the dinner theaters are fun-filled performances that keep families entertained all night long.
#7 You can stay anyway you want
With so many great options and things to do, you can stay in Pigeon Forge any way you like.
Make it an outdoor adventure with no electronics and primitive camping. Or, spend your days sightseeing or shopping for something unique like hand-blown glass, handmade pottery and arts & crafts.




My husband and I went to some of the shops and my favorite was The Incredible Christmas Place that celebrates Christmas year-round. Here, you will find Christmas ornaments, nativity scenes, designer trees, collectible figurines, dollhouses, fudge and much more!
#8 The Smoky Mountains
It comes as a no-brainer, but one of the best reasons to visit Pigeon Forge, TN is to get a real life view of the miraculous, picturesque Smoky Mountains.
During spring, the Smoky Mountains begin to bloom with vibrant colors, sunshine, and spectacular views you won't want to miss.
When you visit Pigeon Forge, you get more than a vacation. You get memories that will last a lifetime.
So what do you think about Pigeon Forge, TN as a vacation destination? What do you want to do when you visit? Share with me in the comments below!
Some images in this post courtesy of: MyPigeonForge.com, Dollywood.com, CountryTonitePF.com