With all of that running around this time of year and adjusting to the back-to-school routine, don't we all deserve a homemade delicious treat?
Well,
here's a sweet after school treat for busy students, parents and teachers alike: DoubleTree by Hilton cookies!
In what has become DoubleTree by Hilton brand's signature greeting to delight guests at check-in for more than 25 years, DoubleTree is making its iconic chocolate chip cookie dough available online for the first time. Now you can bake DoubleTree by Hilton cookies in your own oven using the hotelier's famous cookie dough! You can purchase six pounds of the brand's signature frozen cookie dough, which makes 42 DoubleTree by Hilton cookies – enough to feed the whole class or your whole family (for dessert)!
We received a sample of the ready-to-eat 6 Signature DoubleTree Chocolate Chip Cookies by DoubleTree to try and I can say, these cookies are pretty damn good. They're not the dry, commercial-made type packaged cookies you usually get from the store shelves. They're soft, moist, chewy and the chocolate chips add a melt-in-your-mouth yummy-ness to the cookies overall! These cookies would be great for gift-giving too! And if you have a specific date you want to eat or serve the cookies, it's great to know that you can refrigerate the dough up to one week or froze it for up to three months before baking.
DoubleTree Bake At Home Cookie Dough retails for $45.75 and is available for purchase online at DoubleTreecookies.com.
*Hip Mama's Place Disclosure: "My reviews and opinions are 100% my own. DoublTree Cookies sent me a promotional product necessary to facilitate my review".


Don't miss out on the latest fab deals, cool freebies, fun giveaways, delicious recipes, DIY inspirations and more! Subscribe to the Hip Mama's Place email newsletter, Hip Mama's Place feed reader, or simply "Like" Hip Mama's Place on Facebook and/or follow Hip Mama's Place on Twitter!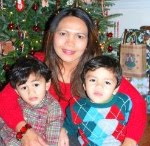 About the Author: Jocelyn Cañasa-Brown is a working mom of two boys and is a recognized blogger and mom influencer in the Washington, DC area. In her spare time, she designs and creates her own handmade jewelry, maintains her jewelry store on Etsy and is an active moms group organizer and leader both online and offline. Hip Mama's Place was nominated for Parents 2011 Best All-Around Mom Blog and named one of the Highest Rated Blogs and Sites on Nickelodeon ParentsConnect for the Washington, DC area. Follow Jocelyn on Twitter, Facebook and Pinterest.