Pumpkin Yogurt Bowl with Fruits, Nuts & Grains recipe.
Imagine for a moment that you are completely absorbed in the amazing sights, sounds and smells of the Fall season. You are on a quaint little farm out in the country surrounded by cool, crisp breezes and colorful farmland. Taking a stroll outside, you inhale the welcoming scents of a delicious harvest of fruits, vegetables and other tasty goodies that abound this beautiful time of year. The tantalizing scents of someone cooking in the farmhouse kitchen grabs your attention and suddenly you feel very hungry for a good, nutritious breakfast!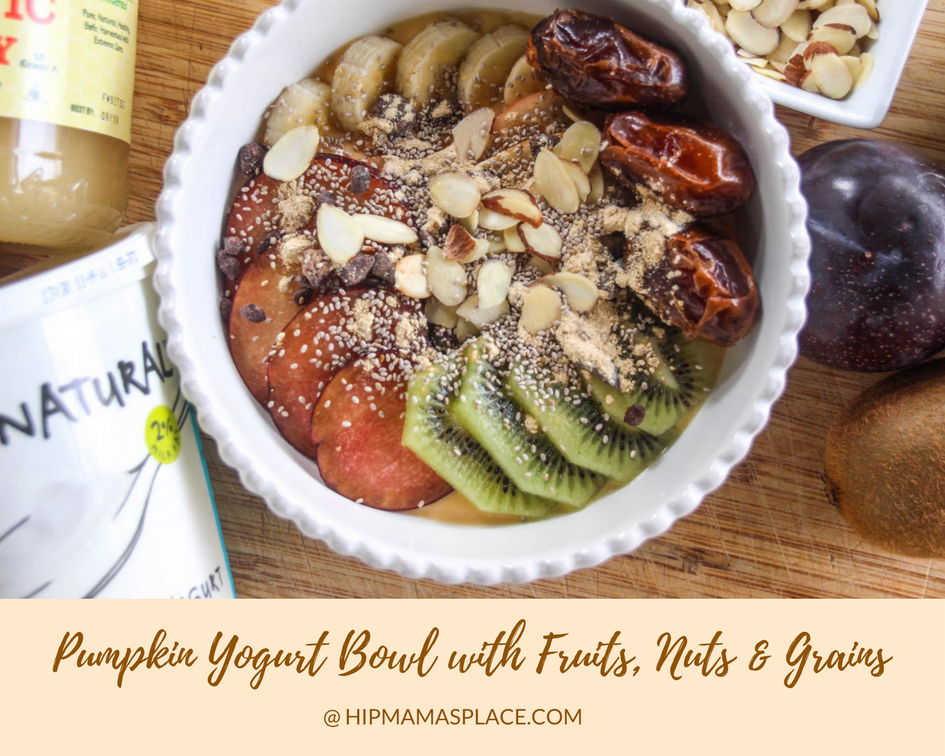 Today, I'm bringing you one of my favorite breakfast recipes: Pumpkin Yogurt Bowl with Fruit, Nuts & Grains.
But before I give you the recipe, I wanted to talk a little it about the main ingredients I used in this recipe and the many health benefits they offer.
Pumpkin: The Superfood
The importance of eating nutritious food at each meal should be a top priority for all of us, but I know we secretly wish our meals tasted delicious too. Thankfully, I am here to tell you they can! Did you know how much nutritional value and other added benefits are in some of the fresh foods and produce we eat everyday? Select seasonal fruits such as pumpkin, for example, can be very popular to enjoy in many recipes this time of year (like my pumpkin soup). But did you know what a powerhouse of nutrients it is for your body? Yes, pumpkin is incredibly good for you! This awesome superfood is a must have for so many reasons! Pumpkin has a variety of vitamins and minerals and other properties that help with boosting eyesight, assisting the immune system with vitamin C, aiding in weight loss, providing skin protection through antioxidants, and so much more. In short, pumpkin is simply fabulous for you and oh so tasty!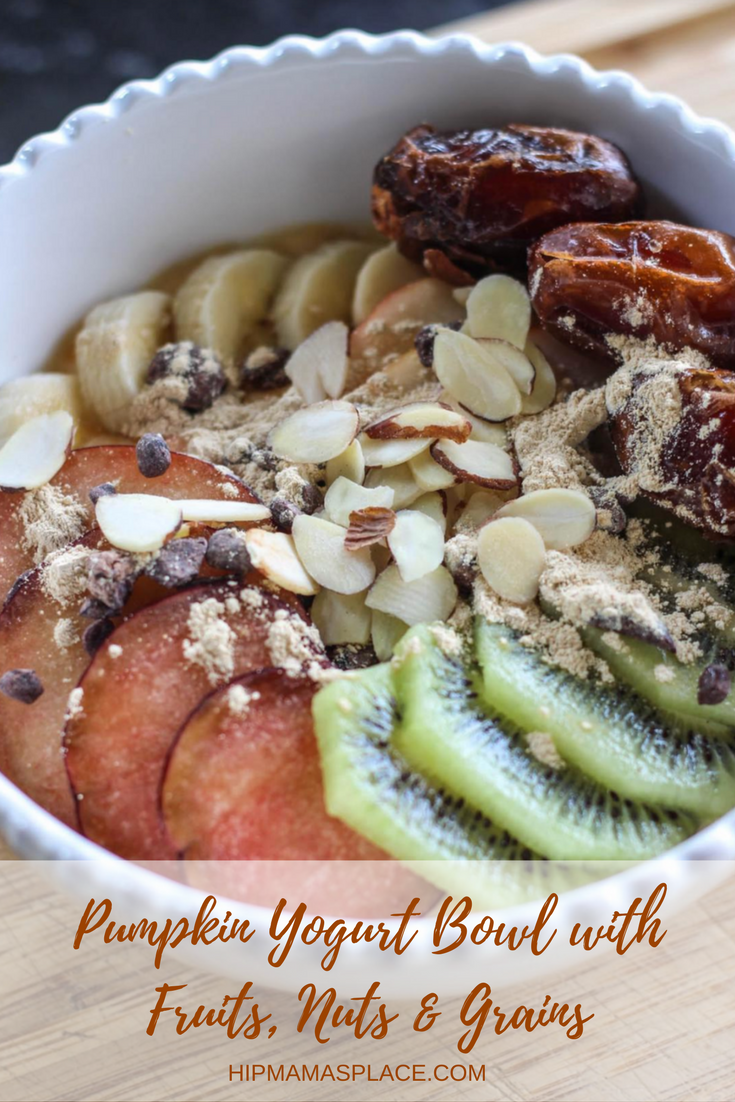 Yogurt: Protein, Calcium and Digestion
Many folks realize the valuable protein amounts found in yogurt
. Gaining that all important protein is helpful for maintaining muscle and fueling your body for the day. What some people don't realize is how many other fantastic elements exist within yogurt to give you a gold mine of nutritional value and healthy benefits. Yogurt provides at least seven vitamins or minerals including zinc, potassium, phosphorous, riboflavin, iodine, vitamin B12 and vitamin B5 (also known as pantothenic acid). Yogurt also contains good levels of calcium, and in some cases it will include vitamin D. This is due to vitamin D's ability to help the body absorb calcium better so some companies decide to add it into their yogurt products.
Yogurt, however, is probably most known for it's great digestive benefits. The active or live cultures found in multiple types of yogurt serve to be an intestinal bodyguard of sorts constantly crowding out the unwanted and often harmful microorganisms that get inside the digestive tract and can cause infections. Make sure to eat daily amounts of yogurt with live or active cultures as a potential preventative to those horrible tummy irritations and illnesses all of us like to avoid.
Organic Honey: Powerhouse of Benefits
There is a real joy to learning more about the things we eat and what we put into our bodies, because knowing more real facts and understanding the benefits of why you are what you eat can be very empowering. Let me help you discover this nugget of healthy truth today too – organic honey is a powerhouse of nutrients you can't afford to overlook. Organic honey is a natural sweetener used in a variety of meals we make, added to drinks, and as a condiment on top of foods we eat. This powerful energy source is one of those "gotta have it" foods that many athletes and fitness fans don't want to live without. Organic honey
is overloaded with vitamins and minerals, works well as an antibacterial and anti-fungal, and even aids in weight loss. Organic honey has proven to be a natural way to keep many body functions running effectively by simply adding a tablespoon or two to daily recipes, sipping in your drink for a refreshing energy boost, or even taking a spoonful by mouth to start your day off right or sooth a sore throat.
Enjoying the benefits of pumpkin, yogurt, or organic honey in your meals can greatly add up to be a winning combo for your everyday health needs. Give this healthy recipe below a try. This Pumpkin Yogurt Bowl with Fruit, Nuts & Grains is sure to be a new favorite and you'll feel empowered knowing how many healthy benefits it gives your body too!
[amd-yrecipe-recipe:25]