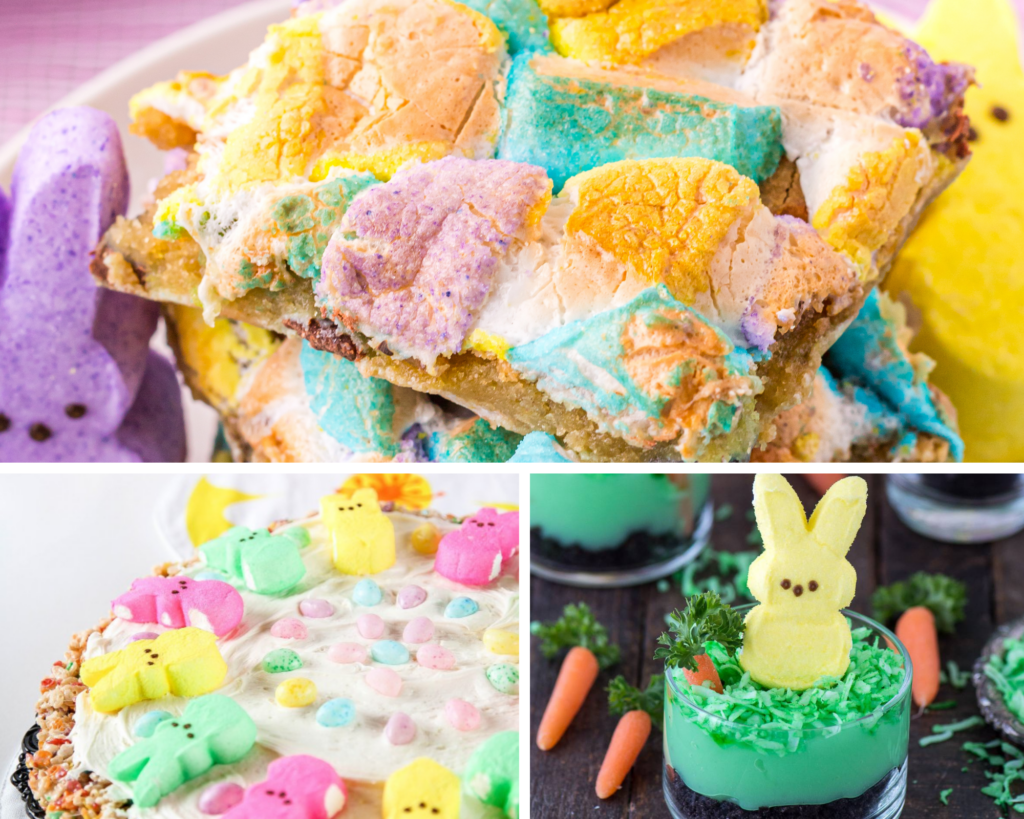 When it comes to Peeps
, you either love them or you don't. Well, even if you don't like them, I found some ideas to maybe make them go over a bit better in your home. And, if you love them, make a few of these fun spring and Easter inspired and delicious PEEPS treats!
1. Like cupcakes? Well, this idea of Peeps Easter Bunny Cupcakes makes eating the Peeps optional, while still going for the fun of spring-inspired cupcakes.
2. Many people like to serve a cake on Easter, even if they aren't super religious. If you want to keep the cake tradition but not have it be about Jesus, this Peeps Sunflower Cake absolutely takes the cake. The ring around the cake and the chocolate can be an easy fix to any cake, home-made or store bought, to make the Peeps go away AND create a beautiful centerpiece cake!
3. Who doesn't love a blondie? Not talking people here, I'm talking about very own yummy dessert recipe for Easter Peeps Blondies as a tasty snack. Perfect for a day that is rainy, or even on a sunshine in the backyard fun sort of day!
4. Do you have chocolate AND Peeps to consume? Make it into Peeps Chocolate Cake Bars by Wonky Wonderful!
5. Do you have a party to bring a dessert for? This recipe for Peeps Eclair Cake Cups is absolutely a winner!
6. Looking for a fun, easy treat? Use up those bunny Peeps with some store-bought pudding cups and you are set for snack time. Score!
7. S'more Bites are one of my secret loves – I don't make them often, but if I see them at a potluck, I do usually grab one as my dessert. Well, now you can make Peeps Treats combined with S'More Bites! Yum!
8. When I first saw this recipe, I knew that I had a favorite for one of my kids because it's brownies with Peeps in a Blanket! And yes, it was right and, of course, it uses Peeps.. how fun!
9. Now Peeps inside Brownies are definitely something I don't think would have been out there a decade ago, but now with pinterest and sites like mine you can be inspired to move away from some of the classic recipes for an easy upgrade on the classic brownies.
10. Pistachio Salad is one spring recipe used by grand mothers all around the US, now, you see it popping up in our generation too. Make it a truly Spring theme with Peeps!
11. Do your Peeps need an upgrade? These Spring Peeps treats use many of the classic "cookie" toppings to make them cute and fun for kids to do as well!
12. Make some cute and colorful cereal treats, rice krispies treats inspired with this fun recipe that adds some color to a classic!
13. Pizza anyone? Yep, you can make a Peeps pizza! It will be a hit with the younger crowd for sure!
14. I love these carrot patch dirt cups. They are definitely spring and fun, and yep, use up those Peeps!
15. If you love Oreos and Peeps together in a yummy dessert, then you'll want to make this Easter Dirt Cake recipe!
16. Seeking more cute ideas for maybe a spring break treat? This treat called Easter Peeps in a Nest are just adorable!
17. Monsters and Peeps? For some they always go together, but for the non-Peeps haters, these Monster Peeps cookies will be an absolute hit. And if Peeps alone aren't your fave, you can still give Peeps a try with these cookies!
18. Two words: Coconut Truffle. Yep, these Coconut Caramel truffles make absolute perfect Peeps nests. Yummy, filling and a definite favorite here!
When it comes to Spring treats, Peeps
are easily available, so why not give them an upgrade with one of these awesome, delicious Peeps treats? Tell me, which way to consume Peeps is your favorite?