Hello, friends. How was your weekend? I hope it was fantastic!
Wow, I can't believe how April went by so quick and here we are, already on the first day of May!
Speaking of the month of May, it's one of my favorite months of the year. We have a good size yard and we grow flowers so it's beautiful here around this time of year.
And of course, the biggest thing about the month of May: celebrating Mother's Day! I'm all about celebrating moms. Moms deserve to be pampered all year-round. But on Mother's Day, there's no excuse not to make a special 'extra' effort to show and tell mom (or the mother figure in your life) just how much you love, honor and appreciate her.
If you're still looking for gift ideas for mom, I got a nice list for you today! At the end of the post, there's an awesome giveaway with super fun, yummy goodies for your mom (or for yourself)! Read on…
For any mom at any age
1. Flowers
You can't go wrong with giving mom flowers on Mother's Day. If you do end up giving her flowers, choose beautifully-arranged, handmade bouquets.
2. Bake something sweet
If you can bake, why not indulge mom's sweet tooth on Mother's Day? Bake something that you know she'll enjoy. I love this list of Mother's Day dessert gifts for ideas on this.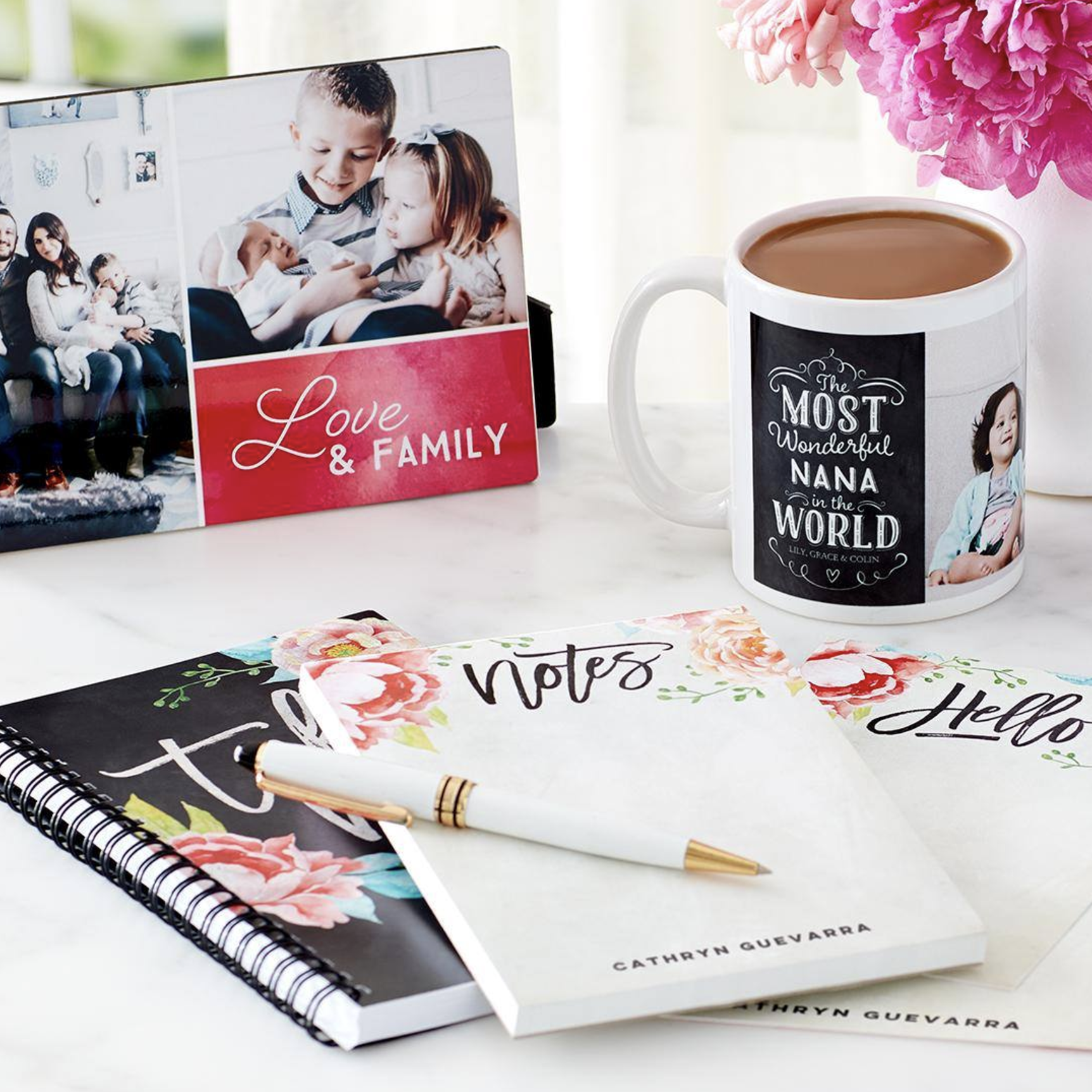 3. Personalized gifts
Get mom something she can keep and cherish for many years like a personalized easel art, canvas prints, mugs or even a personalized pillow. I love the lovely variety of personalized mom gifts from Tiny Prints and now through 05/02 only, you can get 50% off their photo gifts & home décor items!
Or, if you're feeling crafty, make her a set of painted wooden kitchen utensils in bright colors, or personalized cork coasters …
or even make natural skincare straight from your kitchen like my DIY Mandarin Sugar Scrub.
4. I Love You Mom Terry Bathrobe
Pamper mom with a luxuriously soft, stylish bathrobe. I love this embroidered terry bathrobe from Wayfair.com! It's made from thick, soft, 100% genuine Turkish cotton and has got a cute "I Love You, Mom" embroidered on it.
For the mom who loves to pamper herself:
5. Body and skincare products
Most women, especially moms, love a new skincare product. Whether it be an anti-aging serum or just a new moisturizer, mom is sure to put you at the top of her favorites list (Shhh! that doesn't exist). Mom will certainly love the award-winning body skin care line from Kayo Better Body Care. Designed with face grade active ingredients to protect, enhance and rejuvenate 100% of the skin, not just the 5% on the face, Kayo delivers exactly what the skin on the rest of the body needs and provides the resources needed to fortify your body the way you do your face. Simply put, Kayo is designed to make your whole body look amazing!
The line includes:
The Beautiful Body Creme – Renew and restore radiance and youth to mom's skin with this hydrating body crème, infused with high performance ingredients like Kayo's Omega Oil Blend, Hyaluronic Acid. CoQ10, and extracts of Acai, Noni, Mangosteen and Pomegranate.
The Beautiful Body Oil – Luxurious, lightweight and hydrating oil that also has the power of a serum to energize the skin with powerful anti-oxidants, including CoQ10, Vitamin E, and extracts of Rosemary, Rice Bran, and Barley.
Firming Serum – This special serum is designed to help provide firmer, tighter looking skin for an overall slimmer look and contains botanical Firming Complex, plus Hyaluronic Acid and Kayo's Omega Oil Blend help to deliver extreme hydration to improve skin elasticity.
Remodeling Serum – This multifunctional hydrating serum has Copper Peptides, Hyaluronic Acid and Kayo's Omega Oil Blend to improve skin appearance, plus it's also got Kayo's antioxidant rich extracts of Acai, Noni, Green Tea, Pomegranate, Gogi, and Mangosteen to help energize the skin and make it radiant after each use.
Vitamin Boost – As the name says it, this lightweight formula will help brighten, hydrate and rejuvenate the skin, and contains essential vitamins: Vitamin B3, B5, C, D3, E and K to help replenish stressed, dull skin.
6. Hair care products
You could give mom something she can really use everyday. If you don't know what to get her, try the gentle, eco-friendly and affordable hair care products and skin care sets by Live Clean. Each collection set has the shampoo, conditioner, body wash and hand soap. Live Clean products contain plant derived and biodegradable ingredients, are sulfate and paraben-free, and the packaging is recyclable. They have three distinct collections: The Fresh Water Collection, The Argan Oil Collection, and the Coconut Milk Collection and are all available at Target, Walmart, and Whole Foods.

7. Skincare supplements
Beauty-conscious moms will love the supplements from NeoCell. This brand offers a variety of natural supplement products that support the collagen systems in our bodies to help maintain vibrant youth, radiant beauty, and total body wellness. New Beauty magazine called Biotin Bursts the beauty supplement of 2016, and Better Nutrition gave Keratin Matrix the 2017 Hair Supplement of the Year prize. Marie Claire magazine also published an article on NeoCell's chewable Beauty Bursts candies. Personally, I love the Biotin Bursts, the Super Collagen Powder, Derma Matrix and Glow Matrix from NeoCell!
For the spa-loving or mindful mom:
8. Spa or massage
Motherhood is a beautiful thing but it can also get overwhelming, depleting, and exhausting. Gift her a gift certificate to a local massage or spa salon she loves. Or, if she loves getting her nails done, get her a gift certificate to her favorite nail salon.
9.

Aromatherapy Oil Diffuser
Does your mom use aromatherapy and essential oils to make her home or office smelling great? Then, get her an aromatherapy oil diffuser! I like this one I found on JossandMain.com. It uses modern ultrasonic technology and soothing aromatherapy and it's a got a lot of other features including an ionizer that disperses negative ions to lift one's mood and relieve stress! Really, this is my top favorite
10. A Beautiful Journal
Another great gift idea for mom is a journal that will help her de-stress and encourage her to spend time each day contemplating things that she's grateful for. I like this gratitude journal
or this Simplified Journal (which I personally use) designed for 100 days of journaling, prayers, letters to little ones, brain dumps, big thoughts and great ideas. An accompanying book
to inspire her would go great with the journal too. My personal picks on mindfulness and self-care books found on Amazon are listed below this post for more inspiration. 🙂
Pin This Post:
If you like this post, please share it by pinning on Pinterest. Thank you!
So what do you think of these Mother's Day gift ideas? Do you have a top favorite idea from this list? Share your thoughts with me in the comments!