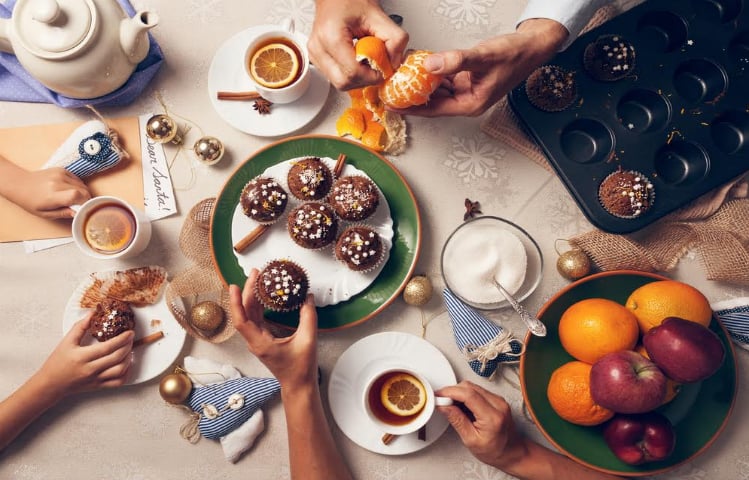 These days, Americans prefer to engage in events focused on more extreme beverages ― coffee or alcohol ― that tend to devolve into disarray relatively quickly. With so many mood-altering chemicals floating around in our drinks, it is nearly impossible to have a calm and civilized conversation with friends. I argue that it is time for a change ― I argue that it is time to reinstate the tea party.
On this side of the pond, tea parties are woefully misunderstood. Seen largely as a childhood fancy, tea parties have lost nearly all of their pomp and prestige, but with just minor preparation, any tea party can be a satisfying success.
Timely Tea
As long as you have some type of tea, you can have a tea party. However, if you are a meticulous host (as I am), you might be concerned about offering the appropriate verities of tea to your guests. Most Americans have no sense of tea etiquette, but that doesn't preclude you from following long-held traditions concerning what teas to serve when.
If you are hosting an early tea party, perhaps for breakfast, brunch, or early lunch, it is considerate to offer your guests teas that are as caffeinated as their normal morning beverage of choice. Black teas usually contain the most get-up-and-go, so stocking your table with Darjeeling, Assam, and English breakfast is best.
A late-afternoon tea party, sometimes called "low tea," can include any variety of tea, so it is respectful to offer a wide selection of pouches or loose leaf. Traditionally, the working classes enjoyed "builder's tea" at this time ― a strong pick-me-up laden with sugar ― but your guests will likely prefer to choose their own caffeinated or decaffeinated option.
Though the evening is more often devoted to another sort of beverage, it is possible to host a nighttime tea party. This late in the day, it is unwise to serve anything too energizing, which excludes any standard black or green tea. Instead, herbal verities (which are technically called tisanes) like chamomile, lemon balm, and valerian root are perfect for making your guests feel calm and comfortable.
Delectable Treats
Tea parties aren't just for liquid refreshment; tea time is actually a small meal in most tea-drinking countries, so snacks are absolutely mandatory. The only strict rule regarding the spread is that the food be light and simple. A standard three-tier tea party stand includes a layer of finger sandwiches, a layer of sweet cakes, and a layer of simple scones, but you can replace any of these categories with other foods, like crackers or cookies.
Traditional Invites
Nowadays, people most often receive a text or a notification over social media that some event is happening. While it is inarguably convenient to informally notify friends of your impending party using technological means, a traditional tea party will feel more significant and cultured when you send our traditional invitations. Your paper invites don't have to be incredibly ornate, but hand-writing the details of your event will instill a sense of propriety in your guests.
Elegant Tableware
The tea service ― which includes the teapot, sugar bowl, creamer, teacups, saucers, waste bowls, plates, and serving dishes ― should be the main decoration on your table, which means it should look good. However, if you don't have a Victorian-era English tea set, you don't need to fret. Gorgeous china is relatively easy to find at thrift stores and second-hand shops, and mixing and matching different patterns can make for a surprisingly attractive table.
Tasteful Decorations
Then again, if you don't care for a shopping trip, you can use whatever cups and plates you have and create a sophisticated ambiance using other table decor. A table cloth is an absolute must, but the style and design you choose is depended upon the time and theme of your party. Lace is an excellent addition to any tea party table, and most households have a few heirloom lace doilies lying around. Additionally, every place should have a folded napkin ― ideally made of fabric with a stylish ring ― and name card, which can provide some charm.
If you are feeling ambitious, you can decorate the rest of the room, as well. If your tea party marks a milestone occasion dresses, like a birthday or impending wedding, you should certainly spend time making the space special. Bouquets of flowers are beautiful on tables and side boards, and portraits of the guest of honor provide fodder for conversation. At the very least, you can hang bunting and streamers to give the room some festive flair.