This shop has been compensated by Collective Bias, Inc. and its advertiser. All opinions are mine alone. #PurinaONEVisibleDifferences #CollectiveBias
If you have been visiting the blog for a while, you have probably seen some of my posts about our lovable family pet cat, Oscar. Cats, in my opinion, are the cutest and the most laidback pets you could ever have and Oscar is definitely one of those pets you'll want to instantly hug the moment you meet him. He just has that irresistible charm and he likes to be around people too. When you hear him purr to tell you that he's happy and comfortable, it just melts your heart! 🙂
We love Oscar so much and one of the ways we show our love for him is to give him the proper care and nutrition he needs so that he can live a long, healthy life.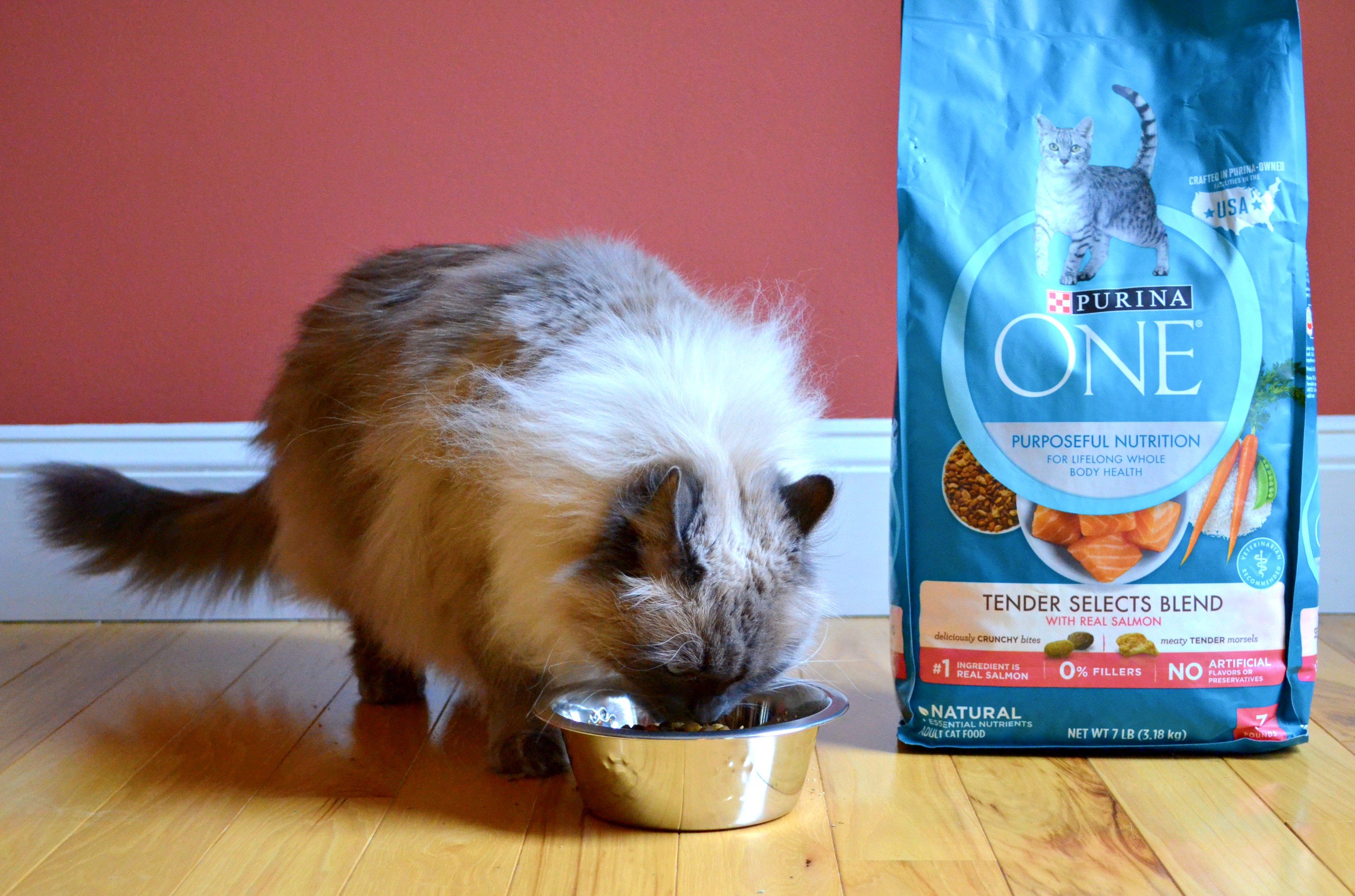 So I was thrilled when Purina ONE wanted to partner with us again because Oscar really loves this brand of cat food. Since we've switched to Purina ONE and did the Purina ONE® 28-Day Challenge last year, Oscar's overall health, mood and energy has been nothing but great!
Thanks to Purina ONE® dry cat food formulas, Oscar not only gets more excited around mealtimes, he's also shown visible differences in his health, appearance and mood and he seems more energized. What we love most about Purina ONE is that it offers high-quality, complete and balanced nutrition and is made with 0% fillers and no poultry by-product meal, artificial colors flavors or preservatives. The high quality sources of protein, omega-6 fatty acid, vitamins, minerals and other nutrients in their formulas help support Oscar's immune system and overall digestive, eye and oral health.
Here's what PURINA ONE® 28-DAY CHALLENGE aims for:
Day 1: More excitement around mealtime!
Starting with your cat's first full bowl of Purina ONE dry cat food, you could see more excitement around mealtime, thanks to great taste and real meat as the #1 ingredient* (*excluding UT Health Formula)
Day 7+: Vibrant Energy!
The purposeful nutrition in every bag of Purina ONE helps support healthy energy in cats. She may want to play more often and she may be happier overall. Your cat's vitality level may be enhanced by the high-quality, complete & balanced nutrition of Purina ONE, made with 0% fillers and 100% nutrition.
Day 14+: High digestibility!
Purina ONE dry formulas are highly digestible and promote high nutrient absorption, so more nutrition goes to work inside your cat
Day 21+: Sparkling eyes, healthy skin, and radiant coat!
Around the end of the third week, look for clear, alert eyes and a healthy skin and coat, supported by the omega-6 fatty acid, vitamins & minerals provided by Purina ONE
Day 24+: Strong immune system
Your cat's immune system is supported by a unique antioxidant blend of vitamins E & A and minerals zinc & selenium. By now, you may already see positive changes in her whole body health, and the high-quality nutrition of Purina ONE will support her immune system
Day 28+: Strong teeth, healthy gums, heart, and joints!
Crunchy kibble and calcium in every Purina ONE formula helps support strong, healthy teeth and gums. High quality sources of protein, including real meat as the #1 ingredient* helps support all of your cat's muscles, including a healthy heart (*excluding the UT health formulas)
Oscar really loves the Purina ONE® Tender Selects line of dry cat formula which I get at the pet care section at Walmart.
Speaking of Walmart, if you haven't tried their online quick reorder service, you should already do! This service saves me time to reorder essentials that my family needs, including Oscar's Purina ONE cat food.
Then, there's the convenience of free grocery pickup too! I just go online at Walmart.com, log in to my account and add items to my cart, then select the time I pick up my grocery at the nearest store that's most convenient for me, and voila, I have my groceries in no time at all!
DID YOU WANT TO TAKE THE PURINA ONE 28 DAY CHALLENGE FOR YOUR PET?
Purina ONE invites you to take your pet from "good' to "great"!
With Purina ONE, you could see visible differences in just 28 days – like strong teeth, vibrant energy, sparkling eyes, and a radiant coat. Make the switch today and save on Purina ONE when you register for the 28-Day Challenge at www.walmart.com/purinaone. What differences will you see? Visit your local Walmart to redeem your offer and realize your pet's potential*.
*Save on ONE (1) 2.8-lb. or larger bag of Purina ONE® SmartBlend® Dry Dog Food, any variety, or 2.8-lb. or larger bag of Purina ONE® Dry Cat Food, any variety. While supplies last.