Thanks to T-Mobile Team of Experts, I can now experience real customer service with real people! This post is sponsored by T-Mobile.
Anyone can agree that customer service is the most important aspect of any business. Positive customer service helps maintain a good reputation with consumers. When a business provides excellent customer service, they have a better chance of keeping their current customers as well as bringing in new ones. If you're a business owner, you know that word of mouth is one of the quickest ways to make or break a business. So focusing on ways to make your customers feel happy and satisfied must be placed high on your priority list.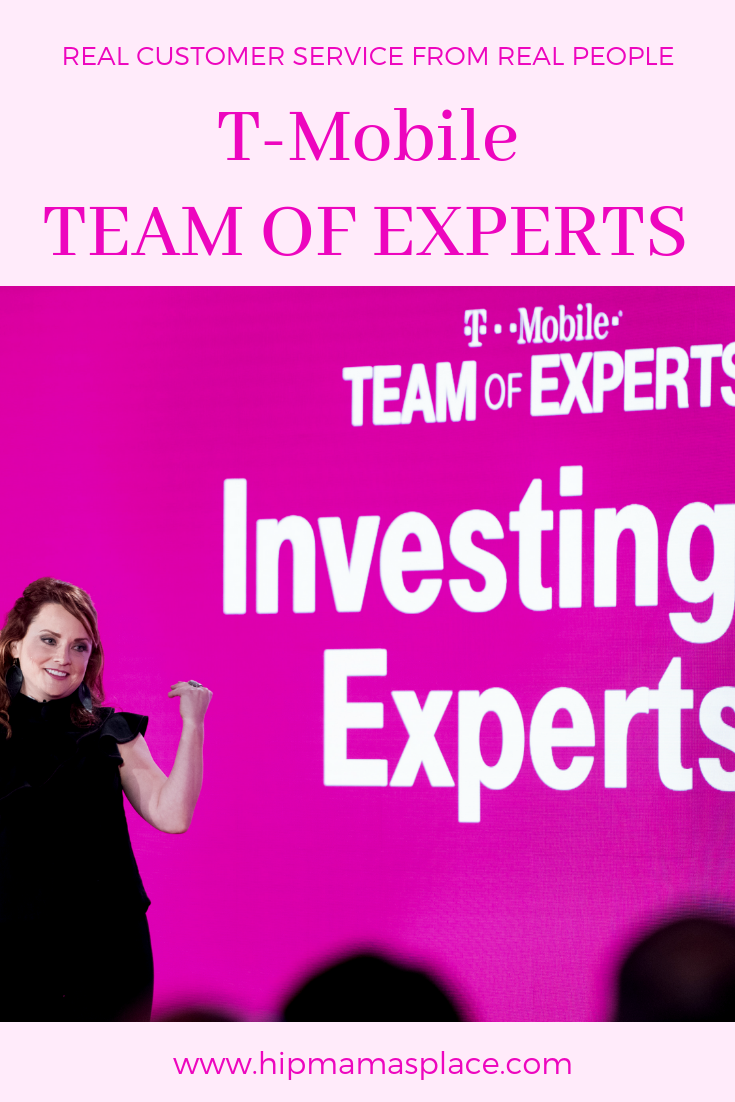 Many people are willing to pay a little bit more if the organization has good customer support. Customer service can be defined as the spine of a business; it truly helps hold everything else together.
Which leads me to the newly launched T-Mobile Team of Experts: a new and much better customer service experience from T-Mobile!
The latest Un-carrier move is turning the old, broken customer care model that has frustrated Americans for decades to the best customer service the wireless industry will ever have – through T-Mobile Team of Experts. T-Mobile understands that real customer service takes real people so with Team of Experts, when you call or message T-Mobile, you will get a live team dedicated to you and others in your city. You'll never have to deal with robot answers or automated phone menus again, or getting bounced around from department to department when all you want to do is talk to a real person on the other line to help you with your issues.
What is T-Mobile Team of Experts?
T-Mobile Team of Experts is a group of highly-trained customer service people in your city that have been assigned customer support for your needs. Available now 24/7 for T-Mobile postpaid customers for free, T-Mobile Team of Experts is also being rolled out to every business and public-sector customer.
Here is a short video that will tell you more about the new T-Mobile Team of Experts:
How and when do we use Team of Experts?
Customers can reach their team however they want, but the optimal way is to call 611 from your T-Mobile phone or message from the T-Mobile App or iMessage using Apple Business Chat. I love that we no longer have to wait around for business hours to speak to a real person and get the help we need. With T-Mobile Team of Experts, I can now easily reach a real customer service person 24 hours, 7 days a week. This is a huge change from your average company where you have to call them within specific business hours and still deal with an automated system.
Why I love T-Mobile Team of Experts
As a busy mom, I've been loving how T-Mobile Team of Experts help me free up some time to what I love and multi-task in a whole new way!
Thanks to T-Mobile's Team of Experts, I now have more time to do other important things like cook dinner or have more time to spend with the family, or call at 11pm when everyone is finally asleep, because I know I'll get an immediate response to any of my questions any time I want, on my own terms. Not to mention, I never have to waste so much time being on the phone anymore waiting for a real person to help me with my issues related to my T-Mobile account!
We love to travel and visit new places with our kids and as long as the weather permits, we're outside doing something fun!
One of our favorite things to do as a family is visiting our local park to feed the ducks and enjoy the lake on a boat. Having more quality time with the family is definitely one of the benefits using the T-Mobile Team of Experts! 🙂
I highly recommend T-Mobile Team of Experts for immediate customer service when you have a question or issue with your T-Mobile account. T-Mobile Team of Experts helps get you the solutions you need at a time that works best for your busy schedule. For more about Team of Experts, visit t-mobile.com/teamofexperts