The weather is finally getting warmer and there's no perfect way to welcome Spring than going outdoors and spend quality time with the family at one of the most popular amusement parks in Virginia: Kings Dominion! 🙂
My whole family was thrilled to have been invited to check out the Spring Bloom Festival at Kings Dominion last weekend. We already love visiting Kings Dominion in the summers, so this was a real treat for us! My husband Dan and I, along with our sons Jordan and Gabriel (our little Jaden was absent at this trip due to an appointment that day) and a few family friends went to experience some of the rides and activities that they have to offer this Spring… and we couldn't be any more satisfied!
From International Street through Planet Snoopy, you'll love visiting Kings Dominion this Spring as the park has been transformed into a kaleidoscope of vibrant colors. I enjoyed snapping photos of the area near the entrance with the vivid flowers and greens. I love the bushes formed after famous Snoopy & The Peanuts characters we just had to pose for a pic here! 😉
And although we were not able to see a live entertainment or concert during our visit, we had a ton of fun with these rides and activities:
*Riding to the top of the Eiffel Tower (one of Kings Dominion's signature attractions) to get a birds-eye view of the park and surrounding countryside
*Riding the Rebel Yell – it may not be the biggest, tallest or fastest ride at Kings Dominion, but certainly a ride with class that our family still enjoyed riding together!
*Shenandoah Lumber Company Ride – the kids loved this thrill ride so much they rode three times! I think it was the excitement of getting a little wet when the little log boat plunges to the middle and again, to the end of the ride. And the patient mama that I am, I didn't mind waiting outside the riding area and taking photos of my sweeties while they were on it! 🙂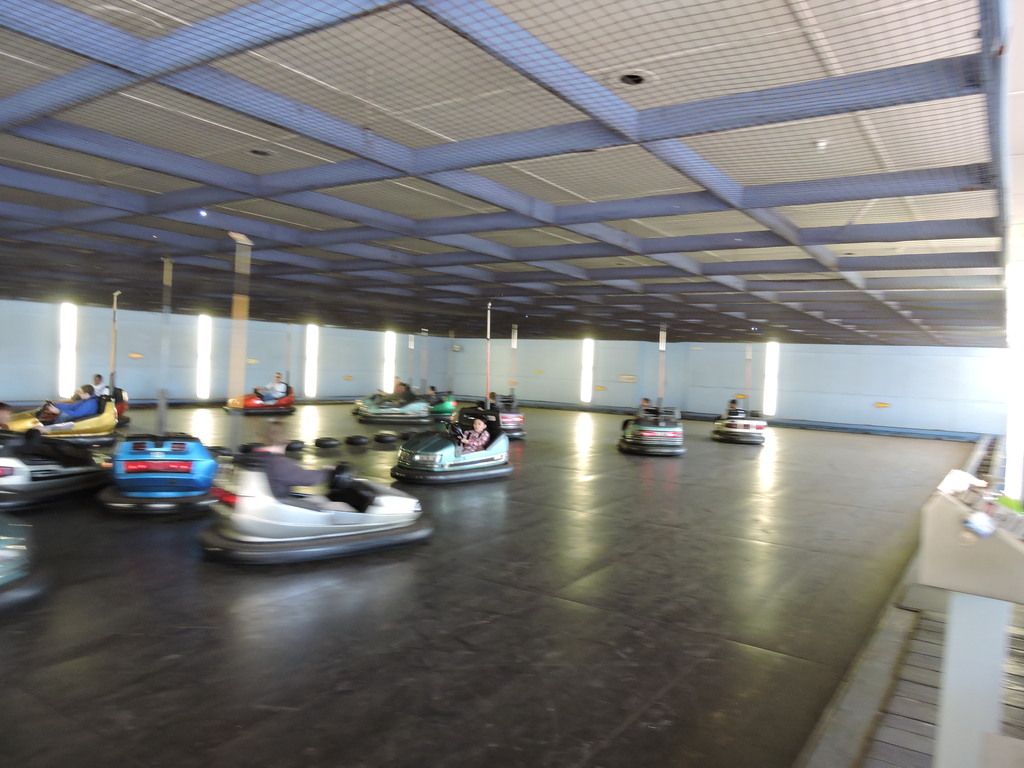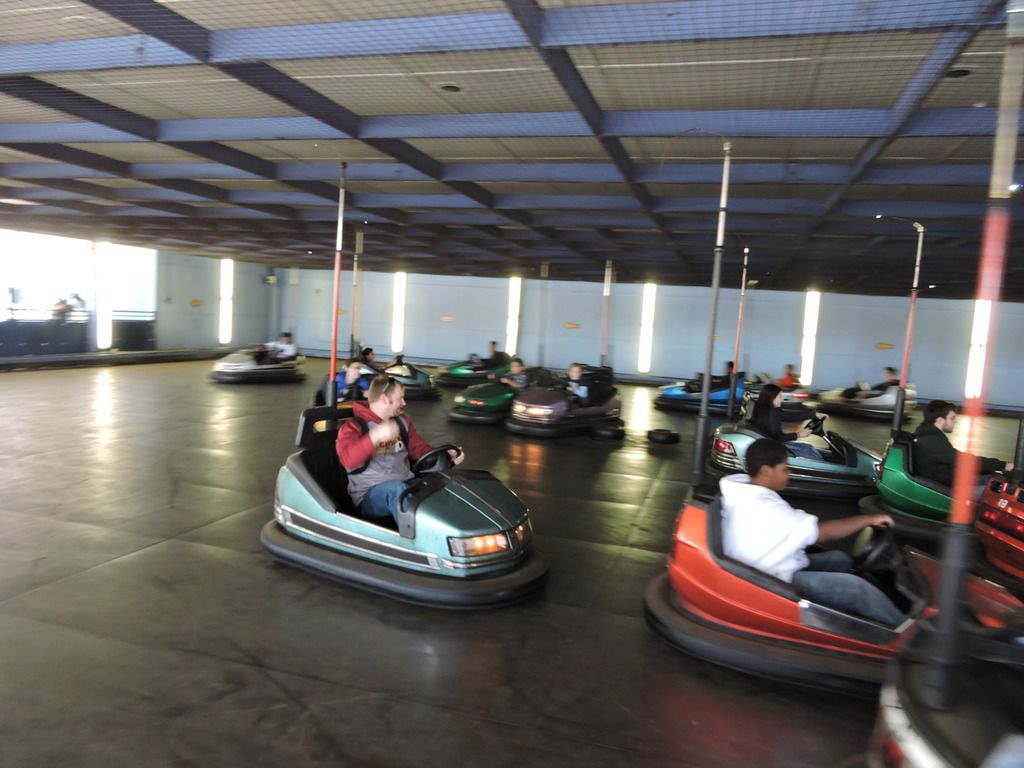 *Dodgem – If you like bumping into other people's cars and having fun doing it, then you'll love this ride! My boys loved this ride, including my honey! 🙂
*Blue Ridge Tollway – a leisurely drive through the forest on a classic, gas-powered antique car- perfect for my little boys that didn't want the fast, high rise thrill rides
*Dinosaurs: Giants of Patagonia 3D Movie – a fascinating movie that will take audiences young and old back in time to witness the largest living animals to have ever walked the earth come to life! We enjoyed this 3D movie immensely!
The boys also did a bit of Easter bunny crafting at the Children's Activities section. They really wanted to build the wooden cars from Lowe's Build & Grow, but the ladies who were watching the tables told us they ran out of supplies. We were a bit disappointed as this is supposed to be offered from 12 noon to 4pm but we were there not even close to 1pm and they were already out of supplies. If I have a bit of criticism, I would say, make sure that you have more than enough supplies if you offer an activity that's supposed to run for 4 hours.
We also got to check out Snoopy & The Peanuts Gang doing a little fun dance presentation with some teenage kids and I was able to snap a few photos of the boys watching and then dancing along with the gang. I enjoyed my nine year old really getting into his newest dance moves. 🙂
At one point in the middle of the tour, we stopped for Dippin' Dots (Gabriel's favorite "ice cream"!) and then later on, we got mini cinnamon buns at Cinnabons. The boys also played a bit of gun squirting game and we won a stuffed toy. 🙂
So other than the brief craft supplies disappointment, we still really enjoyed our visit. We didn't even realized we stayed in the park for 5.5 hours total!
So if you're planning to visit Virginia this Spring and/or summer, be sure to add Kings Dominion to your itinerary. The Spring Bloom features live entertainment, free family-friendly concerts, unique food offerings, and hands-on children's activities. Here are some special events coming up:
Spring Break – Take a break from the books and get ready for fun! Kings Dominion will be open April 6-10 for the most thrilling spring break in the region.
Debby Ryan & The Never Ending– Disney star Debby Ryan along with her band, The Never Ending will perform at Kings Dominion. Debby Ryan stars in the Disney Channel Original Series, "Jessie." The concert is free with park admission. Seating is limited and available on a first come, first served basis. Concert will be held at Kingswood Amphitheater on Saturday, April 11 at 6 p.m.
Choo Choo Soul – For the younger ones, Choo Choo Soul is a children's entertainment act featuring a hip-hop train conductor and her partner, a dancer and beatboxer dressed as a railroad engineer. The concert is free with park admission. Seating is limited and available on a first come, first served basis. Choo Choo Soul will perform at the Peanut's Showplace Theater on Sunday, April 19 at 1 p.m. and 4 p.m.
Spring Bloom: An International Culinary Celebration – Take a culinary trip around the world with Kings Dominion's Executive Chef! New food stations and restaurants will feature international food items from Switzerland, Italy, Jamaica, and many more! These delicious delicacies will be created using fresh spring ingredients from local Virginia farms.
Live Entertainment – Strap on your dancing shoes and enjoy toe-tapping entertainment from local Country and Bluegrass bands every weekend!
Happy Birthday KD! – Kings Dominion opened over the course of two years, with the official grand opening on May 3, 1975. Time to cut the cake and blow out the candles as the park officially turns 40 on May 3, 2015. The day will be filled with surprises, entertainment and more!
There is certainly something for everyone at Kings Dominion's Annual Spring Bloom Festival! Our teenage son Jordan is already talking about buying season passes because he and his friends enjoyed the visit so much! It's nice to know that the 2015 Season Passes at Kings Dominion are on sale now too! 🙂
For more information and for tickets, visit: www.kingsdominion.com
*Hip Mama's Place Disclosure: "This is a sponsored post written by me for Kings Dominion. I was provided complimentary tickets for me and my family to experience the park and compensated for my time and for facilitating my review. As always, all reviews and opinions are 100% my own".