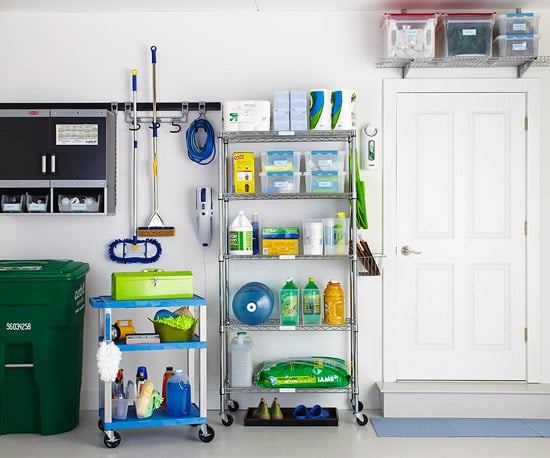 Spring is in the air and with it comes the sudden impulse to tackle home chores. I'm currently out of town for the week. But when I return home, I'll get back on my chore mode again and finish tackling all my tasks! 🙂
But while bright, spotless kitchens and fresh carpets inside the home get all the glory, the garage often remains untouched. The result? An assortment of junk, tools, and toys that clutter up the space, making it not only unsightly but potentially hazardous. A recent survey by The Lehigh Group, maker of Crawford organization and storage products, showed that the garage is the least organized area of the home by a wide margin, with 42 percent of Americans admitting to either having never cleaned their garage or to only cleaning it once a year or less. This leads to a build-up of clutter and also broken equipment.
However, the task of restoring your garage to its past glory need not be overwhelming or expensive. In fact, with just a few hours and the right tools, you can easily restore your garage's functionality and safety, and your own peace of mind. If you're looking to tackle garage cleaning this spring, the experts at The Lehigh Group offer the following steps for clearing the clutter:
Gut the Garage: For the best results, start with a clean slate by pulling every item out of the garage and onto the lawn or driveway. This will help you determine the amount of space available for storage. Before re-organizing, take an extra-wide broom to thoroughly sweep the floor. Then, rinse it out with a garden hose.
Divide the Debris: Separate items into categories such as auto supplies, lawn tools and holiday decorations. Identify the most-used items and separate the rest into three sections: keep, donate, or toss. After deciding what stays and what goes, divide the garage into zones for storing each category of items and identify the most appropriate storage method for each – e.g., boxes, bins, hooks, shelves, etc. Keep small, frequently-used items like gloves and gardening tools at the ready by storing them in a portable carrier.
I recently received the Crawford Safe-Mount Mobile Caddy
to try and I really like the versatility of this well-built storage carrier. It's portable and mountable and it features a sturdy plastic bin for storing everything from spray bottles to weed picks. It's got mesh pockets for odd-sized items such as gloves and cutters, and it also contains a wall mount bracket to keep sharp, hazardous or flammable items off the ground and out of harm's way. Now, I don't have to search for small items in the garage- I have the very handy and portable Crawford Safe-Mount Mobile Caddy to keep them all together! This product has actually helped inspire me and my husband to get more organized with our garage. 🙂
Go Vertical: Another great storage strategy is to use the vertical plane to keep the floor free of clutter. Garages provide ample wall and ceiling space that can easily be used for vertical storage through the use of hanging shelves, pegboards, rails and overhead systems. Important reminder: always remember to follow all manufacturer instructions regarding weight limits when using wall hooks, rails and shelving
Organize Sports Equipment: Establish a solid game plan for storing sports gear and the family's fleet of bikes. Crawford products help with various types of equipment such as grip clamps for bats, and complete sports organization systems that accommodate hockey sticks, bats, balls, helmets, pads and more. For bicycles, cost-effective screw-in hooks, flip-up bike hangers and pulleys all are ideal ways to keep bikes up off the ground and out of the way while they're not in use.
Secure Hazardous Items: Place toxic materials such as lawn chemicals and bug killers in high cabinets or lockable tool chests to keep out of the reach of children. Use well-supported shelves to store cleaning solutions and vehicle fluids. Never store gasoline or propane inside the garage – move these away to a safe and covered outdoor location. Several Crawford products, from basic hooks and tool holders to specialty items are designed to keep garage and workshop spaces clean, orderly and safe. Most Crawford products are easily found at hardware stores across the country. For more information, visit www.crawfordorganization.com.
*WIN IT!
*CONTEST CLOSED* Crawford Organization wants to help you organize your garage by giving away one of the Crawford Safe-Mount Mobile Caddy to one lucky Hip Mama's Place reader! To enter this giveaway contest, just follow the Rafflecopter entry link below. This giveaway contest is open to U.S. addresses only and ends on 04/29/15 at 11:59 PM, EST. Good luck!
*Hip Mama's Place Disclosure: "This is a sponsored post written by me for The Lehigh Group. I received products for testing and for a giveaway. As always, all reviews and opinions expressed are 100% my own".
You Might Also Like…