I have since accepted the fact that I have a slightly oily skin, which means I get breakouts once in a while- without warning. They're not bad acne or anything, but if I don't watch what I eat or not being careful about stuff I use on my skin, I do get mild acne. So with that, I'm very conscious about eating foods that trigger acne and definitely no harsh soaps or greasy creams on my face!
I have heard about Proactiv products before and have seen their commercial on tv. So when Mom Central asked me to try the acne-fighting Proactiv 3-Step System, I immediately said "yes"!
One Interesting Acne Myth and Fact:
Acne Myth: Only teenagers get acne.
Acne Fact: What IS true is that 90% of teens get acne-but also about 50% of women and 25% of men get acne at some time during adulthood, sometimes for as long as 20 years.
Acne Tip: Genetics and hormones are the acne triggers in everyone. In adults, stress can have a profound effect on hormones which, in turn, can cause acne to flare up. Relaxing can really help!
Here's how the Proactiv 3-Step System works:
First Step: You cleanse your skin with the Renewing Cleanser which contains micro-crystal benzoyl peroxide. I love the feel of tiny exfoliating beads while I massage this cleanser on my face, then rinsing it off with warm water. The Renewing Cleanser is your prep to for the next step of the system so you have really clean skin — free from any dirt, excess oil and dead skin cells to help keep pores from clogging. Apply/use twice daily, morning and night.
Second Step: Refresh and treat your skin with the Revitalizing Toner – an alcohol-free toner which helps to remove impurities and excess oil. To use, apply a small amount (dime size) of the toner with cotton ball or pad. Then allow to dry. Do not rinse off. Unlike most skin toners, this one didn't feel tight on my skin and I didn't feel my skin is dehydrated after each use. What's more, it contains soothing botanical agents designed to gently balance my skin tone — which is one quality I look for in a skin toner! Apply/use twice daily, morning and night.
Third Step: Help repair your skin with the Repairing Treatment – a feather-light, oil-free and medicated lotion designed to help repair acne-damaged skin faster. It's safe enough to use twice daily, morning and night. To use, apply a small amount (pea size) with fingertips on any affected areas, then allow to dry. Do not rinse off.
Here's a very recent photo of me (taken at the Caesar's Palace in Las Vegas last week). This was after I used the Proactiv 3-Step System on my face for two straight weeks. I am still a bit oily on the t-zone, but definitely, my pores look smaller and the oiliness is not as much as before I used these products.
A huge bonus: Proactiv now offers the Proactiv 365 service where you can consult a doctor-trained Skin Care Advisor for valuable one-on-one guidance. Trained by Proactiv's founding dermatologists, Drs. Rodan and Fields, their Skin Care Advisors are ready to answer your questions via toll-free phone, email or online chat, 24/7/365. My sample kit included an access number to use for the Proactiv 365 program and I was able to chat with a skin care advisor online on the Proactiv website. It was really easy to use and I loved that I was able to get customized assistance from someone I felt was very knowledgeable about skin care and the right products to use for my own specific skin concerns.
With consistent use, I think that Proactiv's 3-Step System will help me prevent future breakouts and achieve better, clearer complexion!
Hip Mama's Place Disclosure: "I wrote this review while participating in a campaign by Mom Central Consulting on behalf of Proactiv and received product samples to facilitate my review and a promotional item to thank me for taking the time to participate."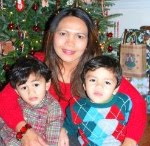 About the Author: Jocelyn Cañasa-Brown is a working mom of two boys and is a recognized blogger and mom influencer in the Washington, DC area. In her spare time, she designs and creates her own handmade jewelry, maintains her jewelry store on Artfire and is an active moms group organizer and leader both online and offline. Hip Mama's Place was nominated for Parents 2011 Best All-Around Mom Blog and named one of the Highest Rated Blogs and Sites on Nickelodeon ParentsConnect for the Washington, DC area. Follow Jocelyn on Twitter and/or Facebook.