On a tight budget or just don't want to spend money on a full home renovation? Read on for 10 home improvement projects you can do for under $100!
Your home is your own sanctuary away from the chaos of the world and should be a place where you can retreat to at the end of the day for some rest and relaxation. It is a place where memories are made, where delicious meals are cooked, and where you can enjoy spending time with friends and family.
Your home is the single most important investment you will make in your lifetime, and it is important that it is a where place you feel proud to be and it is designed in such a way that showcases your personal style. Whether you are on a tight budget or just do not want to spend money on a full renovation at this time, there are several low-cost home improvement projects you can do to dazzle it up a bit and make it look fantastic. Are you ready to roll up your sleeves and do some DIY projects? Read on to learn more about home improvement projects that can be completed during a free weekend and for less than $100.
1. Give the Rooms a Fresh Coat of Paint
Want to change the look and feel of a room quickly? Give it a fresh coat of paint. Fresh paint instantly makes a room come alive and gives it a crisp and clean vibe. Paint can be purchased for less than $35 a gallon at most home improvement stores, making it an inexpensive remodeling supply.
Depending on the size of the room you are painting, a gallon or two is all you need to do the project. While shopping for paint, be sure to also pick up a paint tray, brushes, painter's tape, and other supplies you do not have at home.
Need some help deciding on a color? Visit interior design websites or Pinterest where you can view room decor photos and get a feel for what you like. Don't be afraid to experiment and think outside of the box!

2. Change Out the Light Fixtures
Light fixtures are quick and easy to install, and in most cases you do not even need an electrician to do the work. Light fixtures are one of the last items that homeowners usually consider when doing home improvement work, but they have such an importance in your daily life.
Head over to your favorite home improvement or lighting store and pick out fixtures that will modernize your home and better fit the overall aesthetic you are after. If the room you are working on has several light fixtures, or you want to replace all of the fixtures in your home, purchase them over time as you can afford them and tuck them away until you have all the light fixtures you need to do the job. For those who are uncomfortable working around electricity, ask a friend or family member to assist.
3. Replace the Electrical Sockets and Switches
If you are looking for a cheap and easy project to complete, do the simple task of switching out your electrical socket plates and switches. Most home improvement and hardware stores sell an assortment of beige, brushed chrome, and white colored switches and plates, but you can find many more design options if you purchase them online. Get creative and find ones that are unusual and compliment your decor.



4. Reseal and Stain Your Deck
Just like giving a room a fresh coat of paint does wonders to make it come alive, so does resealing and staining your deck. Resealing and staining your deck is much cheaper than replacing it and the end result will make your summer BBQs and gatherings that much more special. While it is painfully obvious to tell when your deck needs to be stained, it can be difficult to tell when it needs to be resealed until your deck gets wet. If water soaks into your deck, then it is time to reseal it! The good news is that you can purchase an all-in-one sealer and stain for as low as $20.00 per can at most home improvement stores.
5. Install New Home Accessories
Home accessories are like the icing on the cake when it comes to changing the personality of a room. Think new towel racks and toilet paper holders, handles and hinges for cupboards, door knobs, vent registers, and so on. Depending on the brand and quality of each item you purchase to spice up the room you are improving, you can expect to spend between $10 to $100 to get the job done.
6. Do Some Basic Landscaping
Simple projects like mulching flowerbeds, planting trees, and adding fresh perennial flowers to your garden adds curb appeal and are inexpensive to complete. Bags of mulch can be purchased for less than $5.00 per bag and potted plants range in price from $1 to $50, depending on the type of plant or tree you purchase. Perennial plants and trees will last for many years to come.
While you are at it, consider adding some nice borders around your gardens and paving stones in high traffic areas. You can add new items to your yard each year and make it an outdoor masterpiece that evolves over time.



7. DIY Bookshelves and Wall Cubbies
Instead of spending hundreds of dollars on brand new wooden bookshelves to store your books and knick-knacks, make it a DIY project and purchase wood planks and elbow brackets to install yourself. Wood planks can be found at your local home improvement store or lumber yard and all you need to do is cut them to size and mount them.
When it comes to creating customized bookshelves and wall cubbies, the design ideas are limitless. Wooden shelves can be painted, stained, carved, and embellished any way you see fit. For an even more interesting layout, look for natural wood pieces with rugged edges or knotty pieces that many people do not want for most construction projects. Purchase scraps from your local lumber yard and save even more money.
8. Update Your Art
Art does not need to be expensive to be eye-catching and thought-provoking. If your art is outdated or you are just tired of looking at it, change it up and freshen the look of your room on a dime. Look for new pieces at discount stores, thrift shops, garage sales, or make your own with the help of your friends and family.
Instead of purchasing a finished piece of art, look for interesting frames that can be painted or stained and then create your own art using an assortment of supplies you may already have laying around your home. Tap into your inner Picasso and draw, paint, or collage art that showcases your unique style and display your personal masterpieces for visitors to your home to enjoy.
9. Add a Wallpaper Accent Wall
Wallpaper has made a comeback in a huge way, and it is no longer just for your grandma's house. If you are looking for an inexpensive way to add some serious personality to a room, consider putting up some wallpaper. Major strides have been made in the design of wallpaper, so you no longer have to spend hours fighting with messy adhesives and trying to get the paper to stick to the wall before the glue dries; wallpaper now comes with its own sticky surface!

Think of new-age wallpaper as like one giant sticker you just peel and stick. Wallpaper works best on smooth walls, so you may have some prep work to do if the wall you are looking to install the paper on is a textured surface. Whether you are into stripes, paisley patterns, or floral prints, you are sure to find a wallpaper design that will go with the look you are after.
10. Revamp Your Fireplace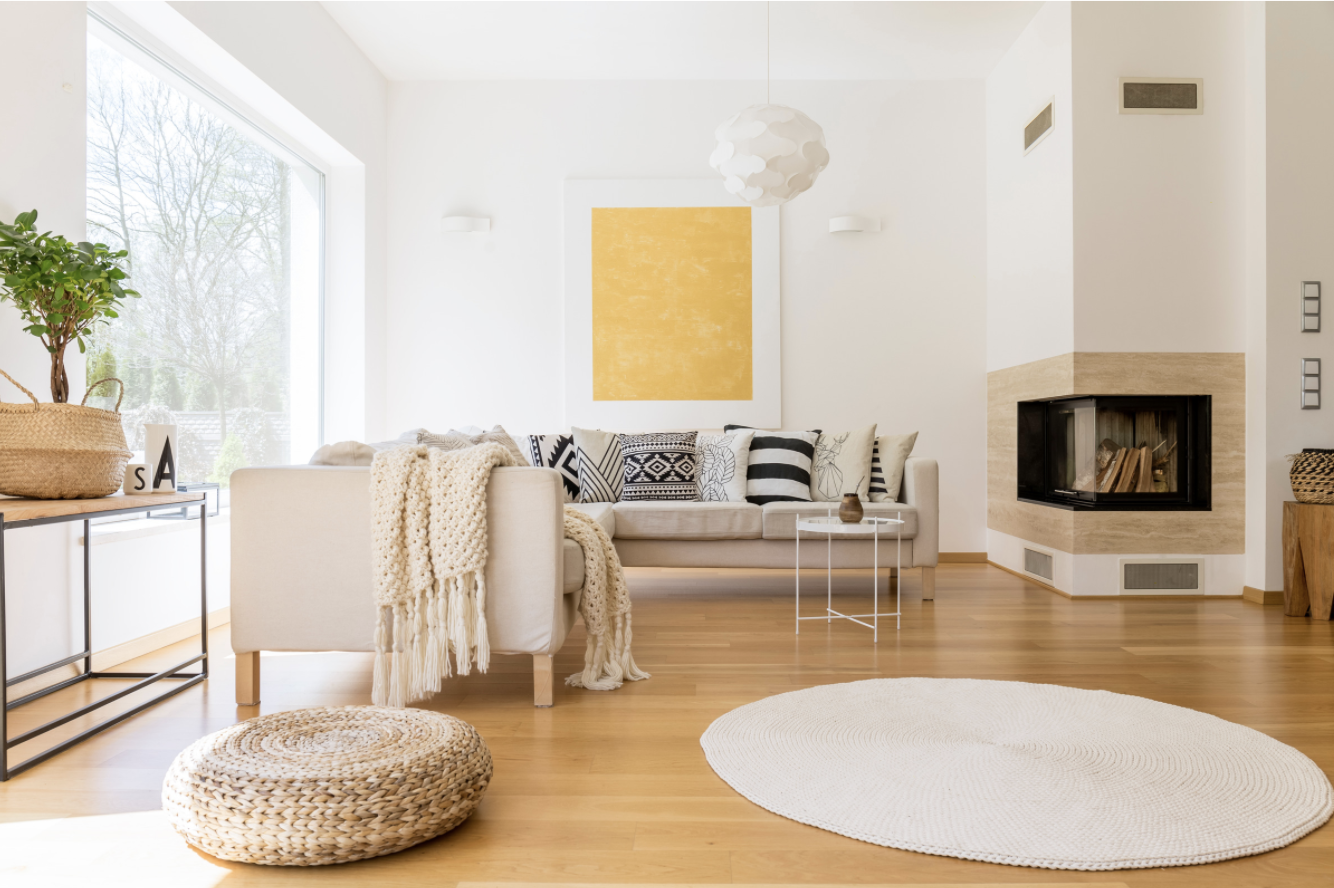 Does your fireplace look like it came out of an episode of The Brady Bunch? Rebuilding your fireplace can entail many hours worth of labor and a lot of money to do, but thankfully there are some simple ways you can change the way it looks without demolishing it and starting from scratch. For less than $100, you can paint the brick or stone around the fireplace, strip and stain the mantel above it, and update the tile of the outer hearth. Make the fireplace the focal point that it was meant to be.
Adding some personality to your home does not need to cost a fortune and can be a fun activity that your whole family can get involved in. By completing simple home improvement projects that cost less than $100 per project, you can transform your space into the home of your dreams over time!
LOVE THIS POST? PIN IT HERE!
You Might Also Like…