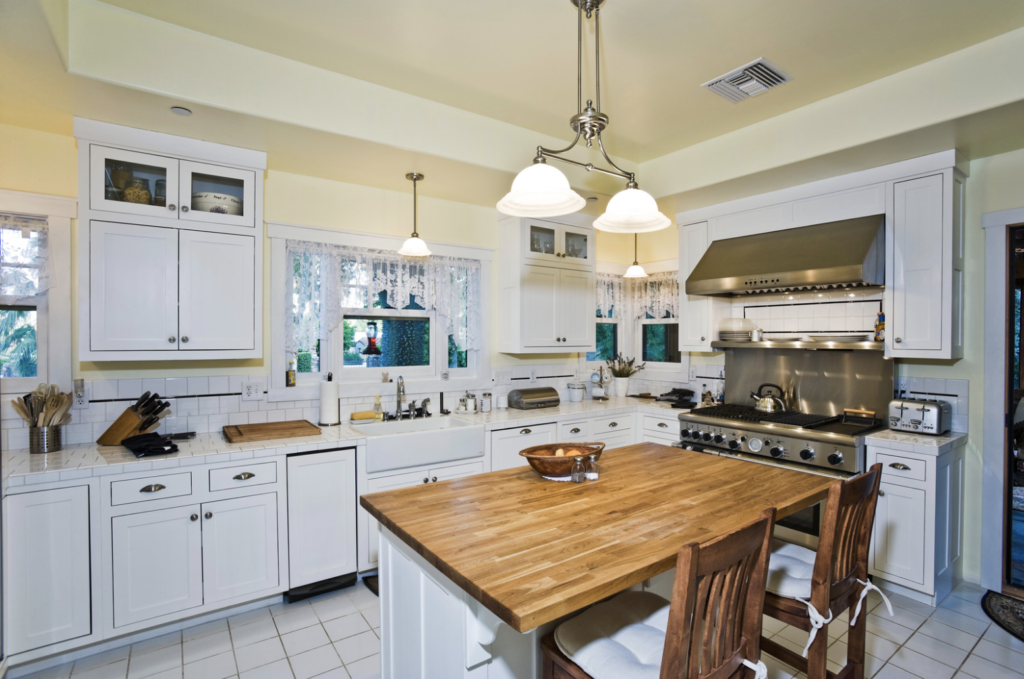 When guests walk into your home, they should immediately sense the impression of your family. One of the best ways to create this feeling is personalized décor, especially in the kitchen.
The kitchen sits at the heart of most homes. When people gather, they often do so over food, or drinks. The kitchen is my favorite room in our house. Although it's looking a little outdated at the minute, I'm currently trying to find ways to make it look a little more modern. I've been thinking about getting some french doors so I've been learning about how to make your french doors more secure. It seems pretty simple to do though! I've also been thinking about getting some new windows and cupboards, but these are only ideas at the minute. The main thing is that I have nice, personalized decorations around my home. To show your personality, you should choose décor items for your kitchen that reflect you. Perhaps more important than how your guests feel in your home, is how you feel. Obviously, you should feel at home in your own house! Mass-produced products sometimes make you feel like you just stepped into an Ikea instead of your own kitchen. By choosing items to personalize, you add your own feel to the house and begin creating a home that suits your personality type and family needs.
Personalized Kitchen Décor Options
Here are some fun personalized décor items to consider.
Photo Calendars
Photo calendars arrived as one of the first personalization options and have stuck around. It is also incredibly easy to create your very own calendar. People choose to display professional family photos, vacation photos, maybe even photos of their pets. This décor will change each month keeping you and guests interested. In addition, a family calendar is a must have for everyone to keep busy schedules straight! When you're adding one more thing to the calendar, it's nice to be able to see a photo of your choosing, instead of a generic mountain scene. Seeing your own photo brings back memories and creates a sense of joy.
Personalized Magnets
Gone are the days when you take free magnets offered by your local business to hold up your important papers on the fridge! Now you can take creative control of what goes on your fridge. Perhaps you want to see the smiling faces of your friends, furry or human. You may choose to print your favorite quotes, like some of the funny things your kids say during the year. Creating personalized magnets easily takes your fridge from a clutter zone to a beautiful display of your life. Many people are also choosing to have magnets printed as Save the Dates for weddings or other events. What a great reminder!
Personalized Stemless Wine Glasses
When you have friends coming over to wind down after a hard day at work, there's no better way to show off your style than personalized stemless wine glasses. You can customize them with your name, so you know which one is yours or with a funny phrase to make everyone laugh. These stylish etched glasses definitely make a statement and your friends will wonder where you got them. Additionally, you can customize them with event details, or important dates like your anniversary. They make a beautiful addition to any home and will become an excellent conversation starter. Also, by being unique, each person can easily keep track his or her drink. You could display them on a shelf or cabinet, so they add to the décor of your home.
Personalized Doormats
One of the newest trends in the design world is personalized doormats. This piece is one of the first pieces someone sees when they come to your home. It will set the tone for your whole home. A variety of sites offer unlimited options to have your doormat personalized. If you want to change it frequently, pick a seasonal design with a fun quote. If you prefer to keep one doormat for a longer period of time, you could put your name, or monogram with a simpler background. You could even go as far as creating a custom photo doormat that showcases a picture of your beloved furry friend to warn any potential guests that they could face getting licked as soon as they walk through the door. It's a good warning to have. Another charming idea is to put your address on the mat. Then your guests will know they've arrived at the right location!
Personalized Cutting Boards
Personalized cutting boards recently came onto the design scene and are making a huge impact. Once you design your board, the image is carved or burned into a wooden cutting board. These boards are completely functional, and you can choose to display them in your décor. If your home is more elegant, you might consider adding your name or family initial and an "established on" date. For a farmhouse feel, choose an appropriate font, and phrase such as "Farm to Table." Many sites also allow you to choose images to add to your board. For example, a pig, chicken, or lemons.
Personalized kitchen décor has been around for many years and will be here for longer. By creating something unique that you love, you ensure the piece will be a timeless addition to your home. Friends and family alike will enjoy visiting and should feel right at home!
This is a collaborative post. All views and text are my own.
You Might Also Like…