This post is sponsored by Olympic Paints. All opinions are 100% my own.
It's been a while since I've hosted a giveaway here on Hip Mama's Place. So I'm excited to tell you that I'm giving away a $50 Lowe's gift card to one of you!
I'll tell you more about this fun giveaway at the end of the post.
Our New Home Project Excitement for 2017!
You know, one of the things I was so excited about this year was when my husband and I decided to re-paint and re-design our master bedroom. We had a lot of fun with that project earlier this year and I'm so thrilled that for next year, we are getting our master bathroom redone too!
And just to give you a sneak peek of the look we're trying to achieve for this new master bathroom project, here's a mood board I created. Isn't this gorgeous???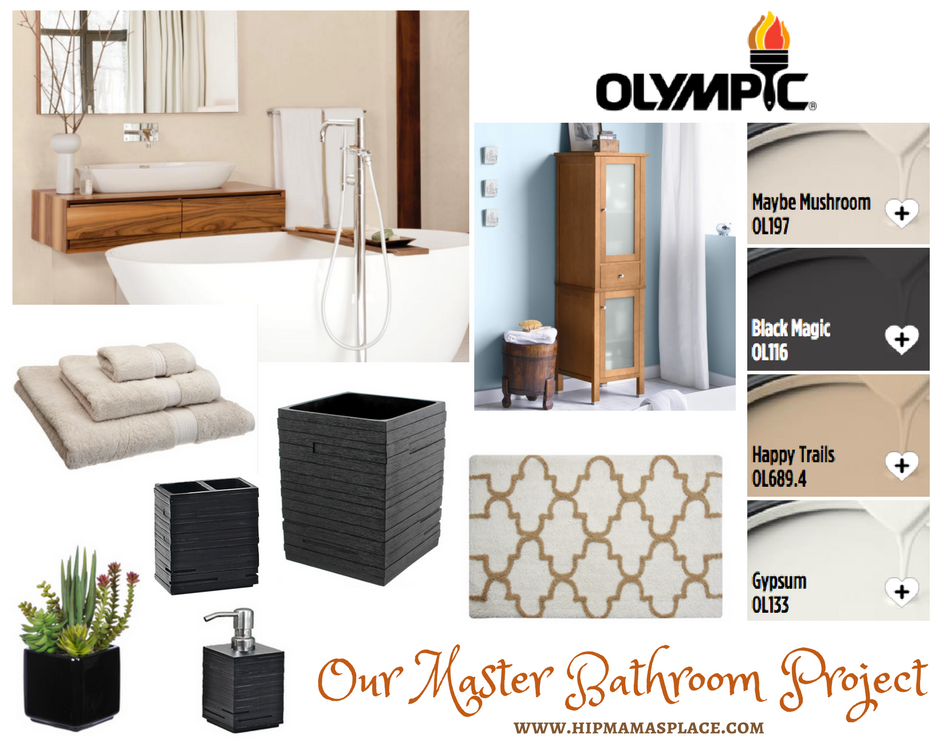 And let me tell you, if you want to see how a paint color would look before you head to Lowe's, the Olympic® Paint Visualizer tool is a great way to do that. You just upload a photo of your room using this tool and after a few clicks, voila! You can give your room a digital makeover and virtually bring it to life with the any Olympic Paint colors of your choice! You can easily mix and match walls, ceilings, trim and more to find the perfect color combination for your next project. And a major plus for me and my husband? We live like 15 minutes to a Lowe's store so naturally, it's the first place we go to for any home improvement project we do!
THE OLYMPIC PAINTS AND STAINS COLOR CENTER, EXCLUSIVELY AT LOWE'S
Thanks to the new Olympic Paints and Stains Color Center exclusively at Lowe's, choosing the right paint shade is really easy!
The Olympic Paints and Stains Color Center allows people to browse paints and stains in one place. The colors are organized to make finding and comparing shades easier than ever. With Olympic Paints and Stains, you can trust that your home's colors will look great and last for years to come.

Room brochures are arranged to allow shopping in 3 ways: Color (through the chips); Lifestyle (through the lifestyle brochures); Project (room and project brochures)
No matter what color you are looking for, the Olympic Paints and Stains Color Center makes it easy to find it.
It's really great too that you can get affordable paint samples to help you paint with confidence! Need inspirations for your next project? Check out Olympic Paint's Pinterest page.
Olympic also provides project inspiration on its Pinterest page and the website has a ton of great ideas and inspirations to explore many options for your next painting or staining project!
Now, back to the giveaway…
WIN IT!
One of you will win a $50 Lowe's gift card! Contest ends on 10/16/16 at 12MN, EST. Open to U.S. residents only.
To enter this fun giveaway, simply comment on this post then tweet the giveaway on Twitter using the hashtag #BringOnTheColor and link it to https://bit.ly/2dWqIGh. Also, mention Olympic Paint and/or @HipMamasPlace within your tweet.
Example tweets: (please write your own tweet if possible, based on what you've learned from this post, thanks!)
See your virtual room painted with Olympic Paint Visualizer tool! https://bit.ly/2dWqIGh #BringOnTheColor
I want to win a $50 Lowe's gift card @HipMamasPlace! https://bit.ly/2dWqIGh #BringOnTheColor
While you're on Twitter, don't forget to follow Hip Mama's Place there too! When you're done tweeting, come back and post your twitter link as well. Easy peasy!
Good luck! 🙂
You Might Also Like…