This post was sponsored by Olympic Paints. All opinions are mine.
Summers are a lot busier in our house than any other season of the year. Besides the fact that we have family and friends who like coming over more often around this time of year (thanks to our swimming pool!), my husband and I seem also more inspired take on home projects – which (I confess) I get so excited about! Yep. I don't know what it is about the summers, but this is how we roll! 🙂
Speaking of home projects, I'm so excited to share with you the latest one my husband and I decided to tackle this Spring. I love making updates to our home: redecorating the rooms, freshening up wall colors, adding a few new decorative accessories here and there…
I know I've talked about updating our master bedroom this year and yes, we did and we couldn't be any happier with the final results!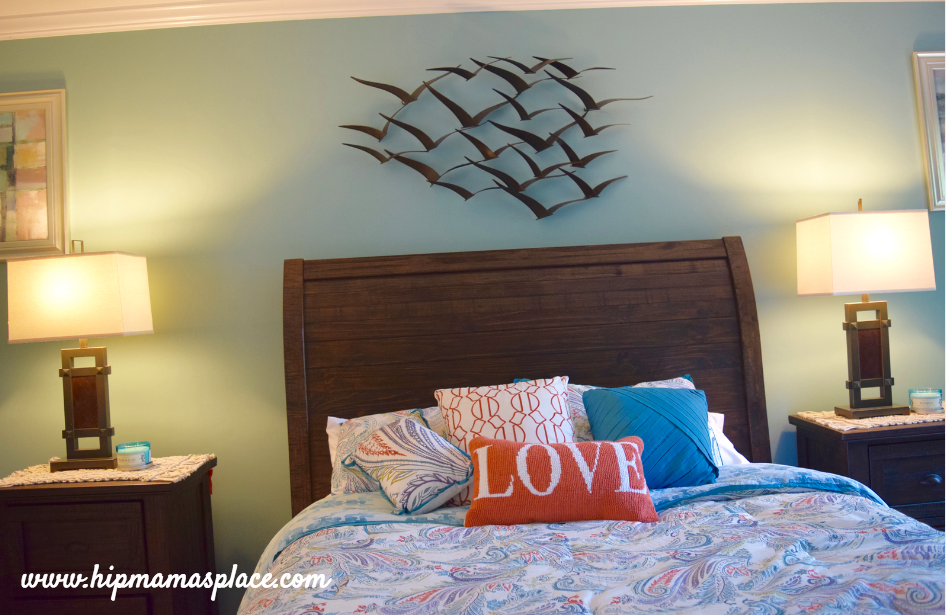 I'll tell you, when it comes to sprucing up the look and feel of a room, there's no better way to do it than with a fresh coat of paint!
I love the aqua/sea blue wall color in our master bedroom now. It goes perfectly with our rustic dark brown furniture and complements the blues, white, almond, and coral colors in the decor and bed sheets so well.
I wish I had a before photo of this room. But I can tell you, it's nowhere near the beauty, comfort and warmth this room now evokes. I am so proud of what we did to it!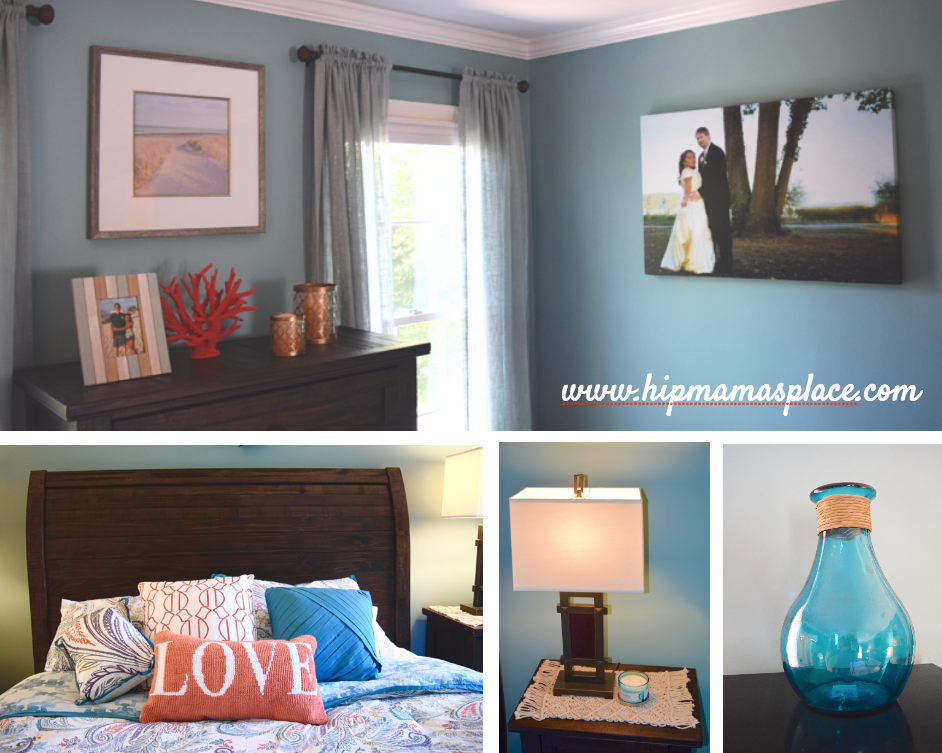 My husband and I wanted a simple, relaxed atmosphere so we opted for the Aqua Fiesta paint color by Olympic Paints. I love how everything turned out in this project! It really feels like we're vacationing somewhere by the ocean when we're in this room! 🙂



Choosing our paint color was easy!
I know one of the toughest things to do when updating a space in your home especially when you want to change your wall color is picking a new paint color!
Well, here's what my husband and I did: before we headed to Lowe's, we used the Olympic® Paint Visualizer tool — a really neat way to see your very own room digitally transformed with your paint color choice! This tool really helped us get a better idea of the new look we wanted for our bedroom and saved us time as far as picking our paint color samples at Lowe's. With this visualizer tool, you can find the color of your choice in the Olympic® Paints and Stains paint color palette, upload a photo of your room and then digitally paint your room!
We liked three variations of blue paint colors from Olympic Paints so we decided to get paint samples (which were very affordable) so we can try them on our wall. We then painted a small section of the wall with all three colors side by side and that really helped us to decide on the final color: Aqua Fiesta. The whole process of choosing the right color was easier than we thought!
This is not the first time we used Olympic Paints in our home projects. We've loved and trusted this brand because we have always achieved quality results in the past and we know that they have a reputation for innovation and durability at an affordable price! Their paints and stains are engineered to endure and they are committed to empower you to create enduring beauty in your home.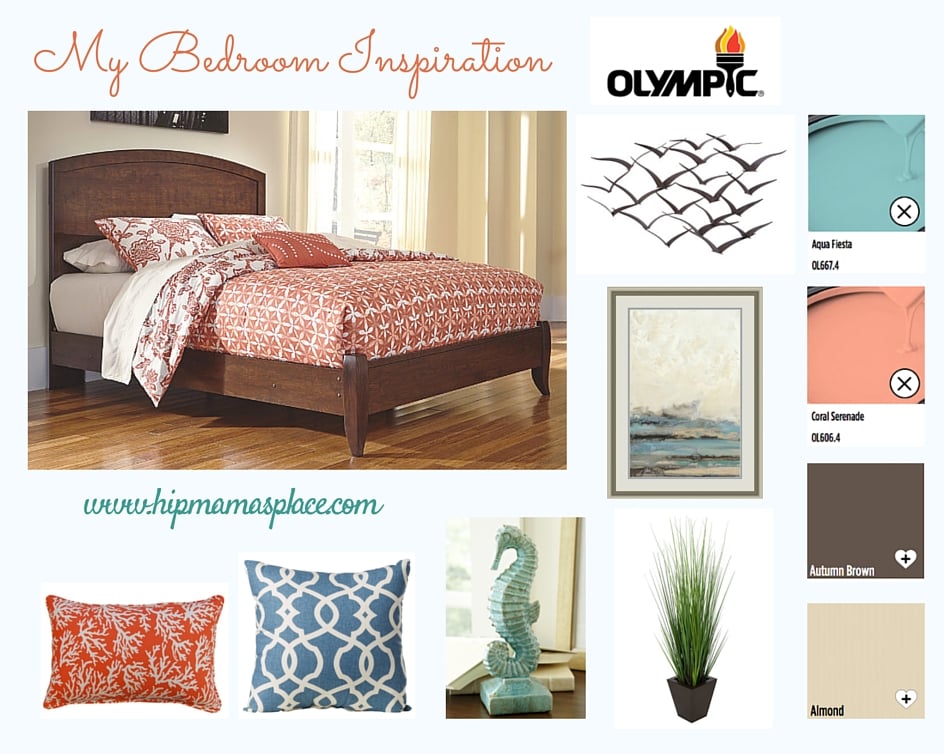 I was so inspired to transform our bedroom into the relaxed, beach cottage feel that it is now and this is the mood board I made before we eventually picked all the new decor, bed sheet set and other room accessories to go with the furniture and wall color. Isn't this very close to what we've finally created? 🙂



The Olympic Paints and Stains Color Center, exclusively at Lowe's
Thanks to the new Olympic Paints and Stains Color Center exclusively at Lowe's, choosing the right paint shade for our bedroom wall was not only easy.. it was also fun!
No matter what color you are looking for, from light pastels to dark accent notes, the Olympic Paints and Stains Color Center makes it easy to find it! It has the right shade for everyone and it allows you to browse paints and stains in one place!
If you've never been to an Olympic Paints and Stains Color Center at Lowe's, you'll love the fact that the colors are organized to make finding and comparing shades easier than ever! Room brochures are arranged to allow shopping in 3 ways: Color (through the chips); Lifestyle (through the lifestyle brochures); Project (room and project brochures).
Lowe's Paint Pledge Program: You can paint with confidence!
And Lowe's has your back with their Lowe's Paint Pledge Program, and they'll do whatever it takes to help you find the perfect paint! If for any reason, you are dissatisfied with your paint, and as long as you return the paint in its original container within 30 days, Lowe's will refund your money! Reasons for return may include being unhappy with the quality or color, among others. This offer is valid on interior and exterior liquid paint purchases made from 04/3/16 through 08/09/16.
So if you're thinking about upgrading or freshening up your space with a new paint color, consider Olympic Paints and be sure to visit the Olympic Paints and Stains Color Center at Lowe's for some great inspiration!