Saturday, May 10, 2014 marks the seventh annual National Train Day where communities across America will celebrate the importance of trains to their towns. To celebrate this special occasion, Amtrak will be offering free family-friendly events across the country, including kids' activities, train equipment displays, free giveaways and more! They'll also be giving out a special discount travel offer to all National Train Day attendees.
If you live in or around the Washington, DC metro area, plan to experience travel aboard the premiere Amtrak service, Acela Express, on May 10th, for an exciting 35 minute round trip ride from Washington Union Station to Bowie, MD, and back!
Four departures are planned in Washington, DC on May 10th:

11:35 am

1:00 pm

2:05 pm

3:45 pm
Tickets for the Washington, DC, Excursion Train are available through Amtrak.com by booking in advance.

Adults: $5.00

Children (12 and under): $2.50
A limited number of tickets will be available at the ticket counter in Washington, DC, Saturday, May 10, beginning at 10:30 am, for the 3:45 departure only.
For National Train day events in your local area on May 10th, just go here and search for events using your zip code. Sounds like a lot of fun to do with the kiddos, if you're looking for an inexpensive way to go out and do something different that weekend! 🙂
Don't miss out on the latest fab deals, cool freebies, fun giveaways, delicious recipes, DIY inspirations and more! Subscribe to the Hip Mama's Place email newsletter, Hip Mama's Place feed reader, or simply "Like" Hip Mama's Place on Facebook and/or follow Hip Mama's Place on Twitter!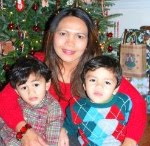 About the Author: Jocelyn Cañasa-Brown is a working mom of two boys and is a recognized blogger and mom influencer in the Washington, DC area. In her spare time, she designs and creates her own handmade jewelry, maintains her jewelry store on Etsy and is an active moms group organizer and leader both online and offline. Hip Mama's Place was nominated for Parents 2011 Best All-Around Mom Blog and named one of the Highest Rated Blogs and Sites on Nickelodeon ParentsConnect for the Washington, DC area. Follow Jocelyn on Twitter, Facebook and Pinterest.