Lately Lily fans can delight in this new collection of products with Chronicle Books that celebrates the brand's namesake, Lily, and her spirit of adventure and imagination. Follow the character of Lily as she travels the world with her parents and best friend, Zeborah – a fun loving stuffed zebra!
Lately Lily: The Adventures of a Travelling Girl Picture Book — is a heartfelt and colorful picture book that showcases Lily's adventures by plane, train, boat, and even by camel. Through her eyes, the story takes readers to newfound destinations, discovering the sights, sounds and people that make international travel so exciting.
Lately Lily Sunny Yellow Suitcase –a unique activity kit that has everything kids need to get ready for an adventure. Includes a booklet with travel tips, exciting games, doodle ideas, activity cards to combat boredom, luggage tags and stickers.
My review: Our family loves to travel and this book encourages my kids' to daydream about far off places through the eyes of the adventurous character named Lily. We love how she expresses her deep curiosity for things and people around her, her spirit of adventure and the way she celebrates the friendships she makes along the way. The illustrations in this picture book are really fun and colorful too. If you have kids ages 3-5 years old, this is a great book for Spring time – to learn about the world of travel, teaching the value of friendships, and incorporating the alphabet while reading a heartfelt story! This is also perfect to read if you and your little one are preparing for an upcoming travel.
Both Lately Lily travel flash cards and Sunny Yellow suitcase activity kit are great additions to entertain your little ones while travelling!
All products are now available for purchase wherever books are sold, including Amazon.com, chroniclebooks.com and booksellers around the world.
*Hip Mama's Place Disclosure: "My reviews and opinions are 100% my own. Chronicle Books sent me products necessary to facilitate my review".


Don't miss out on the latest fab deals, cool freebies, fun giveaways, delicious recipes, DIY inspirations and more! Subscribe to the Hip Mama's Place email newsletter, Hip Mama's Place feed reader, or simply "Like" Hip Mama's Place on Facebook and/or follow Hip Mama's Place on Twitter!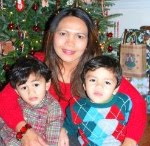 About the Author: Jocelyn Cañasa-Brown is a working mom of two boys and is a recognized blogger and mom influencer in the Washington, DC area. In her spare time, she designs and creates her own handmade jewelry, maintains her jewelry store on Etsy and is an active moms group organizer and leader both online and offline. Hip Mama's Place was nominated for Parents 2011 Best All-Around Mom Blog and named one of the Highest Rated Blogs and Sites on Nickelodeon ParentsConnect for the Washington, DC area. Follow Jocelyn on Twitter, Facebook and Pinterest.