Back-to-school is right around the corner and soon we will say goodbye to the lazy days of summer and welcome the fast pace of school night routines. Take the stress out of last minute meal planning with hassle-free, family meal recipes from THE MOM 100 COOKBOOK
by Katie Workman (Founding Editor of Cookstr.com) available through the Kohl's Cares
cause merchandise
program
for just $5!
I own THE MOM 100 COOKBOOK
and it's a perfect, easy-to-follow cookbook for busy moms and just what I need especially for those busy weeknights when I have to put dinner on the table faster. And what's neat, you can feel good buying this cookbook as Kohl's donates 100 percent of the net profit to children's health and education initiatives nationwide.
Below is a great recipe for kid-friendly Macaroni and Cheese taken from the The Mom 100 Cookbook. My kids love these!
3 tablespoons unsalted butter
3 cups panko (Japanese bread crumbs, see Note)
1⁄2 cup freshly grated Parmesan cheese
For the pasta and cheese sauce
4 tablespoons (1⁄2 stick) unsalted butter, plus butter for greasing the baking dish(es)
4 tablespoons all-purpose flour
1⁄2 teaspoon red pepper flakes (optional)
4
1
⁄
2
cups 2 percent or whole milk (however indulgent you're feeling)
1 cup heavy (whipping) cream
5 cups coarsely grated flavorful cheese, such as sharp cheddar or Gruyère, or a mix (see Who Moved My Cheese to the Back of the Fridge? page 169)
1⁄2 cup freshly grated Parmesan cheese
4 teaspoons Dijon mustard
11⁄2 teaspoons kosher or coarse salt, or more to taste
1⁄2 teaspoon freshly ground black pepper, or more to taste
11⁄2 packages (24 ounces) dried cavatelli, ziti, penne, or any short pasta
1. Preheat the oven to 400°F. Butter a shallow 4-quart baking dish (or use 2 smaller baking dishes, or one smaller baking dish and some individual ramekins; see the Fork in the Road, opposite page).
2. Bring a large pot of water to a boil, salt it generously, and let the water return to a boil.
3. Meanwhile, make the panko topping: Melt the butter in a small saucepan over low heat or place it in a medium-size microwave-safe dish and heat it in a microwave oven until melted, 15 seconds. Add the panko and the Parmesan and stir until well combined. Set the pankotopping aside.
4. Make the pasta and sauce: Melt the butter in a large heavy saucepan over medium heat. Whisk in the flour and red pepper flakes, if using. Cook, stirring, until the flour is blond in color, about 4 minutes. Gradually whisk in the milk. Increase the heat to medium-high and let come to a simmer, whisking frequently. Reduce the heat to medium-low and let the sauce simmer until it starts to thicken, about 5 minutes. Add the cream, grated cheese, Parmesan, mustard, salt, and black pepper, stirring until everything is smooth. Taste for seasoning, adding more salt and/or black pepper as necessary.
5. Add the pasta to the boiling water and cook it until barely al dente (follow the package directions but stop a minute or two before the pasta is completely tender). Set aside 1 cup of the pasta cooking water, then drain the pasta.
6. Whisk the reserved pasta cooking water into the cheese sauce, combining it thoroughly. Add the pasta to the cheese sauce and stir to combine. Spoon the pasta mixture into the prepared baking dish. There will appear to be a lot of sauce. Some of it will be absorbed into the pasta as it cooks, and in my book saucy is better than dry.
7. You can continue with Step 8 or see the Fork in the Road suggestion on preparing the mac and cheese for kids below.
8. Sprinkle the panko topping evenly over the pasta and bake it until golden and bubbling, 30 to 40 minutes. Let the pasta sit for a few minutes before serving.
Note: Panko are light Japanese dried bread crumbs. Although they are available at most supermarkets and at any Asian market, you can substitute 3 cups of fresh bread crumbs or 2 cups of regular unseasoned dry bread crumbs.
The THE MOM 100 COOKBOOK can be purchased online at Kohls.com for $5 and 100% of the proceeds goes to
the children's health and education initiatives nationwide through the Kohl's Cares cause merchandise program. This support-worthy cause program has since raised over $231 million for children and women since the year 2000.
*Hip Mama's Place Disclosure: "My reviews and opinions are 100% my own. Kohl's sent me a promotional product necessary to facilitate this review".


Don't miss out on the latest fab deals, cool freebies, fun giveaways, delicious recipes, DIY inspirations and more! Subscribe to the Hip Mama's Place email newsletter, Hip Mama's Place feed reader, or simply "Like" Hip Mama's Place on Facebook and/or follow Hip Mama's Place on Twitter!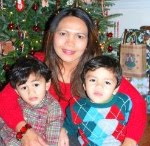 About the Author: Jocelyn Cañasa-Brown is a working mom of two boys and is a recognized blogger and mom influencer in the Washington, DC area. In her spare time, she designs and creates her own handmade jewelry, maintains her jewelry store on Etsy and is an active moms group organizer and leader both online and offline. Hip Mama's Place was nominated for Parents 2011 Best All-Around Mom Blog and named one of the Highest Rated Blogs and Sites on Nickelodeon ParentsConnect for the Washington, DC area. Follow Jocelyn on Twitter, Facebook and Pinterest.