Honey Baked Ham is offering a new coupon valid for Buy 1-lb. of Sweet Glaze Bacon, get 1-lb. for FREE, good to use through 9/15 – in 23 participating states! What's better, Honey Baked Ham will donate 1-lb. to the local Feeding America partner food bank with every purchase of this product.

*September is Hunger Action Month. Learn ways on how you can help here.


Don't miss out on the latest fab deals, cool freebies, high value coupons, fun giveaways, sweepstakes and more! Subscribe to the Hip Mama's Place email newsletter, Hip Mama's Place feed reader, or simply "Like" Hip Mama's Place on Facebook and/or follow Hip Mama's Place on Twitter!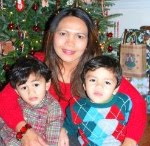 About the Author: Jocelyn Cañasa-Brown is a working mom of two boys and is a recognized blogger and mom influencer in the Washington, DC area. In her spare time, she designs and creates her own handmade jewelry, maintains her jewelry store on Etsy and is an active moms group organizer and leader both online and offline. Hip Mama's Place was nominated for Parents 2011 Best All-Around Mom Blog and named one of the Highest Rated Blogs and Sites on Nickelodeon ParentsConnect for the Washington, DC area. Follow Jocelyn on Twitter, Facebook and Pinterest.