This is a sponsored post written by me on behalf of Safeway. All opinions are 100% mine.
I absolutely love grilling and what better time than the summer when grilling and BBQ's are "in season"! Turning on our grill is a super easy way to cook during the summer without having to heat up the whole kitchen. We like to grill during the week, on the weekend and especially when our family comes to visit … you can fit a lot of food on that grill at once!
Today, I'm really excited to share an easy, fast and AMAZING grilled salmon recipe with you and I know that you're going to love it too! It's perfect for a weekday when you are in a rush or on a weekend when you need to feed a lot of people and prefer to cook outside.
I'm also excited to tell you that I recently partnered with Safeway to try out their Open Nature® seafood products and I couldn't be more thrilled!
Before I talk about my new recipe, I just want to tell you about Open Nature seafood brand and why I stand behind it.
When I pick out salmon (or any kind of fish or meat for that matter), I like to know where it came from. I like to be sure that I am eating fresh, responsibly caught salmon. I can feel good about serving Open Nature seafood to my family because all seafood from this brand is wild caught and with no preservatives. I also love the fact that 100 percent of Open Nature seafood products bare the Responsible Choice™ logo for sustainable sourcing. Now, what does this logo mean for their customers? It shows that their seafood products have been raised or caught in ways that help safeguard future supplies, helping to keep ocean ecosystems thriving. What's more, Safeway (and all Albertsons Companies stores) proudly stands behind Open Nature® products with a 100% money-back guarantee.
So, with my Open Nature SOCKEYE SALMON FILLETS from my local Safeway, I created a simple recipe that highlights the great flavor of this fish. Lemon juice, olive oil, garlic, basil and oregano are mixed together then some tasty summer veggies are added in. The salmon, herbs and olive oil mix and veggies are then wrapped up in a foil packet and tossed on the grill. Voila! You got an easy, delicious and healthy meal in no time!
You can easily swap out the veggies in this dish and use whatever you have on hand. I have made it with yellow summer squash instead of zucchini, no peppers, extra peppers and even with just salmon and sliced onions. Some broccoli and cauliflower can be a tasty addition too! You can even use a different kind of fish fillet if you'd like! Open Nature offer different kinds of sustainably sourced seafood products you can try in your recipes, like shrimp, sea scallops, mahi-mahi fillets, yellowfin tuna steaks, Pacific halibut steaks and more! Just look for them in the Open Nature brand packaging in the frozen seafood section of your local Safeway (or any other Albertsons Companies store near you).
HOW TO BAKE GRILLED HERBED SALMON IN FOIL
First, prepare a simple lemon garlic herb sauce mix to steam and infuse your salmon and vegetables. In a small bowl, whisk together the following ingredients:
fresh lemon juice

olive oil

garlic

basil

oregano

kosher salt and pepper
Set the sauce mix aside and assemble the foil packets. Start with the fresh vegetables. In this recipe, I used zucchini, onions and red bell peppers. But you can use other fresh veggies in season.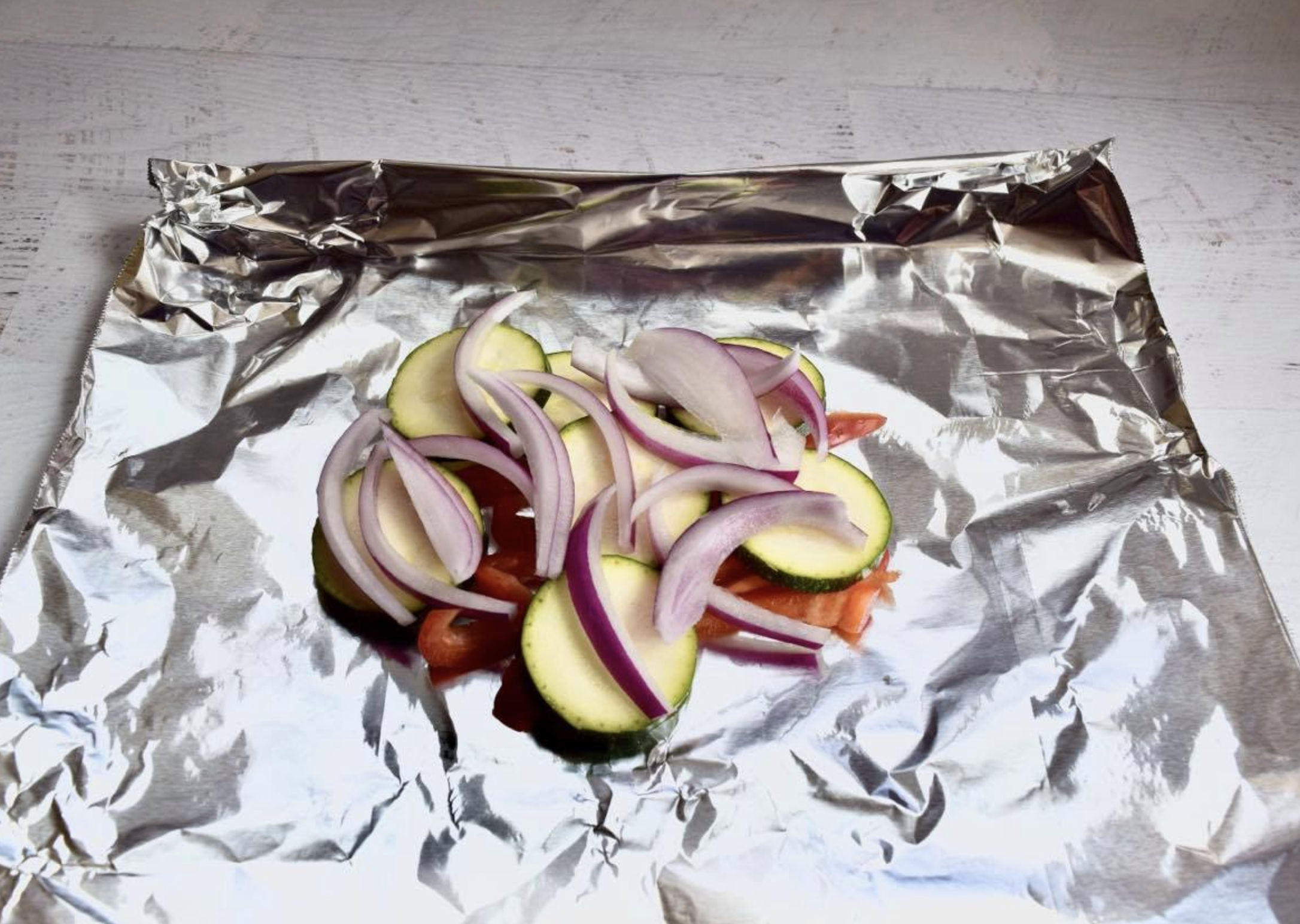 Divide the vegetables evenly between four large pieces of aluminum foil.
Next, place a piece of salmon on top of the veggies.
Drizzle the lemon, garlic and herb sauce mix over the fish and vegetables.
Seal the foil packets tightly on the top and both sides of the foil so that none of the steam can escape.
Place the foil packets on the grill set to medium and grill for about 14-18 minutes. You can also bake the foil packets in the oven. Just place the foil packets in a sheet tray and bake at 400 degrees for about 15 minutes.
Grilled Herbed Salmon Recipe:
This healthy and flavorful grilled salmon in foil recipe is perfect for a quick, convenient dinner that's ready in 30 minutes! The salmon and vegetables cook together in disposable foil packets so less mess and cleanup is super easy!
Ingredients
¼ cup lemon juice

1 tablespoon olive oil

2 teaspoons minced fresh garlic

1 teaspoon dried oregano or 1 tablespoon of chopped fresh oregano

1 teaspoon basil

1 teaspoon salt

¼ teaspoon pepper

1 zucchini thinly sliced

1 onion thinly sliced

1 red bell pepper sliced

2 packages of (12 0z) Open Nature Sockeye Salmon Fillets
Instructions
Preheat oven to 400 degrees F. Spray four large square pieces of aluminum foil with cooking spray, then set aside.

In a small bowl, whisk together lemon juice, olive oil, garlic, basil, oregano, salt and pepper. Set aside.

Divide zucchini, bell pepper and onion evenly among the four pieces of aluminum foil. Place a piece of Open Nature Sockeye Salmon Fillets on top of the vegetables.

Drizzle each salmon fillet with the lemon herb mixture. Seal the foil packets by folding them over the fish and pinching tightly to close. Place the foil packets on the grill on medium heat and grill for about 14-18 minutes. The fish is done when it flakes easily with a fork.
Let me know how you like this recipe and if you've also tried Open Nature seafood products before. Eating healthy has never been easier, thanks to Safeway and responsible companies like Open Nature!
I shopped at my local Safeway, but you can also find Open Nature seafood products at the Albertsons Companies family of stores, including Albertsons, Safeway, ACME Markets, Jewel-Osco, Vons, Randalls, Shaw's Supermarket, Star Market, Tom Thumb and Vons.
Safeway also offers Grocery Delivery and Drive Up & Go™ for convenient ways to shop!