This post is sponsored by BabbleBoxx on behalf of Fiskars. All views and text are my own.
I absolutely love crafting. Whenever I get extra time on my hands, I immediately plan to do some type of DIY and I get so excited!
Since the holiday is coming up, I've been wanting to make some personalized ornaments for my tree and paper greeting cards for family and friends. So, imagine when I got invited to join the holiday campaign with the Fiskars brand to make holiday crafts. You know it. Of course, I was super thrilled and a big "YES, I'm in!" ☺
Let's Make DIY Embroidery Hoop Paper Ornament
So, today, I'm going to show you how to make an easy embroidery hoop paper ornament using only a few tools and my favorite Fiskars Premium 8" scissors.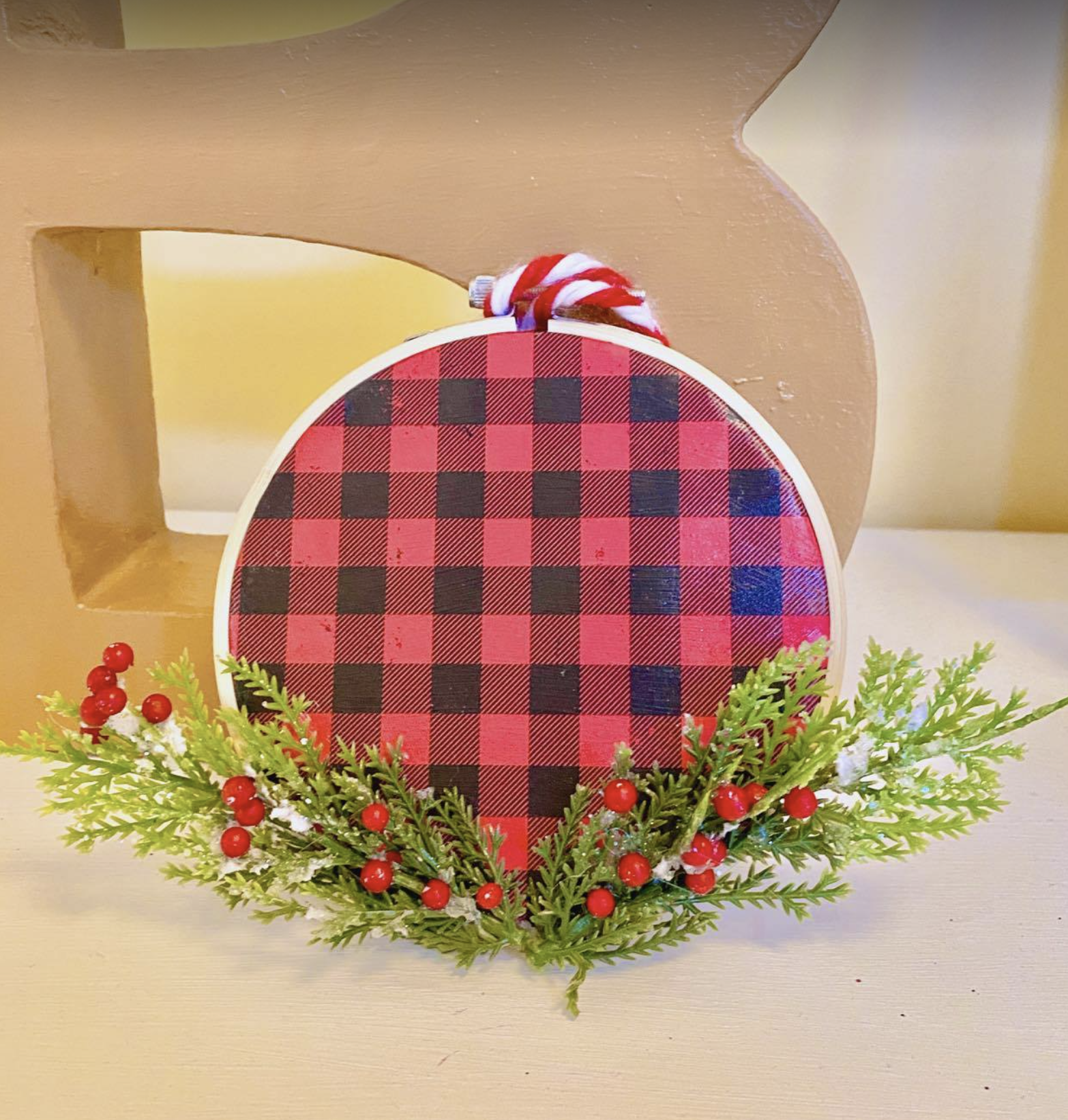 DIY EMBROIDERY HOOP PAPER ORNAMENT
Tools needed for this project:
To make this easy DIY embroidery hoop paper ornament, you need:
a piece of scrapbook paper of your choice
a mini embroidery hoop – I used a 5 inch size that I got at the craft store for $2
faux greenery embellishment
clear gloss acrylic sealer
a small foam brush
glue gun
Fiskars Premium 8" scissors
a piece of yarn to hang your ornament
Directions:
1. Loosen the embroidery hoop screw so that you can take out the inner circle (smaller circle) out of the hoop
2. Take the inner circle and put it under the middle of your scrapbook paper.
3. Once you have the inner circle sort of "framed" under the scrapbook paper, put the outer circle over the framed inner circle and screw the embroidery hoop tight. Be sure that the paper is tight and smooth and in place before screwing back the hoop tight.
4. Cut out the excess paper on the sides of the hoop using the Fiskars scissors.
5. Next, brush a thin clear gloss luster on the scrapbook paper part of the hoop.
6. Leave the gloss to dry for about 30 mins.
7. Take the faux greenery embellishment and use a glue gun to adhere them on the lower part of the hoop. You can get creative here and embellish your hoop ornament however you like.
8. Now, you're ready to hang your cute embroidery hoop ornament!
I think my embroidery hoop ornament turned out cute and festive! What do you think? 😉
I'm planning to make more Christmas ornaments, simple holiday home decor and some greeting cards, so I'm so glad I have the right crafting tools I need from Fiskars to make those special gifts and holiday crafts easier!
My earliest memories of Fiskars Scissors
One other thing I wanted to share with you is how those iconic Orange Handled Scissors from Fiskars evoke sweet memories from my childhood. My mother was a dressmaker and I always remember growing up that she would use those orange Fiskars scissors to cut her fabrics.
Now decades later, I'm using it for my own crafting projects, while my kids also use the Fiskars kid's scissors for any of their school art projects. Needless to say, Fiskars has been in our family for a long, long time.
So, if you love crafting and showing your gift of love by creating special gifts for your loved ones this holiday season, you can trust Fiskars for their high-quality line of scissors and tools for any of your DIY paper craft, sewing and even quilting projects.
Fiskars Products for your crafting, sewing and quilting needs
Fiskars crafting tools such as their craft knives and blades offer sharp precise results, while their decorative scissors and punches help add personality to your cards and so much more.
For sewists and quilters, Fiskars also offer a large collection of cutting tools, including scissors, shears and rotary cutters to choose from – all renowned for their unbeatable sharpness and ease, while durable cutting mats and rulers are designed to provide you with precise measurements and results.
Fiskars paper cutting tools include paper trimmers and punches that let you add beautiful borders, tags and more to your paper crafts, while DIYers can explore a collection of new, just-right tools designed for the power and precision that come with more sophisticated home décor projects.
Fiskars tools are built to last and backed by a full lifetime warranty as well, so that's a great bonus!
For more information, visit them online at: Fiskars.com