Many of us have done away with new year's resolutions. Instead, we look for ways to be better and do better, without having goals that aren't necessarily attainable because they aren't truly actionable. For me, part of continuous improvement is taking pride in my family and home. So today, I've gathered some fun, functional and cool DIY home projects for $50 or less!
Do you like to showcase your cards? This idea for a DIY holiday card holder can be used for photos, birthday cards, and more. The ideas are endless. I get many people sending new year's and even Valentine's Cards because, let's face it, November and December are just too busy, so I've created one to showcase all these new cards I'm getting! Maybe it can become a year-long project of collecting cards from friends and family! 
West Elm has so many cute designs and can really inspire. DIY Candy really took some inspiration and came up with her own DIY pallet-wood coffee table that she did inexpensively and gave a rustic modern look to her home.
If your dream is to have backyard chickens, first, check your local zoning ordinances, and after that you can really build your own chicken coop for a lot less than you think. Live Simply shows how to build a chicken coop from scratch and really it can be done!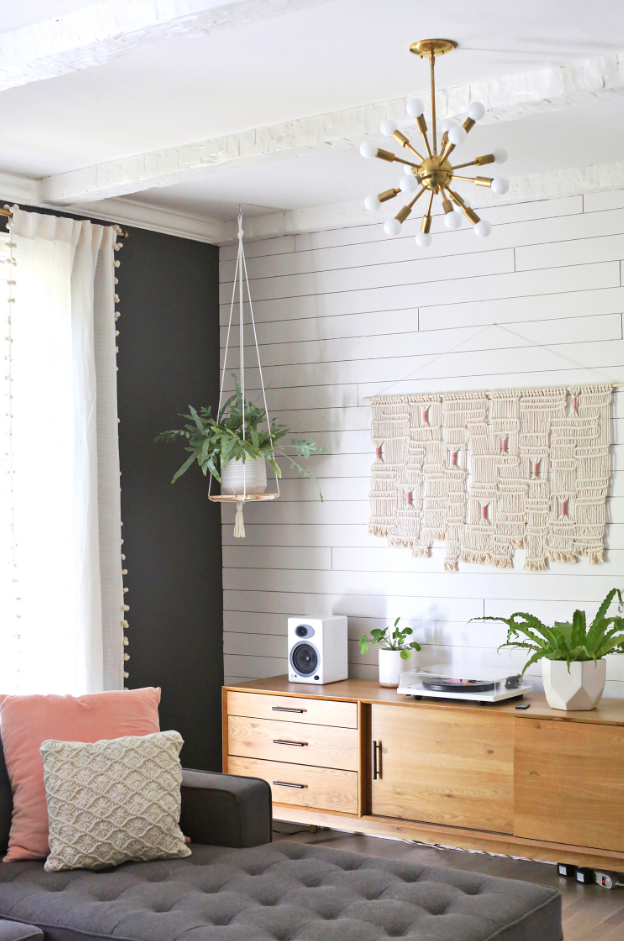 Plants not only make a beautiful natural focal point, they also help clean the air through natural photosynthesis. With a DIY hanging plant shelf, you can draw the eye up, especially if you hang the plant to balance art or change where you want your visitors to look. And it's really inexpensive to make!  
I'm one who loves to see cement tiles, but it can be expensive! Plus, it isn't just putting them in, but the prep. A Beautiful Mess uses an Oil Based Sharpie Paint Pen to create this great-looking Faux Cement Tile DIY.  Hmm, I'm thinking about my old garage floor while looking at this project! 
A gallery wall can showcase photos, art, leaves or a combination. Simply find matching or coordinating frames and you can create your own gallery wall for so much less than the ones sold at home decor stores! 
While many people go out of their way for luxe decor, it isn't in everyone's budget. This DIY rustic headboard is made from wood, and depending on how you paint it, you may just look like you purchased it from Anthropologie or Pottery Barn.
Another great use of a wood pallet is this DIY Wood Pallet Ampersand Art by Craftsman Drive. Now, this is some nice inspiration to improve the look of one's space while keeping it practical!
Rugs? Outdoor? For those with year round outdoor weather, this awesome DIY outdoor rug is an easy weekend project that uses masking tape and spray paint to create its design. Have all 4 seasons? Make this a spring project to inspire you to get over the snow. 
Stairs can be ugly. Honestly, many times they're used for storage inadvertently.  You can update the look of your staircase with wood stain like Diane from "In My Own Style" has. 
Concrete is a lot more versatile than you think. With a 5 gallon bucket and some tools, you can make your own industrial looking lamp. It will be unique and one of a kind! 
Floating shelves can be versatile and useful. These DIY bathroom floating shelves are easy to make and no one can complain about you doing this because they'll wonder why you didn't have them earlier. 
If you're looking for a way to create something fun for a play room or kids' area, these DIY dinosaur planters are cute! And, they're one of the cheapest projects out there!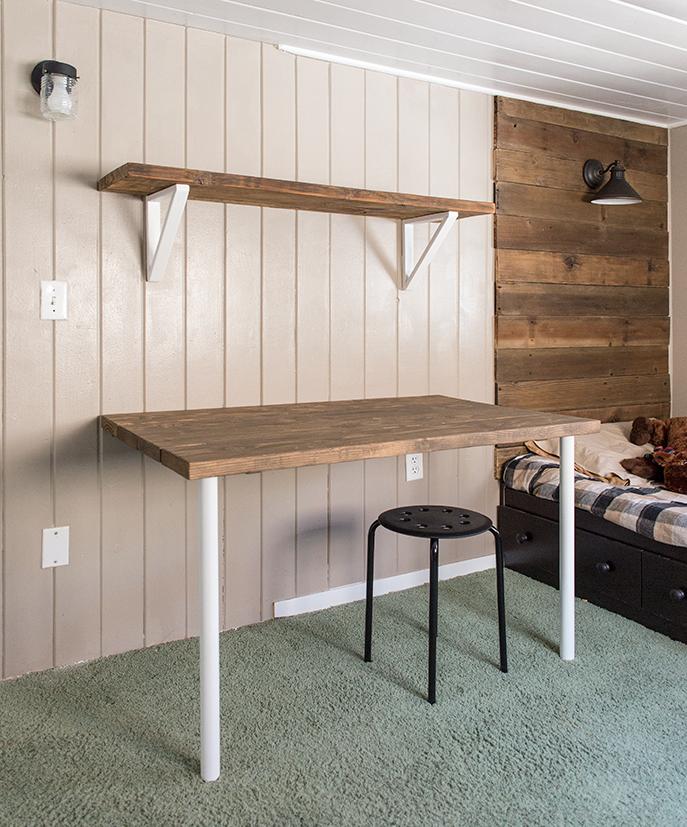 For your home office, create a new wall shelf at home. This will be easier and less expensive than a run to Ikea, so why not give it a try and create space for small items or decor in your work space? 
It may not be the optimal beach season yet, but you can take out your bulk mason jars and create faux beach glass jars as a centerpiece, focal point or to create another dimension of color and texture in your decor. 
Looking for new window treatments? Custom made curtains and valances can run into the thousands. Instead, make your own unique curtain rods and save money while still changing up your window decor. 
Marble tiles are a lot more versatile than you think. With just a few tools, you can create a visual focal piece that's also functional like this DIY Hanging Marble Serving Board.
Shelving is listed here again, but likely because even the minimalists out there have items to showcase! Change up the design from hearts if you'd like, but these cute DIY mini shelves are sweet with Valentine's Day coming up! 
Spices are always great to have around, but organizing spices can be difficult. Mom Advice has this free printable spice labels to get you going. 
Storage can be decor, really! This DIY storage option is great for the pantry, and uses old containers to upgrade your storage options. 
Working on decor in the home may not be your thing, but with inspiration and a low cost, you have no real excuse for not upgrading your living space.
What home improvement projects do you have on your list? I hope these ideas will inspire you!