Could your living room use an update? If you want your living room to feel more updated and inviting, but are short on cash, try one of these 9 inexpensive living room update ideas.
Who doesn't want a comfy and inviting living room? The living room is a place for relaxing, socializing, or watching television with the family. It is a central location for most activities inside the home. Whether your living room gets an abundance of use or is simply a place to welcome guests, there are some very simple and inexpensive ways to update the space and make it more stylish.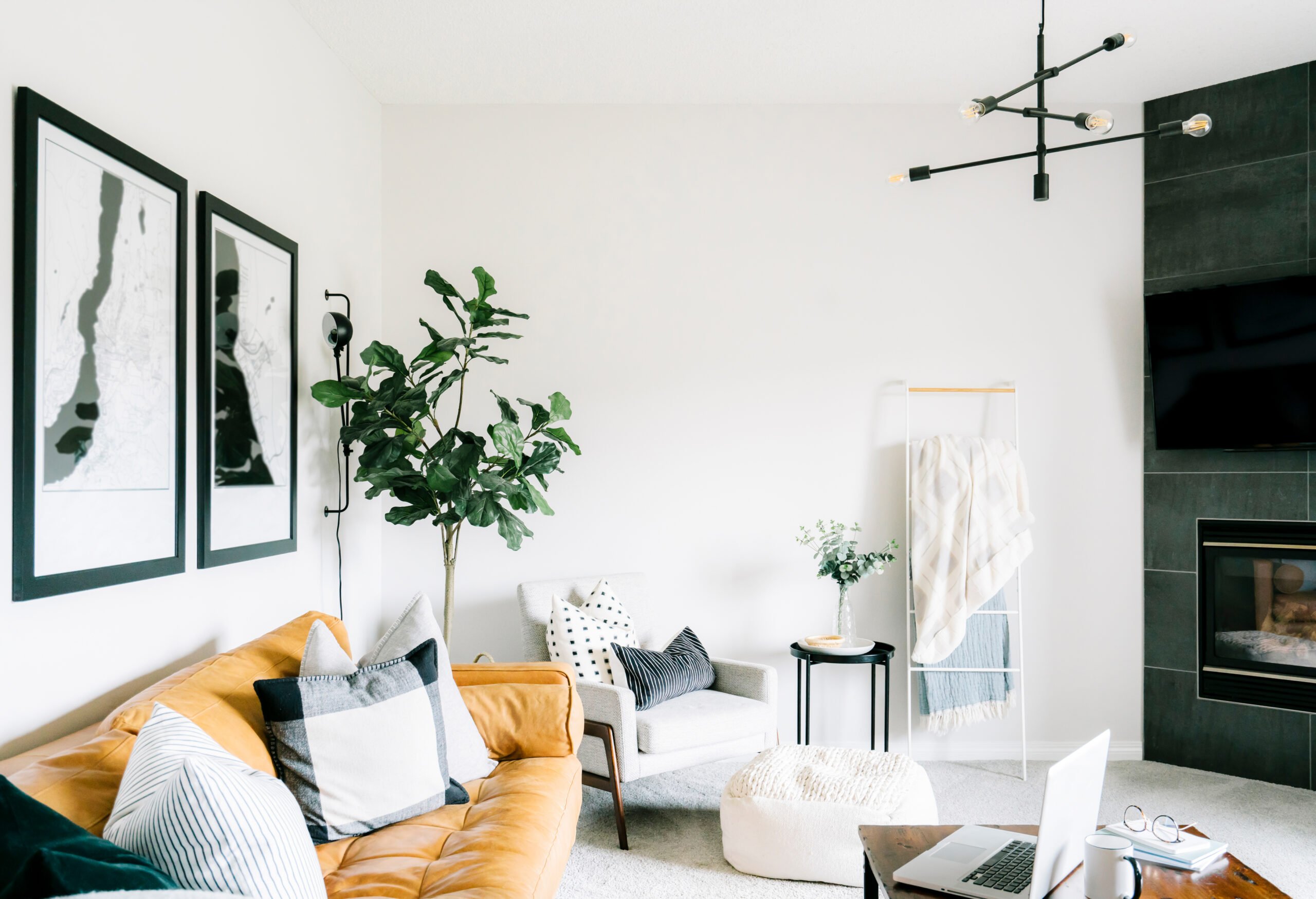 Begin by determining whether you need to update your living room. There are several reasons why this might be necessary, but the most common reason is because you have been in your home for many years and want to give it a new look.
Another reason would be if you have just purchased a new home and want to make it reflect your style more accurately than when you first moved in. The final reason may be that you are planning on selling your home and looking for cheaper alternatives that will still increase the value of your property without going over budget.
Regardless of your reasons, here are some living room update ideas that won't over-stress your wallet.
Paint
Painting your walls is a great way to update and revitalize the look of your living room. A fresh coat of paint will do wonders for any space. The color you choose can change the entire feel of the room. If you're not ready to commit to one color, consider painting just one wall as an accent wall. This way, you can add pops of color with throw pillows or other accessories. Neutral colors are a great start because they work with any style or decorating theme. From there, you can add pops of color as desired.
Install New Lighting
The lighting in a living room is crucial. Not only can it help you see things clearly, but it can also set the mood and even highlight certain features in the space. There are so many options when it comes to lighting that you may feel overwhelmed by all your choices. For just $100, you can find a beautiful chandelier or ceiling light fixture at IKEA, Target, or your local thrift store. It only takes about an hour to install and will provide a bright new look for your living room. You'll look at it in a different light!
Add area rugs
A rug can act as a visual divider, helping the eye define a space within the room. It can also help cover up an unsightly floor if you don't want to replace it. Plus, it can instantly update an older living area.
If you have hardwood floors, rugs are especially important, as they protect the wood from damage and wear and tear. The same goes for entryways, where dirt, snow and rain are tracked in on shoes–rugs will keep your floors clean!
Another benefit: Sound bounces off bare floors and makes any space seem louder than it is. Rugs absorb some of that sound and make things less echoey. They're especially helpful in basement apartments or apartments with hardwood floors throughout; they make the apartment seem warmer and cozier, even when it isn't.
Invest in new curtains
Switching out window treatments is an easy way to improve your home's aesthetic without breaking the bank. Try adding new curtains. Curtains, along with carpeting and upholstery, absorb odors and can quickly become dingy unless they're regularly cleaned. Swap out heavy winter drapes for a lighter fabric or change the color scheme to coordinate with the season. If your curtains are looking tired, they may just need a good pressing or cleaning.
To add drama, go with a bold color or print, or hang them high on the wall and let them pool on the floor. If it feels too overwhelming, scale back on fabric until you're happy with the effect. Drapey sheers are another good way to get that breezy, luxurious feeling without committing to full-on florals or patterns. You will be amazed at how different a room can look when you change out the curtains or add an accent color to your living room.
Buy new throw pillows and blankets
If you want a cost-effective way to do updates, throw pillows and blankets are the way to go. You can find them in discount stores or thrift shops and mix and match to add a touch of color. Throw pillows are an inexpensive and quick way to add color and texture to your living room. They're also a way to incorporate seasonal trends into your decor — you can switch them out as often as you like, and your decor will feel fresh and new with minimal effort.
If your sofa has removable pillow covers, you can use them as an inexpensive way to infuse new color and pattern into the space. If not, consider buying inexpensive decorative pillows from IKEA and sewing your own covers using fabric from the bolt section at Jo-Ann Fabric & Craft Store.
Add a window box
Window boxes are a great way to add a touch of nature to your living room. They can also help with air quality, depending on what you plant. And if you choose a small herb or vegetable garden, it may be another source of food for your household. Building your own window box is an easy DIY project that will let you customize the size and style to suit your home's decor and gardening needs. You could even build one for each window in your living room.
Bring nature indoors
Plants are a great way to add personality to any room. Plus, they're also good for you! Some remove toxins from the air, and houseplants have been shown to improve people's moods. Start small with low-cost pots and plants like aloe vera, spider plants or bamboo (all of which are easy to care for). You can also go faux and buy silk plants that look real, but don't require watering. If you don't have a green thumb, consider opting for low-maintenance greenery like succulents or a pothos vine. Be aware that pothos plants are toxic to children and pets, so only place them in spots that little hands and paws can't reach them. Large potted houseplants can also be great conversation starters when guests visit.
Hang new photos or art
Hang new photos or art. Nothing says "home" like family photos and cheerful artwork. If you have a bunch of these already, it might be time to switch things up. Make an afternoon of it by bringing all your pictures out of their frames and rearranging them in new and different ways. You can also print out some recent holiday snaps or purchase a piece or two from local artists to fill in any gaps.
Use frames that match each other or don't, depending on the vibe you want to set–one look is cohesive, while the other can create a more eclectic feel. The most important thing is to use meaningful images, so ask yourself if each photo and painting has a special place in your heart!
Remove the Clutter
You'd be surprised at how much more contemporary a living will look with less clutter. As you're cleaning, put all your knick-knacks in a box, take them out one at a time, and ask yourself if they bring you joy. If they don't, get rid of them! This goes for furniture too. If you have extra chairs or side tables that are just extra clutter, donate them or store them in the basement. Your living room will look bigger and more stylish with fewer pieces in it.
The Bottom Line
Hopefully, these tips for upgrading your living room on a budget will help you get the most out of this important room. Enjoy!
*This post may contain affiliate links. Read my Disclosure Policy for more details.