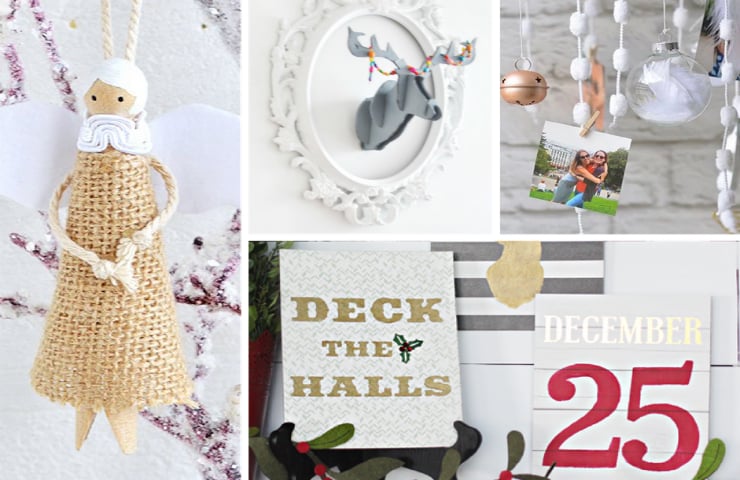 Can you feel it? The holiday spirit is trying to burst through your doors and enter your homes by leaps and bounds! Let's give it a warm welcome by combing through a bunch of these amazing holiday favorites for home decor at Christmas!
There are decor items to make, things to create as gifts, and even projects you can incorporate your children or grandchildren into making with you. Have fun!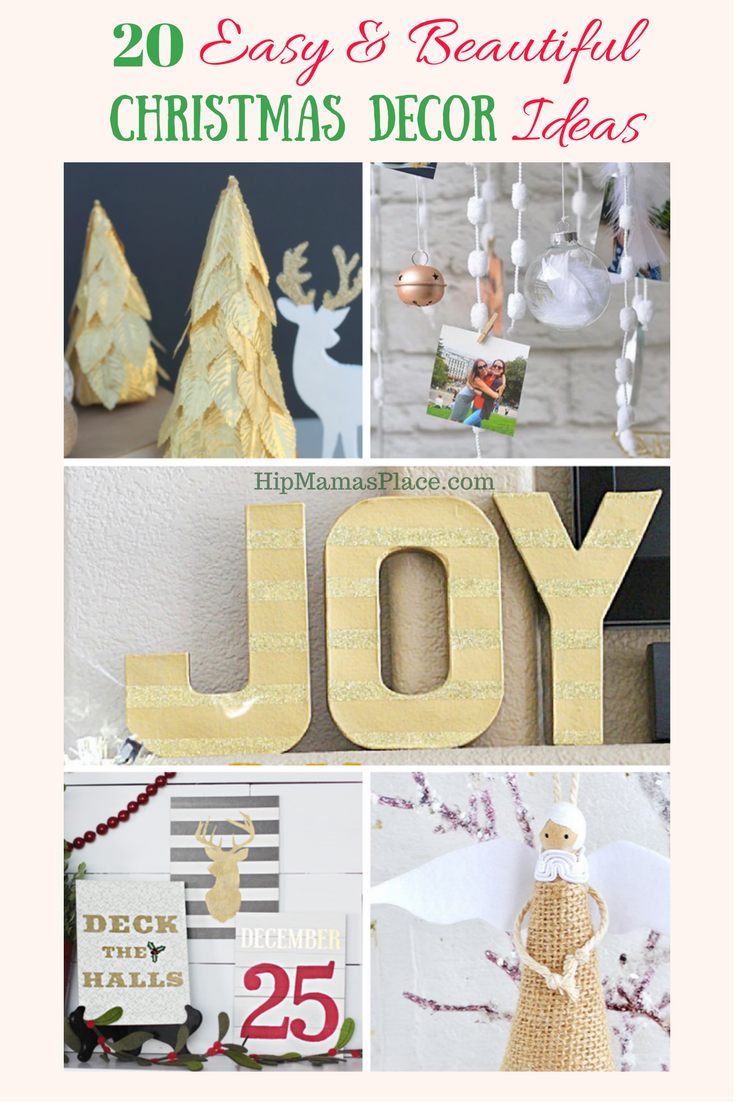 DIY Christmas Shadow Box
What an adorable idea! This project turns out so impressive and cute! All you need are around 6 supply items that are simple to find and shouldn't cost much at all. The end results are fabulous and should put anyone in a cheerful, holiday mood. Craft via DIY Candy
DIY Color Blocked Wood Christmas Forest
These are so simple to make and would be a great project to do with children or grandchildren that have interest in crafts or painting! This lively and colorful Christmas Forest is very easy to do and only requires a handful of basics such as paint, paintbrush, painter's tape, glue, and of course the wood to make it from. Would be a fun activity for a family to create together too. Each tree in the forest could have it's own special touch by the one who painted it. Craft via A Joyful Riot
DIY Boho Christmas Picture Chandelier
You can have a lot of fun with this one! Imagine your family photos or pics of outings with friends dangling in an artistic chandelier with just the right personal touches from you to make a real centerpiece to any room! Required items include things like an embroidery hoop, string, printed photos, and clear fillable ornaments or other decorations. This can be turned into a true love type of project to create for your spouse or partner too if you wanted to swing it with that angle. Craft via Craft Hunter
Mini Christmas Tree Stenciled Chalkboard Pot
Overwhelmed with a long Christmas shopping list this year? Give a gift from the heart that won't break the budget either! This mini Christmas tree stenciled chalkboard pot is perfect for giving to friends, coworkers, neighbors, siblings, grandmothers, college students, and any other adults on your list. Talk about fun and easy to do! You'll have this creation finished in no time at all and be asking yourself what else you can make just like it! Craft via Design Dining Diapers
Crafternoon DIY Christmas Signs Lolly Jane
Pull off making all three of these adorable Christmas-themed signs in just one afternoon! Grab your favorite cup of hot cocoa and a handful of supplies and enjoy crafting these simple, yet beautiful holiday signs. Every project listed is straight-forward in directions and shouldn't take too much time. They look fabulous and will brighten up your home or make a great addition to your office at work to spread that holiday cheer. Craft via Landeelu
Easy DIY Christmas Wreath
Don't you just love all those drop-dead gorgeous wreaths they sell in the craft stores these days? What if you could make one just as beautiful for half the price? All supplies for this festive project come within most budgets and really give that professional look and feel we all long for in our home decor projects. Craft via Merrick's Art
DIY Christmas Sign
Painted canvas with wood frames always give a nice touch to any room around the holidays. With all the wonderful songs and sayings out there to choose from, this particular choice was a refreshing change and offers an admiring look. What special phrase or song lyrics would you choose to create in this beautiful framed canvas project? Craft via Maison de Pax
Angel Christmas Tree Decoration
Create a new family favorite with these precious peg doll Christmas guardian angels! You will just love the sweet look that these hanging dolls or ornaments bring to your tree, or even hanging near the kid's beds to watch over them as they sleep. Simple to make with your kids helping, this can be a treasured memory making experience to enjoy together. Craft via Kids Activities Blog
DIY Christmas Wreath
Feel lavished in luxury and elegance with this beautiful piece hanging on your front door! Grab a glue gun, and a few key pieces to create this stunning Christmas wreath that will be a welcome greeting to any guests visiting your home. My favorite part is the sparkling centerpiece in the middle of the Christmas flower! You've just got to see how elegant this looks! Craft via I Heart Naptime
Seasonal Winter Gold Leaf Holiday Decorations
Think of something simple, classy, but golden and you have this shiny, holiday project for today! Glue guns, gold leaves, and foam trees plus one or two other items are all you need to gather together for these cleverly disguised foam trees. Works well with other Christmas crafts to put together a timeless look to your holiday decor. Craft via Crafts Unleashed
Joy Scrabble Tile Decorations
Remember the good ol' days of playing family board games and enjoying a nice game of Scrabble? Get back into the heart of family time and new traditions with this adorable JOY themed wood block mantle set! Make it resemble the Scrabble pieces with letters and numbers that so many of us grew up playing with! Sure to be an eye-catching centerpiece in any room. Craft via Design Dining Diapers
DIY Leather Christmas Pillow
Need a reason to use up some leftover faux leather from a previous craft? Here's your chance to turn it into something beautiful, keepsake worthy, and ready for gift-giving! Some hand cutting and sewing involved with the applique piece on this project, but the beauty in the results is so worth it. Craft via Grey Luster Girl
Celebrate Christmas Craft Decorating Style Ideas – Copper Stars
Getting in the holiday spirit yet? Here's a neat little project that you can do with friends or family to decorate your home or make ornaments for gift giving. Want to include the kids on this one? Not to worry, just substitute the copper shim with some metallic cardboard and the kids will still have a blast making these with you! Craft via Tara Dennis
DIY Starry Advent Calendar
Here's a nifty advent calendar that "stands" the test of both time and toddlers! Created using soft materials and a stand alone wood frame for the tree, kids can learn and enjoy counting their numbers and hanging the stars all by themselves! Craft via Nalle's House
Joy Letters In Light
Imagine the joy on visitors faces then they see the room lit up with the glow of your "JOY" marquee shining bright! I couldn't believe how easy this was to create! There are only 5 items on the supply list and the construction or set up is incredibly simple to do! You'll be loving this awesome new decoration for your home this holiday season – especially knowing it came from your capable and crafty hands. Craft via Uncommon Designs
Wood Veneer Ornaments
Wow, I'm impressed! I think most of us will have just about all the ingredients to this project right in our own homes – except for the pine wood veneer edging. What a great way to spend an afternoon! Throw in some white lights and you've got an adorable display to make any part of your home attractive and inviting. Craft via Northstory
Christmas Decor DIY Glitter Striped Joy Letters
If you like working with letters and keywords to make a statement, check out the final outcome of this gorgeous creation! Gold and glittery, these letters stand on their own and look fabulous no matter where you place them. Give yourself a real pat on the back after you're finished and know the heart-warming look and feel is going to bring a smile to many. Craft via The Pinning Mama
How to Crochet Christmas Ornaments Craft
What a thoughtful and adorable way to spend your time – crocheting Christmas ornaments! These can liven up your tree, hang from a line on a wall as a decoration, or even dangle from your car visor! They are soft, precious and easy to do! The DIY tutorial includes tons of step by step pictures and close ups of the growing layers plus a quick tutorial for making it its very own ornament topper for hanging! Craft via Tuts Plus
DIY Glitter Ornaments and Tea Lights
Get your rooms merry and brighter with sparkling light and a golden glow from your fancy new glitter ornaments and tea lights! These are not only fun to design, but the cost is low and the work involved is quick and simple! Get the kids involved and let them enjoy making their very own! Craft via Caila Made
Washi Tape Holiday Wall Hanging
Vibrant, cheery color and a few hints of Christmas magic to make this a must have decor piece that your friends will beg you to help them make too! If you are fond of polka dots or the candy cane look, this is the best project for you to try this week! Charming on your wall and super easy to make, this project is one you just won't be able to resist. Craft via Making Homebase
I hope you enjoyed this collection of easy and beautiful Christmas decor ideas! With so many great ideas to choose from, you're sure to have a very, merry Christmas crafts/projects season this year and a positively festive home! Please share with me in the comments which ones you found as the easiest to make or those that had the best final outcome as far as presentation. I can't wait to hear about your crafting adventures!