In celebration of Lucky Charms' 50th Anniversary on St. Patrick's Day and to complement your green attire (so you don't get pinched!), Rdio has teamed with Lucky Charmscereal to bring you twelve magically 'ear-licious' tunes, to boost your luck (and your rhythm) this year!
Whether you're a kid, or just a kid at heart, Lucky the Leprechauns' "Charming Songs to Celebrate St. Patrick's Day," will surely get you to break out your dancing shoes for the ultimatedance-off. Featuring tunes that reflect the marshmallow charms we've all come to love, and celebrating Lucky Charms' 50th Anniversary (Happy birthday, Lucky!), the playlist features hits from Ariana Grande's 'Put Your Hearts Up' to 'Blue Moon' by Beck and '4 Leaf Clover' by Erykah Badu.
Go here to stream the playlist for free or just click the video above to listen to the songs.
Don't miss out on the latest fab deals, cool freebies, fun giveaways, delicious recipes, DIY inspirations and more! Subscribe to the Hip Mama's Place email newsletter, Hip Mama's Place feed reader, or simply "Like" Hip Mama's Place on Facebook and/or follow Hip Mama's Place on Twitter!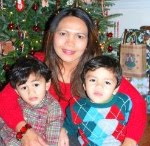 About the Author: Jocelyn Cañasa-Brown is a working mom of two boys and is a recognized blogger and mom influencer in the Washington, DC area. In her spare time, she designs and creates her own handmade jewelry, maintains her jewelry store on Etsy and is an active moms group organizer and leader both online and offline. Hip Mama's Place was nominated for Parents 2011 Best All-Around Mom Blog and named one of the Highest Rated Blogs and Sites on Nickelodeon ParentsConnect for the Washington, DC area. Follow Jocelyn on Twitter, Facebook and Pinterest.