This post was sponsored by GourmetGiftBaskets.com. All views and opinions are my own.
Father's Day is on June 18th and GourmetGiftBaskets.com has a great selection for Dads of all ages!
We all know some Dads can be challenging when it comes to finding just the right gift. That's why the many fathers who work at GourmetGiftBaskets.com have singled out the following five top items!
2017's Top Five Foodie Father's Day Favorites — For Dads, By Dads
NEW for 2017 — 19th Hole In One Gift Basket, $69.99, SKU 4322
If the Dad in your life prefers a mini-golf bag (that doubles as a cooler) to a tin, then this is the ideal choice for him.
The 19th Hole is loaded with everything your favorite golfer needs for a day on the green, including four refreshing beers, a sleeve of golf balls, and a range of gourmet snacks like cheese and artisan crackers, hickory maple bacon popcorn, and zesty pretzel pieces. (If my kids are reading this now, this is what I want).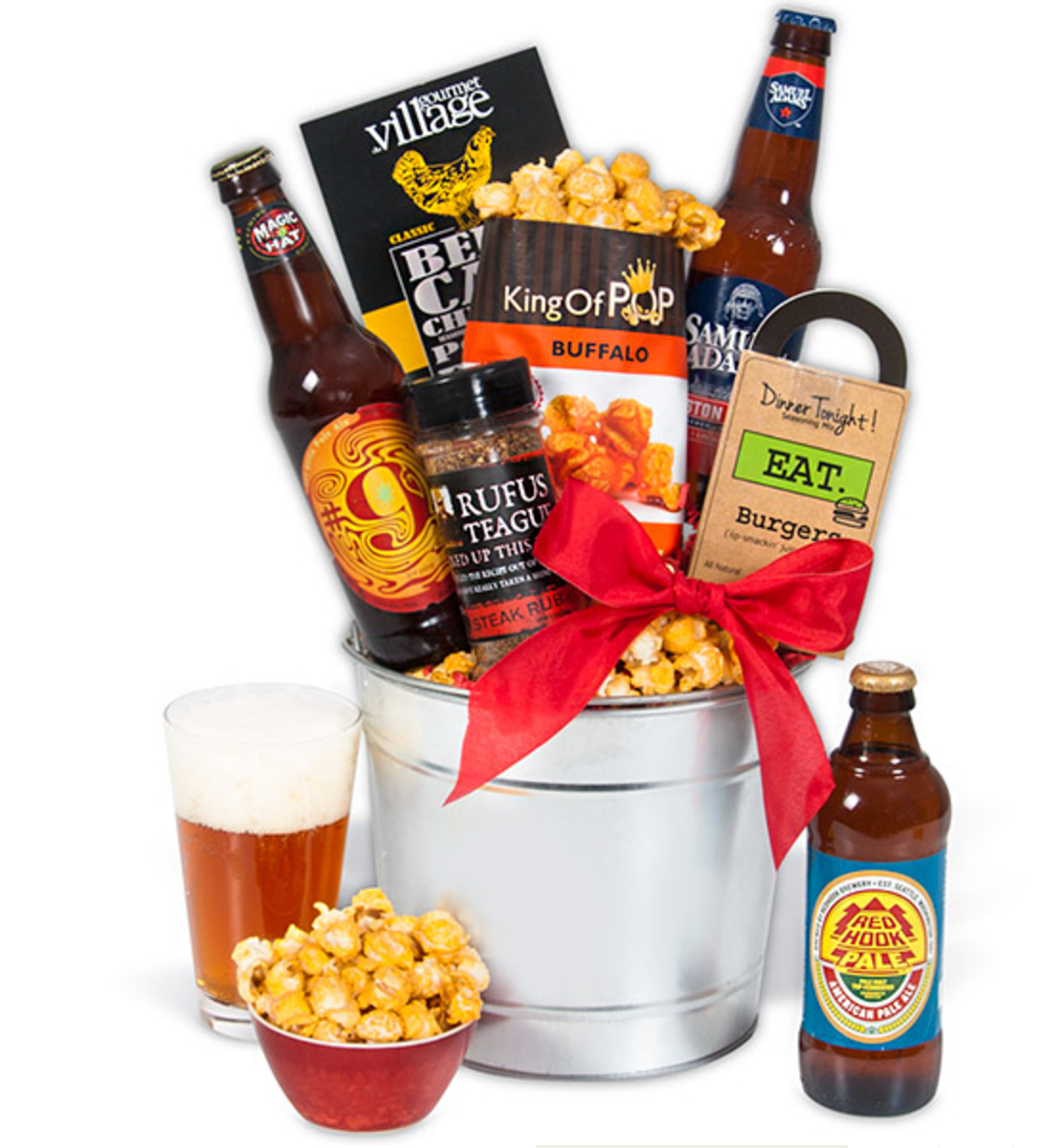 NEW for 2017 — Father's Day Beer-B-Q Bucket, $59.99, SKU 4658
Now, if the Dad on your list cares more about barbecues and less about golf, this gift has his name all over it.
This reusable stainless steel bucket is stocked with everything Dad needs to create a gourmet barbecue meal. It includes three refreshing beers (first things first, right?), along with three gourmet spice rubs, buffalo wing flavored gourmet popcorn, and more. (Another option for beer lovers is the very popular Spring Seasonal Beer Bucket).
A FREQUENT FATHER FAVORITE with a fresh, 2017 flavor combo — Father's Day Backyard BBQ Popcorn, $34.99, SKU 7402
Look no further than your own backyard to find your Dad's most cherished memories. It's where he helped perfect your pitch, showed you how to play badminton, or helped set up your first volleyball spike.
Pay homage to those times with this delicious popcorn sampler that perfectly unites Dad's most prized memories with his favorite tastes. Comprised of GourmetGiftBaskets.com's Honey Mustard, Hickory Maple Bacon, BBQ Ribs, Chipotle BBQ, Cajun, Buttered Corn On The Cob, Dill Pickle, Zesty Ranch, Sun Dried Tomato, and Watermelon popcorn flavors, this sampler helps you flawlessly celebrate your father on his special day.
NEW DESIGN FOR 2017 — Father's Day Gift Tower, $39.99, SKU 6870
Looking for an impressive gift that makes a big impression (on a budget)? This newly designed Father's Day Gift Tower fits the bill.
A mouth-watering selection of sweet and salty treats can be found inside this impressive four-tiered tower. These include crisp handcrafted popcorn, sweet candies, gently roasted honey peanuts, and more. (By the way, gift towers are a big hit with Dads and their kids, as he usually needs to share the goodies with the entire family).
For The Health-Focused Dad — Orchard's Abundance, $79.99, SKU 4404
Some Dads are in a very health-oriented phase of life. Those fathers would surely appreciate this woven basket filled with juicy pears, oranges, and crisp apples, along with an assortment of Vermont cheddar cheese, premium Virginia peanuts, and a salted caramel dip.
To see the full list of amazing Father's Day gift ideas for dad from GourmetGiftBaskets.com, go here.
Right now, save money on these gifts with this special code: FDAY10 and receive 10 percent off your Father's Day purchases at GourmetGiftBasket.com!
So what do you think about these food gift ideas? How are you going to celebrate the special dad in your life on Father's Day?
Giveaway!
One of you, lucky Hip Mama's Place reader, will win a Father's Day prize package from GourmetGiftBaskets.com worth $115.00 which includes:
(1) Father's Day Backyard BBQ Popcorn
Note: In the event that the above-mentioned products are sold out or are no longer available, the sponsor will provide the winner similar prizes with equivalent values.
To enter the giveaway contest, enter through the Rafflecopter widget tool below. Contest is open to U.S. residents only and ends on 06/22/18 at 11:59PM, EST. Good luck!