August is World Breast Feeding Month and today, I'm happy to feature this article by renowned lactation consultant and Registered Nurse Shari Criso offering her round-up of must-have essentials every new moms needs to make breastfeeding a success.
Breastfeeding rates have continued to rise over the past decade, according to data released by the Centers for Disease Control and Prevention. It's in large part due to the health benefits of this liquid gold: lower risks of ear and gastrointestinal infections; diabetes and obesity; and mothers who breastfeed have lower risks of breast and ovarian cancers. Shari can also discuss top breastfeeding myths and tips for breastfeeding success.


Shari Criso's Top Breastfeeding Myths:
· Myth #1: A large percentage of our population just can't make enough milk to fully nourish their babies.
Fact: Our bodies were made to breastfeed and our species has survived for hundreds of thousands of years this way. It is actually UNCOMMON for a mom to carry a pregnancy, deliver a baby, and then just not be able to feed it. It does not make sense. There are some moms who may have issues with milk supply, but most of the time it is due to inaccurate advice to supplement with formula because of a "perceived" low supply issue instead of a real supply issue

· Myth #2: That if your mom or sister couldn't breastfeed, that you won't be able to breastfeed as well.
Fact: I don't know what happened with a woman's mom or sister, but I do know that their mother's mother, and her mother before that, and so on…were able to breastfeed or they would not be here. We come from a line of women that were able to produce enough and feed their babies because that was the only way. Although the ability to breastfeed can have a genetic factor, this is usually not the case. Most of the time the reason that the mom or sister was not able to breastfeed is due to reasons that were not medical issues, but rather misinformation or assumptions about their bodies ability to make enough milk.

· Myth #3: That you have to have the perfect diet and lifestyle to make good and enough milk.
Fact: This is just untrue. If having the perfect diet, enough rest, not too much stress, etc. were major factors in your body's ability to feed your baby then our species would have died off long ago. People throughout history have lived through some of the most difficult situations and still were able to feed. Although our own health does make breastfeeding easier, it is not critical in making enough or good "quality" milk. A good diet will keep you healthy, but regardless of what you are eating your milk is rarely effected except in the most extreme cases.

· Myth #4: Breastfeeding will change the shape of your breasts.
Fact: Breastfeeding itself is not the culprit. Other factors that can change your breast appearance more than breastfeeding includes BMI, age, history of smoking, large pre-pregnancy breast size and number of pregnancies.


Shari Criso's Top 3 Breastfeeding Tips

· Tip #1: Become as knowledgeable and educated as possible about breastfeeding BEFORE you have your baby. Trying to wing it after the baby comes or rely on the staff at the hospital to teach you could be a disaster and the reason why breastfeeding was not successful.
· Tip #2: Purchase what you will need to make breastfeeding more comfortable and easier especially in the first few weeks when you are first adjusting and it is usually the most difficult time. You don't have to spend a lot of money to accomplish this, but assume that you WILL be successful and get what you need. You may be able to get help with breastfeeding at no cost, since your health insurance plan must cover the cost of a breast pump – and may offer to cover either a rental or a new one for you to keep. I like the Evenflo® Advanced Double Electric Breast Pump: $99.99-$159.99
· Tip #3: Make sure you are surrounded with support. One of the biggest challenges and reasons for moms not having the success that they want with breastfeeding is not getting the support from the people around them. Get your partner on board with education and information. A supportive partner is one of the biggest reasons for breastfeeding success. Find friends and other breastfeeding moms who were successful to speak to and line up a lactation consultant before you deliver so you can reach out for help as soon as you need it.


· Evenflo® Advanced Double Electric Breast Pump: (Retail price: $99.99-$159.99) – Simple way to support breastfeeding for your baby. Small, handheld, portable convenient and diaper-bag ready.
As an added bonus, moms who purchase the new Evenflo Advanced Double Electric Breast Pump will also receive free access to International Board Certified Lactation Consultant Shari Criso's full length, online educational programs ($60 value) – "Simply Breastfeeding"™ and "Breast Pumps and Briefcases™." Rich with information and guidance from Criso's 20+ years working one-on-one with breastfeeding moms, both programs address topics most relevant to nursing moms, and those planning to pump. Additional tools, such as video instructions for pump use can also be found on the newly launched Evenflo Feeding website: www.evenflofeeding.com.



· Warm Milk All-in-One Diaper Bag + Feeding Pillow: (Retail price: $115) – The Baby Hobo Bag is a diaper bag that converts into a breastfeeding pillow to provide perfect positioning for moms on-the-go.


· Milk Makers: (Retail price: $14.99-$39) – Lactation cookies are an easy, delicious, and nutritious way to help boost milk supply.

· Bravado Designs Ultra Comfort Nursing Camisole: (Retail price: $34.99) – Easy to wear while pregnant or nursing your new baby. Wire-free, seam-free, and has a long silhouette.
*WIN IT!
Lucky you, one Hip Mama's Place reader! Evenflo wants to give away one Evenflo® Deluxe Advanced Double Electric Breast Pump to one HMP reader in the U.S. – value worth $129.99!
The prize pack will include: Evenflo Deluxe Advanced Double Electric breast pump and premium shoulder bag, ice packs, 4 milk storage bottles, thermal cooler and extra membranes.
To enter this fantastic giveaway contest from Snuggle, just follow the Rafflecopter entry link below. This giveaway contest is open to U.S. addresses only and ends on 8/19/14 at 12:00 PM, EST. Good luck!
a Rafflecopter giveaway
*Hip Mama's Place Disclosure:
"My reviews and opinions are 100% my own. Evenflo provided these helpful tips and giveaway prize necessary to facilitate this post and giveaway contest".
Mom Breastfeeding Image Courtesy: Bravado Designs
Don't miss out on the latest fab deals, cool freebies, fun giveaways, delicious recipes, DIY inspirations and more! Subscribe to the Hip Mama's Place email newsletter, Hip Mama's Place feed reader, or simply "Like" Hip Mama's Place on Facebook and/or follow Hip Mama's Place on Twitter!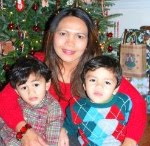 About the Author: Jocelyn Cañasa-Brown is a working mom of two boys and is a recognized blogger and mom influencer in the Washington, DC area. In her spare time, she designs and creates her own handmade jewelry, maintains her jewelry store on

Etsy

and is an active moms group organizer and leader both online and offline. Hip Mama's Place was nominated for Parents 2011 Best All-Around Mom Blog and named one of the

Highest Rated Blogs and Sites

on Nickelodeon ParentsConnect for the Washington, DC area. Follow Jocelyn on

Twitter

,

Facebook

and Pinteres
t.