Getting kids excited for summer reading can be a challenge. That's why Scholastic created a summer reading program to help us parents find unique ways for our kids to experience reading in a fun and engaging way.
Scholastic

has partnered with The Smithsonian to offer
"Reading Under the Stars" during Smithsonian Sleepovers
at the National Museum of Natural History.
If you're in the Washington D.C. metro area, register your kids for a
night of adventure at this fun, magical overnight event where they

will read books about science and space!
My son Gabriel (right) with a friend at the National Museum of Natural History in Washington, DC a year ago
Can't make it to this local Summer Reading event? Go online instead and sign up your children for Scholastic's "Reading Under The Stars" summer reading challenge now through September 5, 2014. Students will be able to read books, log minutes, earn rewards, and unlock star constellations. I have just registered my 8 year old Gabriel and we're excited to get started reading this summer! 🙂
– it's a FREE online reading program
– 8th year – over 600K students already registered nationwide
– Kids can read what THEY want and log their reading minutes to earn rewards
– Theme: Reading Under the Stars – encourages parents and kids to get outside and read. Make it a memorable experience.
– Author David Shannon and Gordon Korman will visit the top schools in the country with most minutes read.
Here is a really helpful infographic for ways to keep kids reading (click on the image to enlarge the poster):
To learn more about Scholastic's "Reading Under The Stars" Summer Reading Challenge and to register your children, visit www.scholastic.com/summer.
Don't miss out on the latest fab deals, cool freebies, fun giveaways, delicious recipes, DIY inspirations and more! Subscribe to the Hip Mama's Place email newsletter, Hip Mama's Place feed reader, or simply "Like" Hip Mama's Place on Facebook and/or follow Hip Mama's Place on Twitter!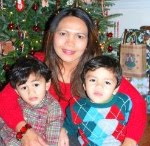 About the Author: Jocelyn Cañasa-Brown is a working mom of two boys and is a recognized blogger and mom influencer in the Washington, DC area. In her spare time, she designs and creates her own handmade jewelry, maintains her jewelry store on Etsy and is an active moms group organizer and leader both online and offline. Hip Mama's Place was nominated for Parents 2011 Best All-Around Mom Blog and named one of the Highest Rated Blogs and Sites on Nickelodeon ParentsConnect for the Washington, DC area. Follow Jocelyn on Twitter, Facebook and Pinterest.