It's no secret that fuel costs are continually rising. So I'm excited to share with you a new way to save money at the pump! I mean, who doesn't like saving money?

Safeway and ExxonMobil have teamed up to offer the Safeway/ExxonMobil Fuel Rewards Program – a new way to save money on fuel costs through earning Rewards Points on most products purchased at Safeway stores in the Mid-Atlantic region and redeeming those Rewards Points at participating Exxon or Mobil gas locations.
Survey
According to a recent *consumer survey conducted by Safeway, one-third of families go out of their way because saving money is important to them. Nearly three out of four people will drive out of their way for more affordable gas, and 76% of consumers surveyed said they would change where they grocery shop and purchase gas to save money. With more than a quarter of consumers spending up to $175 on gas and more than $300 in groceries each month, saving money is very important.
Safeway/ExxonMobil Rewards Program: How does it work?
Safeway Gas Rewards Points are easy to earn. Simply purchase groceries, qualifying gift cards and pharmacy items with a Safeway Club Card (obtained for free at any Safeway store location) and redeem those Rewards Points at participating Exxon or Mobil gas locations. For every 100 points earned by shopping at Safeway stores with a Safeway Club Card, shoppers can earn ten cents per gallon Reward. Shoppers can use up to one dollar per gallon in Rewards on a single fill-up at a participating Exxon or Mobil location with a maximum of 25 gallons and a limit of one vehicle per transaction.
Reward Points can be earned by shopping at Safeway stores in the following ways:
Grocery shopping at Safeway stores rewards shoppers with one point per

one dollar

spent on eligible purchases.
By purchasing qualifying gift cards, shoppers receive two points per

one dollar

spent.
Every

one dollar

spent on eligible pharmacy items equals one Reward Point.
To redeem Rewards Points, simply swipe your Safeway Club Card or by entering your linked phone number at the pump before fueling up.
This loyalty program is currently available throughout the U.S. Mid-Atlantic region. For complete details, see the Reward Points Program Terms and Conditions at safeway.com or inquire in stores. You can also click here for a participating ExxonMobil gas locations near you.

*In September 2012, Safeway surveyed 1,042 Americans ages 23 to 55 with a driver's license. Source: Zoomerang.
*$50 Safeway Gift Card Giveaway!
Lucky you, one Hip Mama's Place reader! Safeway and ExxonMobil want to give you a chance to win a $50 Safeway gift card so you can personally test out their new gas loyalty program!
To enter this contest

and be eleigible to win

, you MUST FOLLOW ALL (

5

)

five simple

steps

:

1. "Like" Hip Mama's Place on Facebook
2. Follow Hip Mama's Place on Twitter
3. "Like" Safeway on Facebook
4. Follow Safeway on Twitter

5. Leave a comment on this post telling me how far you would drive to a gas station location if it means saving you more money on fuel costs. In your comment, please include your Facebook and Twitter user names to verify your participation and your email address to contact you if you win.
EXTRA ENTRY: (Optional only, will count as second entry)
To earn an extra entry for this contest and get a better chance at winning, tweet this giveaway on Twitter however you like, but you must include this link in your tweet: https://bit.ly/WyWMVG + all or any of these hash tags: #saveongas #savemoney #giveaways AND our Twitter pages: @HipMamasPlace AND @Safeway
Example of a tweet:
Now you can save on gas @Safeway! Check out @HipMamasPlace about #saveongas #savemoney #giveaways https://bit.ly/WyWMVG
*Note: Make sure to leave a separate comment on this post with your personal tweet link on Twitter to let me know you've tweeted and to earn your extra entry. You can leave as many comments as you like but steps 1-5 will count only as one entry. The EXTRA ENTRY (optional tweeting of this giveaway) will count as another entry or second entry no matter how many times you tweet. There will be a total of only two entries for this contest.

This contest is open to U.S. addresses only and ends on March 23, 2013 at 12MN, EST. One (1) winner will be picked at random using Random.org at the end of the contest. Good luck!
*Hip Mama's Place Disclosure:
"My reviews and opinions are 100% my own. Safeway provided me a promotional gift card to personally test out the new Safeway/ExxonMobil Fuel Rewards Program and the gift card prize necessary to facilitate this post and giveaway".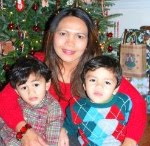 About the Author: Jocelyn Cañasa-Brown is a working mom of two boys and is a recognized blogger and mom influencer in the Washington, DC area. In her spare time, she designs and creates her own handmade jewelry, maintains her jewelry store on Etsy and is an active moms group organizer and leader both online and offline. Hip Mama's Place was nominated for Parents 2011 Best All-Around Mom Blog and named one of the Highest Rated Blogs and Sites on Nickelodeon ParentsConnect for the Washington, DC area. Follow Jocelyn on Twitter and/or Facebook.