If you like STOUFFER'S food products, go to their Facebook page, "Like" it and comment on why you like STOUFFER'S products to print a high value coupon for $2 OFF STOUFFER'S Lasagna!


These are great for those nights when you just don't want to bother with the kitchen or on those nights when you have unexpected guests in the house and you just want to grab something quick and easy to prep dinner from the freezer! They're yummy and never taste bland or dehydrated, like some of the frozen entrees I've tried.
For more coupons, deals, freebies and savings, click HERE. Enjoy! 🙂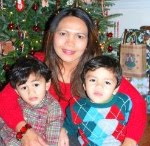 About the Author: Jocelyn Cañasa-Brown is a working mom of two boys and is a recognized blogger and mom influencer in the Washington, DC area. In her spare time, she designs and creates her own handmade jewelry, maintains her jewelry store on Artfire and is an active moms group organizer and leader both online and offline. Hip Mama's Place was nominated for Parents 2011 Best All-Around Mom Blog and named one of the Highest Rated Blogs and Sites on Nickelodeon ParentsConnect for the Washington, DC area. Follow Jocelyn on Twitter and/or Facebook.