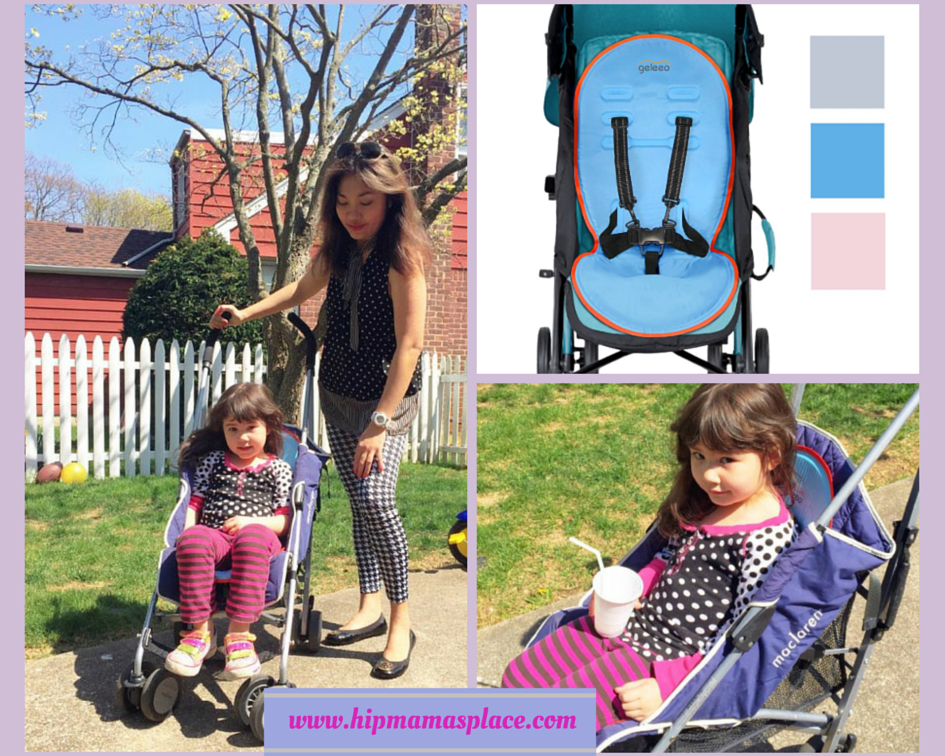 Summer is quickly approaching and if you're a stroller-toting mom (or dad), you know how the stroller can get so hot on baby's back you end up with a sweaty and cranky baby while outdoors. Well, here's one clever idea to keep your baby comfortable and happy on the go: Geleeo self-cooling stroller liner.
We were sent a Geleeo stroller liner to review and I had my sister Maria test it out for a few weeks with her three year old toddler, Keira. Both mommy and baby love Geleeo and this is what my sister had to say about the Geleeo stroller liner: "Keira loves her new comfy stroller liner and I'm more relaxed knowing she is more comfortable while sitting in her stroller! Now that the weather is getting warmer, nothing could be better than a self-cooling stroller liner for her that really works while we are outdoors. Thanks, Geleeo! What a neat product!"
And it's easy to see why this neat baby gear made it to A-List Mom's list of 5 Life-Changing Mom Gadgets! Designed by a parent with baby's comfort in mind, Geleeo is made with proprietary hydrophilic cooling gel that is certified safe to use, even in direct contact with skin. The hydrogel consists of 40% water and other components which created a unique formula to make Geleeo a high performance and long lasting outdoor cooling product for baby. And what's better, it doesn't involve ice, fan, air conditioning, or electrical input so it's totally safe to use! I love that this products is so easy to install and is sized to fit in any stroller. It's also water-proof and easy to clean (no washing required) and is made with safe, eco-friendly materials that are compliant with U.S. and European safety standards.
A low-maintenance, safe, convenient and stylish product that keeps children cool outdoors.. what's not to love? 🙂

The Gelleo self-cooling stroller liner retails for $49.95 on Amazon, at Babies R'Us, One Step Ahead and many other baby stores nationwide. Each Geleeo stroller liner is reversible and comes in four trendy colors. Recommended for babies and toddlers ages 2-4. For more information about this revolutionary self-cooling stroller liner, visit www.geleeo.com. You can also go here to find store retailer near you that carries this product.
*

WIN IT!
Lucky you, one loyal Hip Mama's Place reader! You can win a Geleeo Self-Cooling Stroller Liner in your choice of color – a $49.95 value!

To enter this giveaway contest, just follow the Rafflecopter entry link below. This giveaway contest is open to U.S. addresses only and ends on 05/31/15 at 11:59 PM, EST. Good luck!
a Rafflecopter giveaway

Hip Mama's Place Disclosure: "This is a sponsored post written by me for Geleeo. I received a product necessary to facilitate my review and the prize to conduct this giveaway contest. As always, all reviews and opinions are 100% my own".