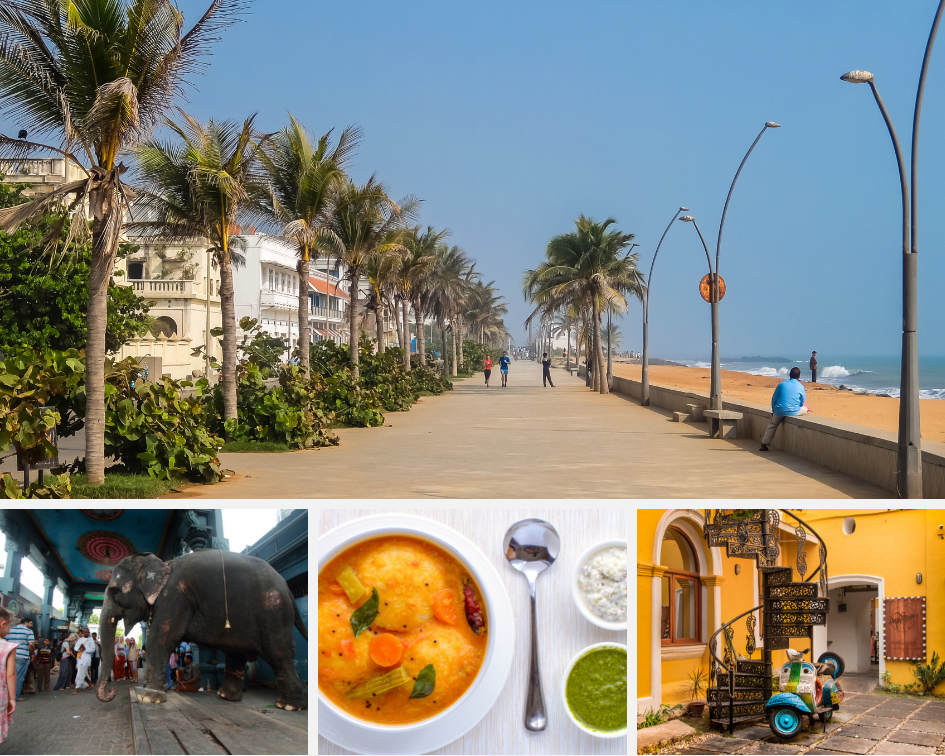 This is a partnered post. All views and text are my own.
Pondicherry is a small city that is located in southern India and will provide you with a feel of how life in India is along with a touch of French culture. It is called "Pondy" by locals and tourists alike and this beautiful destination has a variety of cultures, cuisines, and glorious beaches that are sure to make it easy to explore. Most of the tourists love to go behind the scenes and hit the backstreets in order to peek into Pondicherry's mix of Indian and French cultures.
How to See Pondicherry, India in 3 Days
Check out this fun itinerary idea for when you only have 3 days to visit Pondicherry, India.
Day One: Arrive in Pondicherry
The first day of your tour should start at the Manakula Vinayagar Temple, which was built right before the French occupied this region back in the 17th century. It survived many attempts of devastation by the French missionaries and became a common destination for the Hindus to flock to.
The Temple's most notable resident is the elephant that will bless visitors who decide to give a coin and she does so with her trunk! There are stunning paintings and plenty of stone carvings to admire here as well, but be careful because it is forbidden to take pictures in some of the areas inside.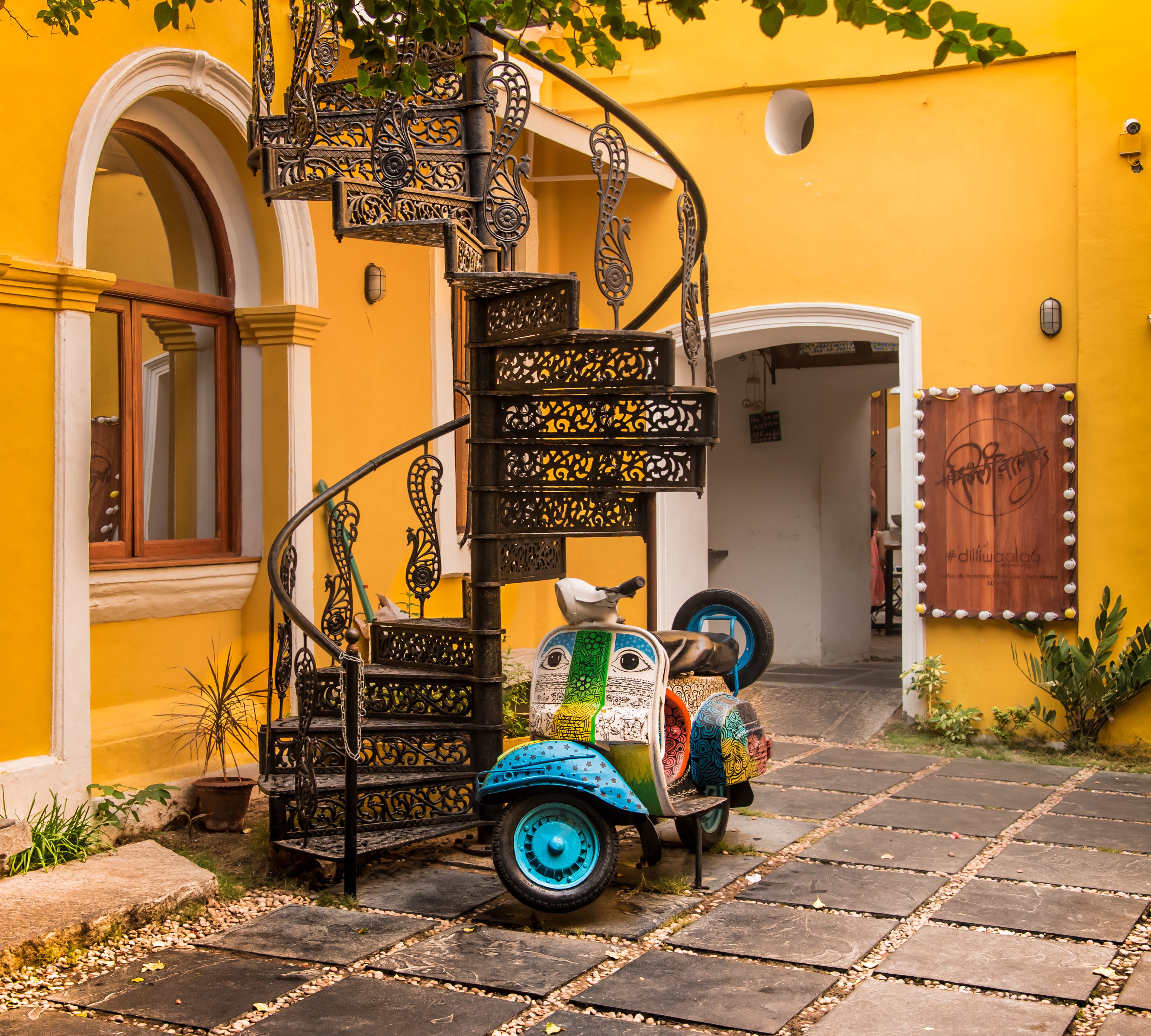 From the Temple, you should make your way to the French Quarter area of the city which is also known as White Town or Indian Town. Here you will find French influences surrounding this part of the city. There are beautiful, bright yellow houses and buildings that create a charming walk throughout the quarter. Pick a café for a delicious meal anywhere along the and indulge in Southern Indian, French, or even Italian cuisine.
There are lots of beautiful stay options provided in Pondicherry by Cleartrip where you can totally experience the Indian and French culture. Book a stay at hotel at the Hotel Surguru in center city. This spacious hotel is in the perfect location to wander the side streets. You can also dine in their popular multi-cuisine restaurant, but before the end of the day head over to Mahe beach for a stunning sunset since it's just a short drive from here. You will find this beach so much less crowded than more popular beaches and the water is clean and refreshing.
Day Two: Churches, Culture, and Cuisine
Visiting Auroville founded in 1968 by Mirra Alfassa or "Mother," is a spiritual organizer who created a town in which everyone who came here could live in a place of peace and calm. There are many workshops in the area that aim to help the inhabitants to get through their own personal problems and demons. There are over 2,000 global citizens residing in the Auroville from 40 countries that stay here as a large, supportive family that are passionate about showing the world how the power of patience, love, and most importantly, humanity are to the world.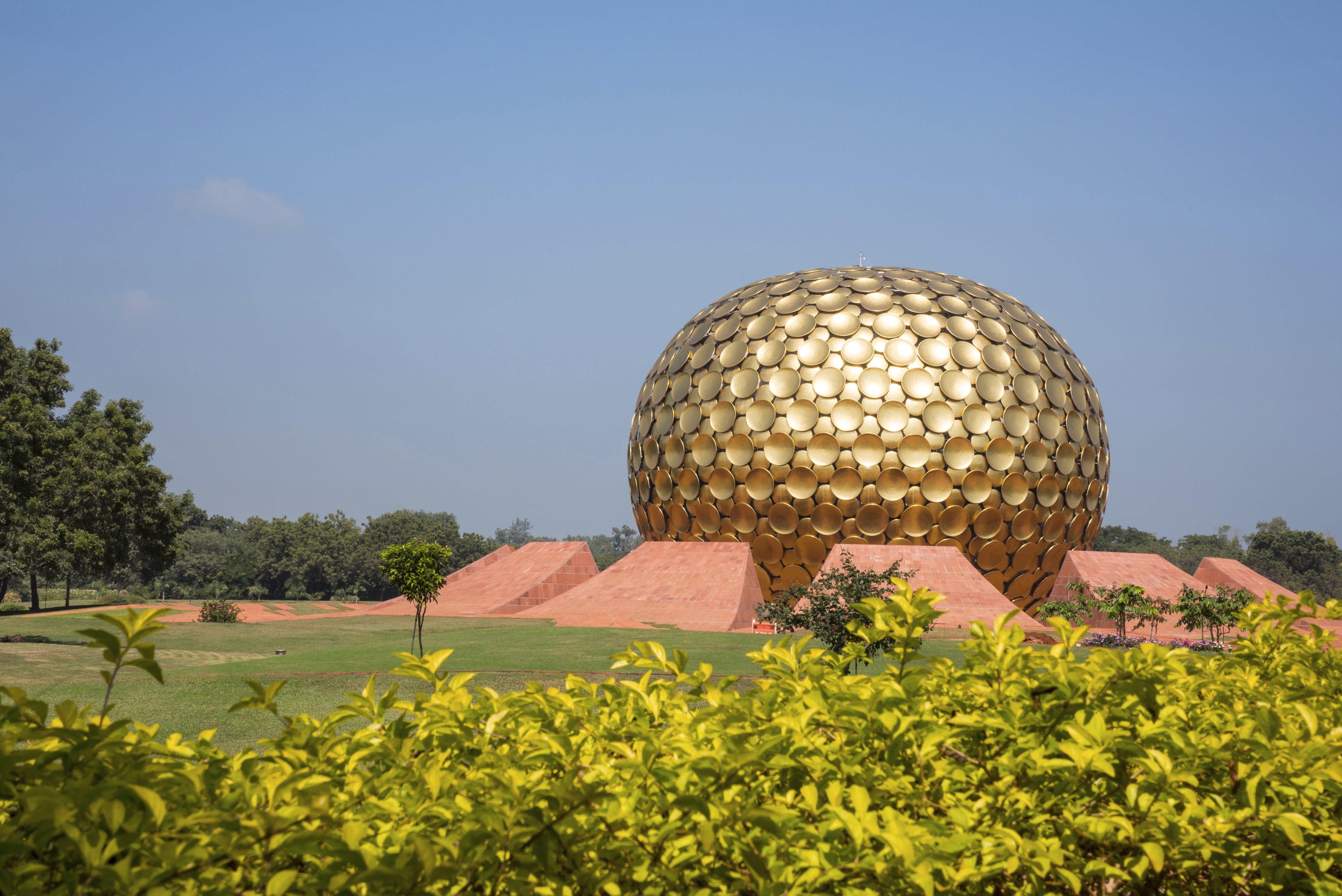 Auroville is a beautiful and serene place for that all visitors should experience. Here you can stay in a plush hotel in Pondicherry near Auroville. Mango Hills by POPPYS is situated just outside of the city conveniently located between Pondicherry and Auroville. It's a beautiful place to indulge in spa treatments and simply relax. It has a casual Parisian design combined with a touch of Indian countryside. There are mango and cashew trees all around the property.
There are over 30 churches in Pondicherry like Sacred Heart Church, Basilica of the Sacred Heart, and the Immaculate Conception Cathedral to just name a few. They exhibit some of the most beautiful French architecture and if you spend just a little bit of time in any or all of these, you will find peace and a few moments of solace.
Next up is an exciting way to experience the cuisine of the region by signing up for a Cooking Class with Manisha. Every region of this vast country has its own recipes and unique way of cooking. A cooking lead by Manisha who is a professional cook will broaden your food knowledge of India. She will take you shopping to Goubert Market for the ingredients and you will be able to select making either a traditional vegetarian or non vegetarian Tamil menu. Visit the Sita Cultural Center for classes on Wednesdays and Fridays and enjoy your final product in one of their tropical gardens.
Besides being a common destination for history, beach, and spirituality, Pondicherry is the perfect place for food lovers because of its variety of French cafes, bakeries, and also South Indian restaurants. As a former colony of France, Pondicherry has maintained a big influence on French cuisine so dishes like Coq Au Vin and Quiche remain popular. When it comes to the local cuisine, the locals keep their tastes original to their Southern Indian roots. For example, idli-chutney for the vegetarians and meat dishes like Nattu Kozhi biryani and a typical Vanjaram fish fry are always on the menu.
Day Three: Boat Ride to Paradise Beach and Shopping
All aboard the Chunnambar Boat House for relaxing boat trip to Plage Paradiso, otherwise known as Paradise Beach. You will be able to soak up the sun or if you are more adventurous there are some
popular activities to get into as well. Explore the backwater areas where you can hike, camp in tree houses, and pick a scenic spot to stop for a picnic. Keep your eye out for dolphins while cruising here too because they are attracted to the warm waters.
Whether you are an experienced scuba diver or a novice, Temple Adventures will take you on a scuba diving adventure that will marvel you. Pondicherry is the lone diving spot on the entire east coast of India. There are natural formations of coral reef and tons of underwater life to be seen such as lionfish, angelfish, manta rays, and crustaceans.
Finish off your day by taking a stroll on Promenade Beach situated in city center. It begins at the War Memorial where you will come across the impressive statue of Gandhi that is surrounded by 8 enormous granite pillars. The Promenade ends near the Dupleix Park where you can stay in a hotel in Pondicherry. Le Dupleix Hotel is situated in the heart of the French Quarter and is a short walk to the beach and shopping district. There are plenty of stores where you can purchase local crafts, handmade paper, essential oils, and fragrant incense.
It is certain that 3 days may not be enough to discover everything Pondicherry has to offer, but a visit to this city should be on your bucket list. Pondy offers a little bit of something for everyone, whether it is a peaceful vacation of exploration or an adventure of a lifetime.