Did you know that turkeys can blush? This Thanksgiving-themed article offers a short history of turkeys and some fun turkey facts. Read on….
Carving through the crisp golden outside of the turkey into the delicious tender meat below is a Thanksgiving honor reserved for the chef, one of the heads of the household, or a special guest. Devouring a plateful of turkey and fixings is the highlight of the fall season for many Americans. And for many American children, snapping the wishbone and hoping to end up with the larger, wish-granting side of the bone is the best part of Thanksgiving.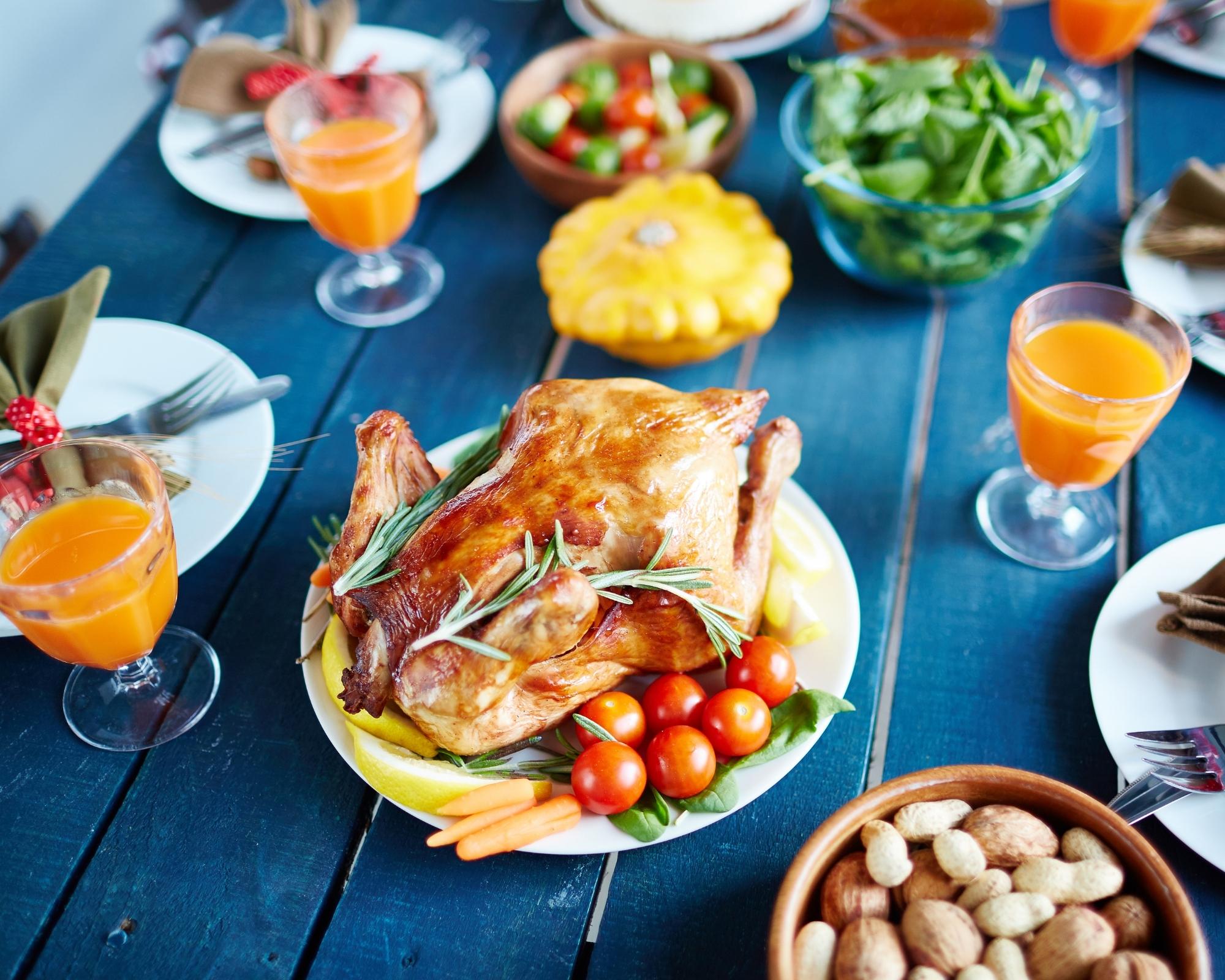 There's so much more to the humble turkey, though, than its place on our Thanksgiving table. The turkey on your Thanksgiving table has a much longer history than most people imagine. It also has some wild relatives with surprising abilities!
Where Your Turkey Came From
Two species of wild turkey call North and Central America home; there are several subspecies of these two main species. Although turkeys are native only to North and Central America, their close relatives–grouse, pheasant, and partridge–are found throughout the world.
The Ocellated Turkey (Meleagris ocellata)
The ocellated turkey is a gorgeous bird, especially the males, with their blue heads and large orange eyes. The feathers of the ocellated turkey are striking: their black and dark grey feathers have bronze, yellow, and green iridescent tips, and some feathers are entirely iridescent, ranging from dark teal through shades of green and chartreuse to bronze. The ocellated turkey has bright red feet and tail feathers that boast an eye-like marking. Ocellated turkeys are found in northern Belize, Guatemala, and southern Mexico and have never been successfully domesticated.
The Mexican Turkey (Meleagris gallopavo gallopavo)
The bird on your Thanksgiving table is a domesticated version of the Mexican turkey. Although called the "Mexican" turkey, these turkeys were originally found throughout the Eastern United States as well as in northern Mexico, (including the U.S. states that were formerly Mexican territory.) The Mexican turkey and its various subspecies are what you probably think of when you say "wild" turkey. They generally have a pinkish-grey head and white-barred body feathers that are dark but shine an iridescent bronze in the sunlight.
Show the Turkey Some Respect
Ancient Mayans saw that the ocellated turkey lived on the edges of human settlements but couldn't be domesticated, and they noticed that when its tail was spread wide, the spots seemed to be looking everywhere at once. The ocellated turkey became a powerful symbol of the space between humans and the rest of the natural world. Ancient Mayans believed the bird could act as a kind of go-between for humans and spirit-beings.
Both the ocellated turkey and the Mexican turkey played important roles in Mayan culture.The Ancient Mayans used the ocellated turkey's beautiful feathers to decorate important items of clothing, such as the capes worn by leaders. They sacrificed both varieties of turkey as a part of their New Year ceremonies, and ate turkey on important occasions.
Because tracking and hunting individual turkeys was time-consuming, the Ancient Mayans set about domesticating them. But it wasn't until they imported turkeys from Mexico that they succeeded–more than 2,000 years before the first American Thanksgiving.
What You Might Not Know About Turkeys: Some Fun Facts About Turkeys
Turkeys Can Blush
When a turkey is excited or upset, its neck and head can change color–from the usual pinkish grey to a bright red.
Wild Turkeys Can Swim
Domestic turkeys can't manage this feat, but wild turkeys can swim by tucking in their wings and paddling their feet–and baby turkeys are especially good swimmers.
Wild Turkeys Sleep in Trees
They're pretty big and heavy, but like any bird, turkeys don't want to be caught sleeping by predators. So just like tiny sparrows and finches, turkeys spend the night in trees.
Some Turkeys Have Beards
Well, sort of–many turkeys, both male and female, grow long specialized feathers from their necks. These are called "filoplumes" and can reach all the way to the ground!
Why We Eat Turkey at Thanksgiving
There isn't any evidence that Turkey was part of the meal at the "First Thanksgiving." So where did the tradition come from?
Because turkeys are native to North America, and they were first imported to Europe in the late 1400's, only rich people could afford to eat turkey. So turkey became a fancy food in Europe that people associated with special occasions. By the time English colonists started arriving in North America in the early 1600's, turkey was already well-established as a holiday food. When Sarah Josepha Hale began her 19th Century campaign to create the Thanksgiving holiday, she published a turkey recipe in her Godey's Lady's Book as a suggested food–and the rest is history.
Sources:
Beaty, C (2013). 5 Amazing Facts About Turkeys. Wildlife Habitat Council.
Izquierdo y de la Cueva, AL, and Vega Villalobos, ME (2016). The Ocellated Turkey in Maya Thought. The Pari Journal: Vol. 16, Issue 4.
Melina R, Bryner J (2015). 10 Terrific Turkey Facts. Live Science.
Thornton EK, Emery KF, Steadman DW, Speller C, Matheny R, & Yang D (2012). Earliest Mexican Turkeys (Meleagris gallopavo) in the Maya Region: Implications for Pre-Hispanic Animal Trade and the Timing of Turkey Domestication. PLoS ONE 7(8): e42630.
Strauss, V (2016). Why we celebrate Thanksgiving every year. It isn't what you think. Washington Post.
Images courtesy: L. Kay on Flickr; MacaulayLibrary.org