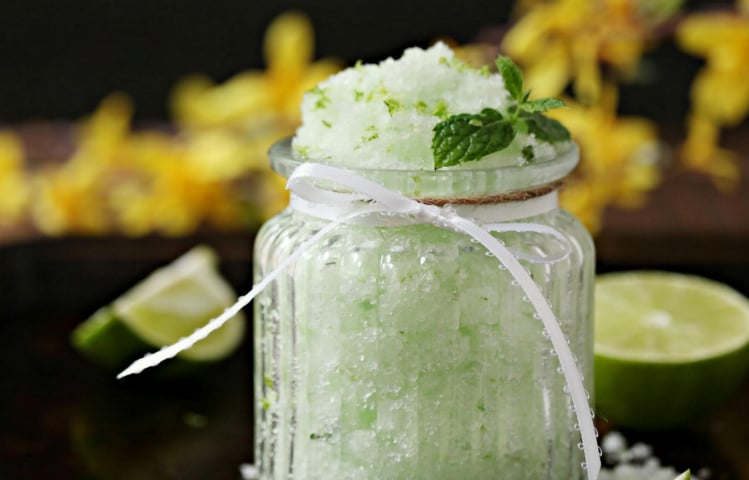 After a week-long snow storm, winter still has its icy grip on us and the snow on the ground hasn't completely melted yet. It'll be a while until we can see flowers and buds poking up through the earth again. Aahhh.. I'm already aching for the days when we can wear lighter clothes .. when we don't have to be trapped beneath thick layers of clothes and boots so we can thump through the snow and sleet.
At the same time, I don't need to let the cold weather wreak havoc on my entire psyche.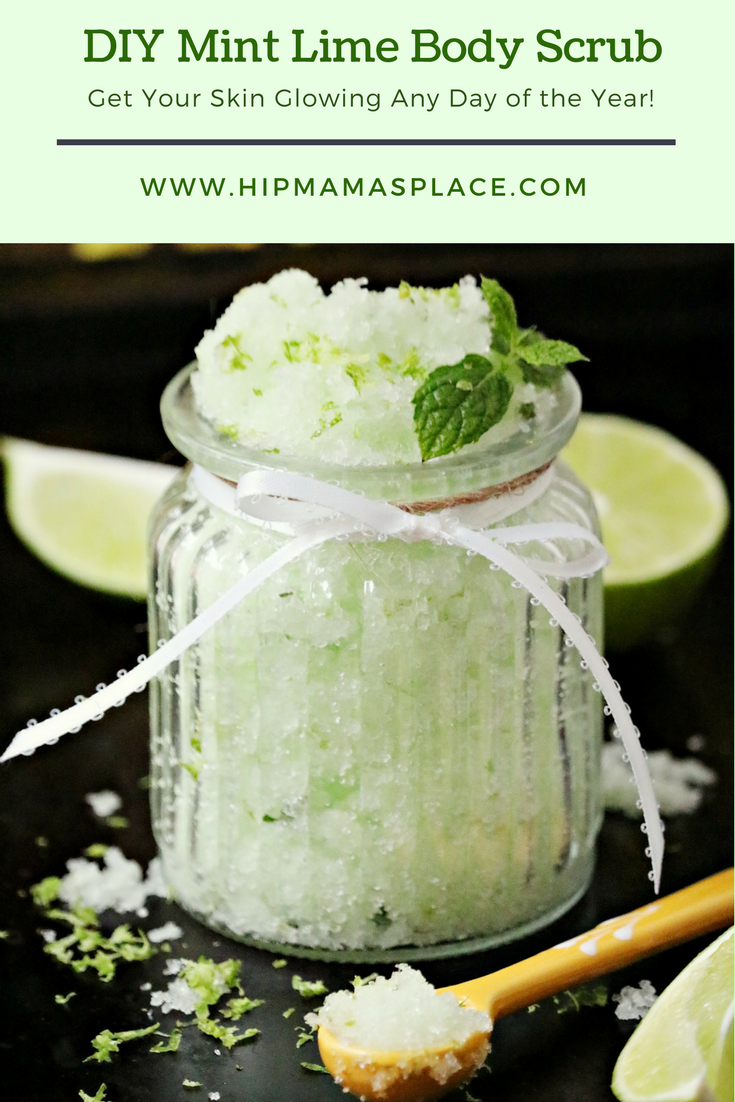 On days like these, a little TLC on my skin really works wonders for my mind, body and soul. Seriously. Not just my skin, (or body) literally. I just love making this easy, all-natural DIY body scrub to revitalize my skin from top to toes.. and make me feel good inside and out! Also, I've been noticing that I sleep better after a good long soak in the tub using this amazing body scrub in my bath. Aaahhh… now that I'm talking about it, I need another one of those spa days. 😉
You know how the cold winter weather can easily give you dry, ashy, or scaly "lizard" skin? Well, a simple remedy is this exfoliating body scrub, with heavenly scents of mint and lime and coconut oil for extra softening. The epsom salt not only sloughs away dead skin cells, but will also help ease aching limbs, draw toxins out of the body, among other health benefits. All the natural ingredients in this soothing body scrub will nourish your new skin beneath, leaving you soft and glowing all over long after you step out of the shower or bath!
So, instead of spending a ridiculous amount of money on a body scrub from specialty stores, why not make your own DIY Mint Lime Body Scrub?
This one is so easy to make, you guys.
Ingredients:
1 cup of Epsom salt
2 Tbsp of fresh lime juice (extra may be needed)
3 Tbsp coconut oil, melted
Zest of 1/2 lime
3 or 4 mint leaves, thinly sliced
Directions:
1. In a bowl, mix 1 cup of Epsom salt, the lime juice, coconut oil, lime zest and mint leaves. Stir until well combined.
2. Store in an air tight container and keep in a dark place after use.
3. Use this amazing body scrub in the shower or add some to your bath.
Enjoy!!! 🙂
You Might Also Like…