This post is sponsored by BabbleBoxx.
The holidays are fast approaching and I'm so ready for all the exciting holiday food, decorations and entertaining family and friends at home. Yes! I love hosting for the holidays and thanks to BabbleBoxx, they're making it easier for me to put together a fun, festive and yummy holiday party with these goodies!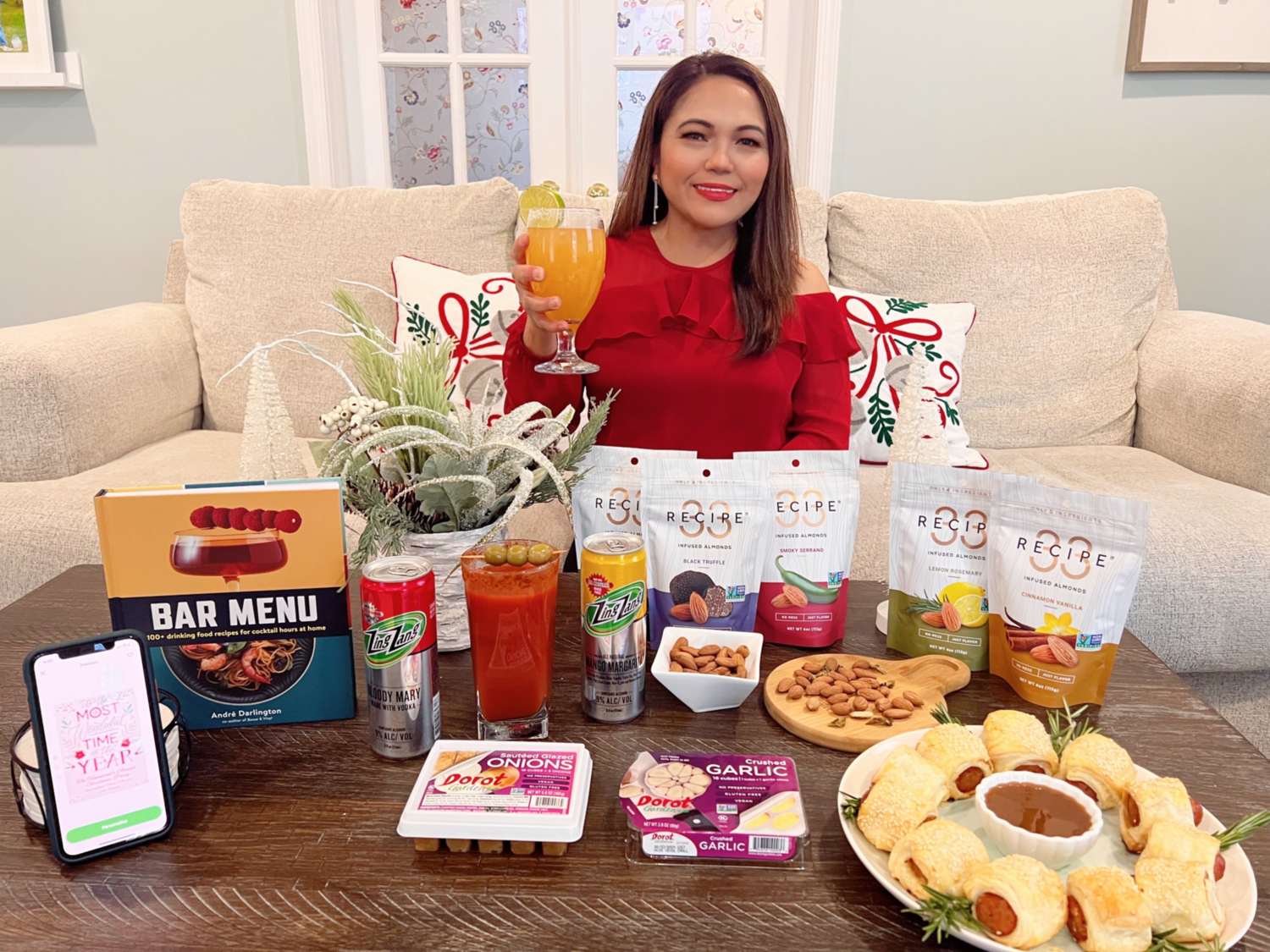 If you're feeling festive like I am and are looking for holiday party entertaining ideas, then you'll love these products that I'm about to share with you!
1. Jus-Rol Puff Pastry Dough
I love recipes that doesn't require spending tons of time in the kitchen and this ready to bake Jus-Rol Puff Pastry dough makes baking prep so easy and the baking process a lot quicker! No need to thaw. Simply unroll the dough from the parchment paper it comes with and you're ready to bake!
I made pigs in blanket using this dough for 25 minutes and they came out flaky and so, soo good.
Jus-Rol's Puff Pastry is Non-GMO, with no artificial flavors or colors, high fructose corn syrup, or bleached flour. Jus-Rol Puff Pastry is suitable for Vegans and Vegetarians and Made in the USA with the finest US and imported ingredients. You can learn more about Jus-Rol pastry products HERE or find a retailer near you HERE.
2. Zing Zang Cocktails®
Deciding what drinks to serve to your holidays guests can be a challenge with so many options available.. and who has extra time in their hands preparing complicated cocktails during the busy holiday season? Enter Zing Zang ready-to-drink cocktails- it's easier than ever to enjoy delicious, quality cocktails!
My husband and I really enjoyed the Zing Zang Mango Margarita with Tequila Canned Cocktail. It's a tropical delight in a can with the perfect blend of mango, lime and Key lime. I love that they're made with all-natural ingredients and no high fructose corn syrup, artificial dyes or preservatives.
I served this in a glass rimmed with salt and then added a slice of lime. This is truly an authentic mango margarita that's also perfect for happy hour, taco Tuesday, parties or home bar. With 9% ABV, it is the equivalent of two cocktails per can.
Then there's Zing Zang Bloody Mary with Vodka Canned Cocktails which is the #1 selling Bloody Mary Ready-to-Drink Can in the can. It's a great cocktail for brunches, tailgates, or just the occasional Bloody Mary at home. With 9% ABV, it is the equivalent of two cocktails per can and made with 7 real vegetable juices and bold seasonings, mixed with a premium 6x distilled vodka, for a perfectly crafted, bartender-quality Bloody Mary in the convenience of a ready-to-drink can. You can find a retailer near you HERE.
3. Punchbowl Online Invitations
Send your holiday party invitations with ease this year with beautiful, personalized online invitations from Punchbowl.
I've already started sending my Christmas party invitations and it was so quick and easy, thanks to Punchbowl!
In just 3 easy steps, you can also have a beautiful digital online invitations sent to your family and friends this holiday season!
1. Choose and personalize a design from the Holiday Invitation Collection from Punchbowl: add your event details, personalize the fonts, colors, and design accents. You can even add features like a potluck list or poll to determine your signature cocktail.
2. Build your guest list. Easily import phone numbers or email addresses from your contacts. Connect guests on your guest list so they can RSVP for their family members.
3. Deliver your invites instantly by text or email, and track RSVPs.
Check out the gorgeous collections of online invitations from Punchbowl HERE.
4. BAR MENU – A Recipe Book from Running Press
If you like holiday entertaining at home, you must get this stylish recipe book from award-winning food-and-drink writer André Darlington.
Featuring 100+ crave-worthy food recipes (each containing a drink idea) plus 30+ actual cocktail recipes, this book is the ultimate guide to cocktail eating and entertaining at home. I also love the full-color photographs throughout this book which makes it a beautiful volume to set on my coffee table. Get your own copy of BAR MENU recipe book HERE.
5. Recipe 33 Infused Almonds
Being a blogger, I spend a lot of time planning for content, reading, writing and I'm constantly in front of my computer. So, I'm always looking for quick snacks especially on very busy days. Lately, I have been loving the infused almonds from Recipe 33. They're so delicious and come in many flavors I love!
Made with real ingredients that you will find in each package, RECIPE 33 infused almonds are also perfect on the go snacks, dressing up salads or as a great addition to your charcuterie board. Go HERE to try RECIPE 33 and save $2.00 on any 4 oz bags with coupon code TryRECIPE33.
6. Dorot Gardens Fresh Frozen Seasoning Products
Save time in the kitchen and spend time more time with your family and holiday guests with this ultimate kitchen hack: Dorot Gardens fresh frozen seasoning products.
These pre-portioned fresh frozen herbs and garlic, onions and herbs from Dorot Gardens eliminate the hassle of chopping and measuring, making it effortless to season and flavor your cooking. Simply 'pop' the frozen seasonings out of the tray and you'll get delicious, consistent flavor each time. I love how convenient these pre-portioned seasonings are when making my family's favorite recipes which makes it my new cooking hack!
To learn more about Dorot Gardens fresh frozen seasoning products, Go HERE or find them on Instagram HERE.
Make spirits bright and use these ideas to make your next holiday party entertaining a lot more fun, festive and yummy. After all, 'tis the season…
My family and I wish you and yours a wonderful holiday season!