I just love Whole Foods Market. Not just for the organic food, but for stuff like aromatherapy and skin care. Whenever I'm in this store, my whole aura changes. I think it's something to do with the whole ambience of the store- clean, organized, nature-inspired and the smell of natural goodness. The place just instantly relaxes me.
Anyway, here's something new from Whole Foods Market that you all ought to check out. They're currently running a 3-part podcast series promoting the "Premium Body Care" standard they have created, and the importance of knowing what is in your Body Care products.
The Podcasts:
1. Premium Body Care® – A Worthy Challenge- discusses how their standard helps define What "Natural" really means in body care products.
2. In, Holding the Bar High in Natural Body Care – you'll hear about why these strict natural guidelines are important. You'll also learn about Campaign for Safe Cosmetics, a national coalition of health and environmental groups that are working to eliminate harmful chemicals from personal care products.
3. Positive Changes for the Industry, for Everyone – looks at how these standards raise the bar for the natural body care industry as a whole.
You can check these cool Whole Foods Market podcasts by clicking HERE.
*WIN IT!
Win this Whole Foods Body Care package that includes full size bottles (16 fl. oz. each) of their new Whole Foods Market 365 Everyday Value Body Lotion, Shower Gel, Shampoo and Conditioner, all valued @ $40! Read the details below to enter this giveaway contest.
*CONTEST RULES:
To enter the contest, go check out the Whole Body Podcast. When you're done, come back to this post and tell me what you think. This contest is open to U.S. and Canada residents only and will close on May 27th, 2010 at 12MN, EST. I will choose ONE (1) WINNER using Random.org and will be announced as a comment on this post.
*IMPORTANT: PLEASE DO NOT CROSS-PROMOTE ANY OTHER GIVEAWAYS HAPPENING ON ANY OTHER BLOG OR WEBSITE. I WILL APPRECIATE IT VERY MUCH.
Your comment is your one entry. To earn extra entries, just do the following: (You may leave extra comments for your extra entries if you wish)
1. Subscribe to the Hip Mama's Place FEED READER for new post updates (don't worry, we hate spam. You will never receive email spam from Hip Mama's Place). (2 EXTRA ENTRIES)
2. Grab the Hip Mama's Place badge code under the "Grab Our Fabulous Button" and paste it on an HTML page on your blog sidebar. (2 EXTRA ENTRIES)
3. Tweet this event on Twitter with a direct link to this URL page: (JUST COPY THE WHOLE PHRASE BELOW AND PASTE IT ON YOUR TWITTER PROFILE UPDATE) (2 EXTRA ENTRIES)
I just entered the Whole Foods Market Body Care package giveaway on Hip Mama's Place! https://bit.ly/bO74o2 #organic #skincare #giveaways
4. Mention this giveaway on your Facebook with a direct link to the giveaway URL address: (1 EXTRA ENTRY)



https://www.hipmamasplace.com/2010/05/whole-foods-market-premium-body-care.html
5. Write a short post about this giveaway on your blog linking to our home page or the URL page address on EXTRA ENTRY #4 above. (2 EXTRA ENTRIES)
6. Follow Hip Mama's Place on Twitter (1 EXTRA ENTRY)
7. Become a Fan of Hip Mama's Place on Facebook (1 EXTRA ENTRY)
You will have TWELVE (12) total entries when you do the above-mentioned extra entries besides your comment. The more entries you have, the greater chances of winning! Please make sure to include the links in your comments for your extra entries (i.e. Facebook profile update, Twitter, etcetera). Good luck!
*Hip Mama's Place Disclosure: "The opinions I am sharing remain my own. I received the products mentioned in this post to facilitate my review. The giveaway is provided solely by Whole Foods Market".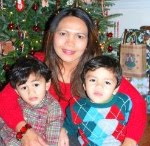 About the Author: Jocelyn Duncan is a working mom of two boys and is a recognized blogger and mom influencer in the Washington, DC area. In her spare time, she designs and creates her own handmade jewelry, maintains her jewelry store on Etsy and is an active moms group organizer and leader both online and offline. Follow Jocelyn on Twitter and/or Facebook.