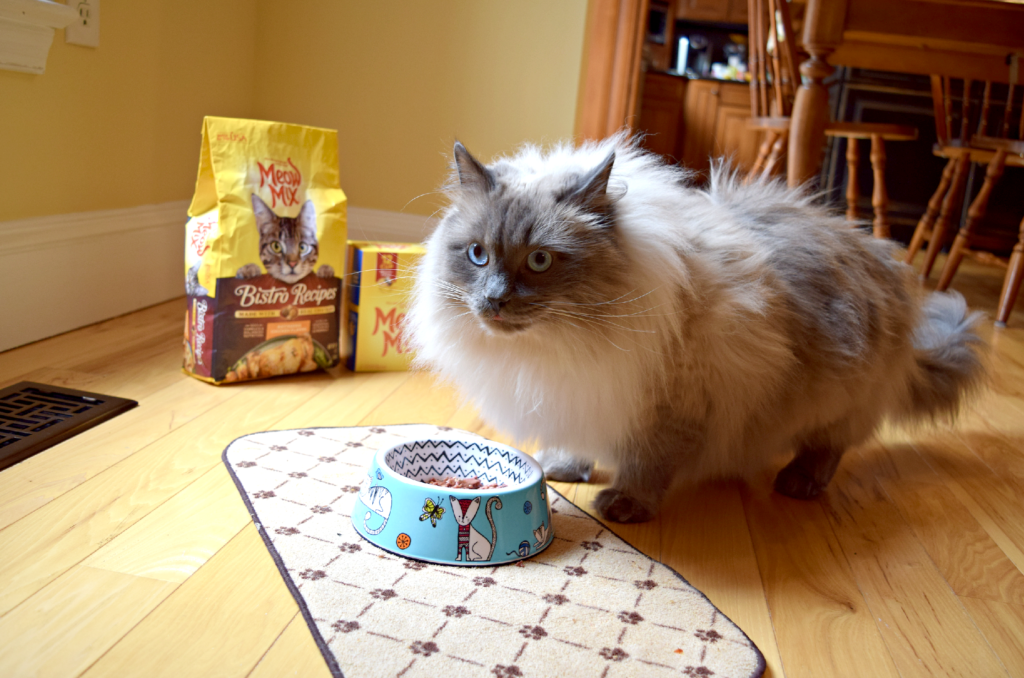 If you're a cat owner like myself and you love your cat, you know the adorable things they do that make you love him or her more. If you don't already have a cat you should definitely look into getting one, they are the perfect addition to your home!
Our cat Oscar is a gorgeous cat that we got from a lady in Culpepper, Virginia who breeds cats. Oscar was only about 3 months old when we got him three years ago. And since the day we brought him home, he has brought so much love and warmth in our hearts. We keep him indoors and we treat him like a member of our family.
I know you might have your own reasons why you love your cat. But here are our top 5 reasons why we love our cat, Oscar:
Oscar loves nice, warm snuggles. He loves snuggling up on our lap and whenever he does that, it makes us feel more relaxed. In the winter, it's like having your own personal heater when your cat snuggles up on your lap.
Oscar purrs a lot when we pet him, and when a cat purrs, that means they love you. It's a warm, fuzzy feeling when you hear a cat purr.
Oscar is the mellowest and the friendliest cat you'll ever meet. He is really low maintenance too. Give him yarn for a toy and he'll be perfectly happy and will play with it for hours. We do spoil him with a lot with toys!
We love talking to Oscar with his super cute 'meow' sounds. It's so adorable when you talk to him, because he will meow right back at you. Now, who doesn't like having conversations with a fluffy, gorgeous cat like Oscar?
Oscar is so easy to please and relate to. He is very independent. He also knows how to ask for what he wants or needs. For example, he will just snuggle up in his own blanket and lay quietly when he sees you are busy. And then when he gets hungry or needs to be petted, he'll rub his head gently on your leg or follow you around. It's so precious whenever Oscar does these things!
So when you have an adorable cat like Oscar, you just naturally want to hang out with them and give them nice food and treats that they deserve!
And speaking of treats, Oscar loves the food and treats from Meow Mix.
We take Oscar to the vet regularly, and we are very picky when it comes to the food and treats we give him. But he loves the food and treats from Meow Mix and he gets excited every meal time!
If you're not familiar with the Meow Mix brand of cat food and treats, I can tell you that they are a trusted brand offering high quality products that are made with wholesome ingredients and irresistible taste that our cat loves! The Meow Mix brand also offers a great selection among different textures and flavors.
Oscar loves all these three varieties of Meow Mix: Bistro Rotisserie Chicken Flavor (dry food), Tuna & Shrimp Lovers (wet food) and Brushing Bites Treats Made with Chicken. But his top favorite is the Meow Mix Tuna & Shrimp Lovers. He gets very excited whenever we give this to him at meal times.
I buy our Meow Mix cat food and treats at the Walmart store near our house, where I also get some of my grocery items and other things we need for our home. I love all the convenience our Walmart store offers where we can literally shop for everything we need in one stop!
Back to Oscar and about why we love him. You know, cats are unique and they come in a different shapes, sizes, colors and hair types, and like people, they each have their own personality. We adore and love our cat, Oscar, and I hope this post made you all cat lovers love your cats even more, or helped those who are still thinking of getting a cat for a pet. 🙂
This is a sponsored post written by me on behalf of the J.M. Smucker Company. The opinions and text are all mine.