We had been with this cable and internet service company (that I won't name) for a long time and had not been very satisfied with their service for the last couple of years. The internet kept dropping, especially during peak times when we needed it the most. My husband and I are pretty much online most of the time- especially me being that I have an online store and I'm a blogger- that it's very important to us to have a super reliable internet service.
Cable wise, we're a huge tv-watching family too and it doesn't get very annoying than when you're in the middle of watching your favorite show and the tv screen suddenly goes blank! Yes, that happened to us many times with our old cable service!
So you can imagine my excitement when Mom Central told me that they picked me as one of the Verizon FiOS Test Drive Moms– to try out their Verizon FiOs Triple Play Package service which includes cable, internet and home phone. We had been talking for a while about switching to Verizon FiOS but never got around to it until this opportunity came up. So it was just perfect timing!
Day of the Installation…
The installer guy from Verizon FiOS service was extremely pleasant and polite and although the whole installation process took about four hours as expected, it wasn't a hassle at all. At the end of the install, he explained everything to us about the many different cable features, even how to use the remote control and all. Wow, what a huge difference! It was almost like having a new tv in the house! My husband was so excited and said, "Now I know why a lot of people like Verizon FiOS!". It took us a while to get used it but after a few weeks- we can say that Verizon FiOS really lives to its slogan: "THIS IS FIOS. THIS IS BIG".



What We Like So Far…
So far, we're loving the multi-room DVR feature. With this feature, we don't have to watch ten minutes of commercials while watching our favorite shows. It's really neat that when we can't be home to watch our show, the DVR can record it and we can just watch it when we get home. Or when the kids want to watch their shows in their play room, me and my husband can watch sports or our favorite I.D. (Investigation Discovery) shows that we've missed in the living room from our DVR.


One fantastic example: we went to the huge Manchester United vs. FC Barcelona World Football Challenge (US Soccer) game a couple weeks ago and we knew we were going to be on tv as we bought front row seats. The game was televised on ESP2 so we set the DVR to record the whole game and sure enough, we were on national tv! We watch the game over and over again and it's cool that we can watch ourselves on tv! I mean, it was probably only about ten seconds of fame, but hey! It's national tv and we were so thrilled! 🙂
We haven't had the chance to try out some of the other features of FiOS yet, like the cool TV Widgets and FlexView. I'm sure we will be checking them out soon and I will tell you more about those features in my next post!
Looking for a new cable, internet or home phone provider service? Look into Verizon Fios. To see if Verizon Fios is available in your area click here.
Hip Mama's Place Disclosure:

"I wrote this review while participating in a Test Drive campaign by Mom Central on behalf of Verizon FiOS and received a free trial of the products and services necessary to facilitate my review".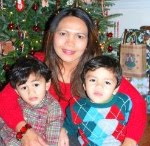 About the Author: Jocelyn Cañasa-Brown is a working mom of two boys and is a recognized blogger and mom influencer in the Washington, DC area. In her spare time, she designs and creates her own handmade jewelry, maintains her jewelry store on Etsy and is an active moms group organizer and leader both online and offline. Hip Mama's Place was nominated for Parents' Picks 2010 Best Parenting Blogs and named one of the Highest Rated Blogs and Sites on Nickelodeon ParentsConnect for the Washington, DC area. Follow Jocelyn on Twitter and/or Facebook.