We were just at Chick-fil-A the other day and I realized, my nine and seven year old boys are getting too old to play at their indoor play area. Still, we love going there for the great food and we go once in a while when mommy needs some quick, "guilt-free" lunch for herself and for her little ones. 😉
Speaking of Chick-fil-A, I just got a heads up from the Chick-fil-A Fair Lakes (VA) folks that they've rolled out a brand new farmers-direct specialty grade coffee called Thrive Farmers Coffee. I'm glad to share this information because I love the idea behind this coffee: it cuts out the middle man (buyer) and uses a farmer-direct business model. Fortune magazine featured the new model in a recent article. What this means is that the local farmers are not only able to better use their land but also receive more income and enrich the community. In other words, when a cup of coffee is purchased from Chick-fil-A, the farmers receive more income from your dollar than if that cup of coffee was purchased from competitors.
With Thrive Farmers Coffee, Chick-fil-A promises better-tasting coffee for their customers while helping to build communities and enriching the lives of local farmers. Coffee that does good for our hard-working farmers .. why not? 🙂
Happy to share as well, that all Washington, DC, NOVA (Northern VA) and Maryland Chick-fil-A locations will be giving away both hot and iced coffee all day from September 29th – October 4th as part of their National Coffee Day celebration on September 29th.
If you live in or around the Baltimore (Maryland) area, check your nearest Chick-fil-A restaurant as they will be running an identical promotion.

For more details or if you want to follow this news from Chick-fil-A, you can go to their Facebook and/or Twitter pages.
*Hip Mama's Place Disclosure: "My reviews and opinions are 100% my own. Chick-fil-A provided me a promotional product to thank me for taking the time to facilitate this post".
Don't miss out on the latest fab deals, cool freebies, fun giveaways, delicious recipes, DIY inspirations and more! Subscribe to the Hip Mama's Place email newsletter, Hip Mama's Place feed reader, or simply "Like" Hip Mama's Place on Facebook and/or follow Hip Mama's Place on Twitter!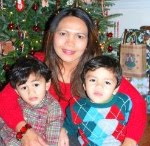 About the Author: Jocelyn Cañasa-Brown is a working mom of two boys and is a recognized blogger and mom influencer in the Washington, DC area. In her spare time, she designs and creates her own handmade jewelry, maintains her jewelry store on Etsy and is an active moms group organizer and leader both online and offline. Hip Mama's Place was nominated for Parents 2011 Best All-Around Mom Blog and named one of the Highest Rated Blogs and Sites on Nickelodeon ParentsConnect for the Washington, DC area. Follow Jocelyn on Twitter, Facebook and Pinterest.