I wasn't kidding when I said that I had an action-packed summer. Here's one summer weekend event I went to that I'm so excited to share with you all! 🙂
Last August 23rd and 24th, I was invited (along with four other bloggers from around the country) to visit and learn more about the National Archives Museum and to experience the tastes of American Heritage Chocolate brand of chocolate food products. I've always wanted to visit this museum, so I was more than thrilled to participate in this event. And… chocolate? Who says no to chocolate? Yesss! Please count me in! 🙂
The #ChocolateHistory Experience: American Heritage Chocolate
Part of my overall excitement about this trip was because I knew I'd get to learn more about one of my favorite foods: chocolate!
At this trip, we talked about the history of chocolate and then made two yummy recipes using products from the American Heritage Chocolate brand: No-Bake Peanut Butter and Chocolate Buckeyes and Frozen Hot Chocolate. I'll make sure to feature these recipes on separate posts. But in the meantime, try not to drool over these photos. 🙂
It was truly a fun-filled afternoon hanging out, baking and eating chocolate with fellow bloggers Tammilee from TammileeTips.com, Angela from AboutAMom.com, Karen from 365DaysOfCrockpot.com and Jen from BeautyanddBedlam.com. Jennifer F., a chocolatier representative from Dove Chocolate Discoveries, helped guide us throughout the fun, hands-on baking activity.
I'm sure many of you chocolate lovers have heard of the American Heritage Chocolate Historic Chocolate brand before. But for those of you are not familiar with it or want to learn more, here are some interesting facts:
American Heritage Chocolate is based on historic recipes from the 18th century which included spices such as cinnamon, nutmeg, chili pepper, orange, anise and vanilla.
Made in Elizabethtown, PA, the chocolates from American Heritage Chocolate are produced using small-scale equipment with some concessions to the modern era. For example, the steel mixers used to make the chocolate and blend in the spices are powered by electricity. The process also follows modern sanitation practices, and the packaging complies with modern product safety regulations. Much of the process and packaging is done by hand, reminiscent of how it would have been done in the 1600-1700s.
American Heritage Chocolate is Kosher-certified, made without dairy, wheat, peanuts, and tree nuts, and is made in a facility that does not contain peanuts and tree nuts.
American Heritage Chocolate does not contain any of the top eight allergens responsible for 90% of food allergies: milk, egg, peanut, tree nuts, fish, shellfish, soy, or wheat. The chocolate is produced in a production line that does not use any of these top eight allergens.
American Heritage Chocolate products are are not sold in regular grocery stores or mass market stores. You can only buy them in Museums and living history sites as well as fine gift shops across North America or on their website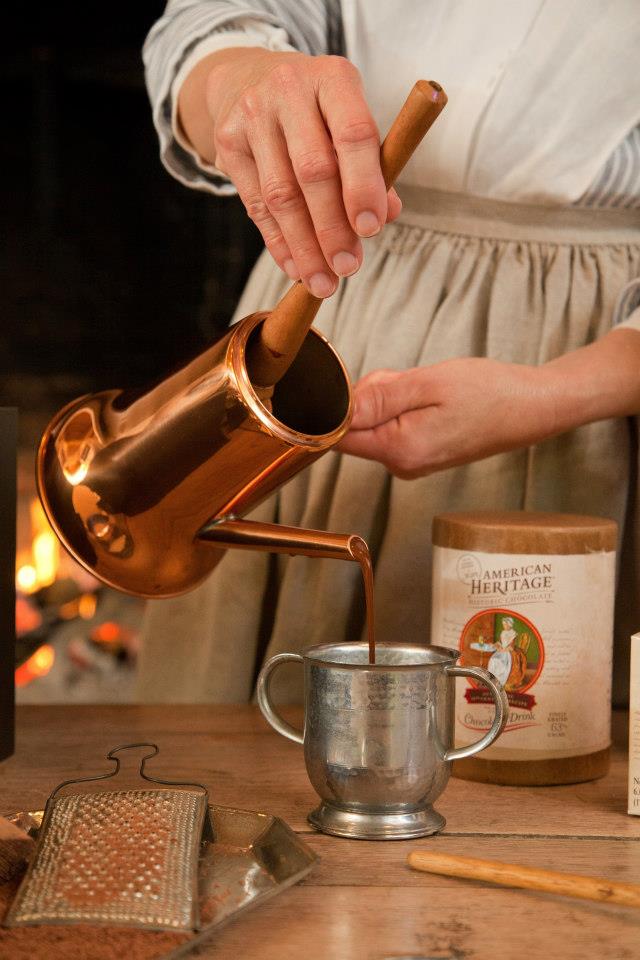 If you plan to visit Colonial Williamsburg and the Monticello (Thomas Jefferson's home) in Virginia this month, check out the the events coming up where you get to experience the decadence of American Heritage Chocolate chocolate food products too!
I've made a few recipes using American Heritage Chocolate products and I can tell you, I'm an instant fan! I will be featuring my own recipe here on a separate post. Meanwhile, you can learn more about the American Heritage Chocolate brand, buy American Heritage Chocolate goods, find new delicious chocolate recipes to try, or learn about the history of chocolate by visiting their website at: www.AmericanHeritageChocolate.com
The National Archives Museum
Whether you're a local or an out-of-towner, if you have a day off in Washington, DC, spending some time at the National Archives Museum is a no doubt.
I never knew the National Archives Museum would open up my eyes more to the richness of America's cultural heritage by learning about public records and documents that they preserve and protect. Designated as the nation's official record keeper, the National Archives and Records Administration (NARA) at the National Archives safeguards and provides these records for public access… and they sure do an excellent job doing what they're needed to do.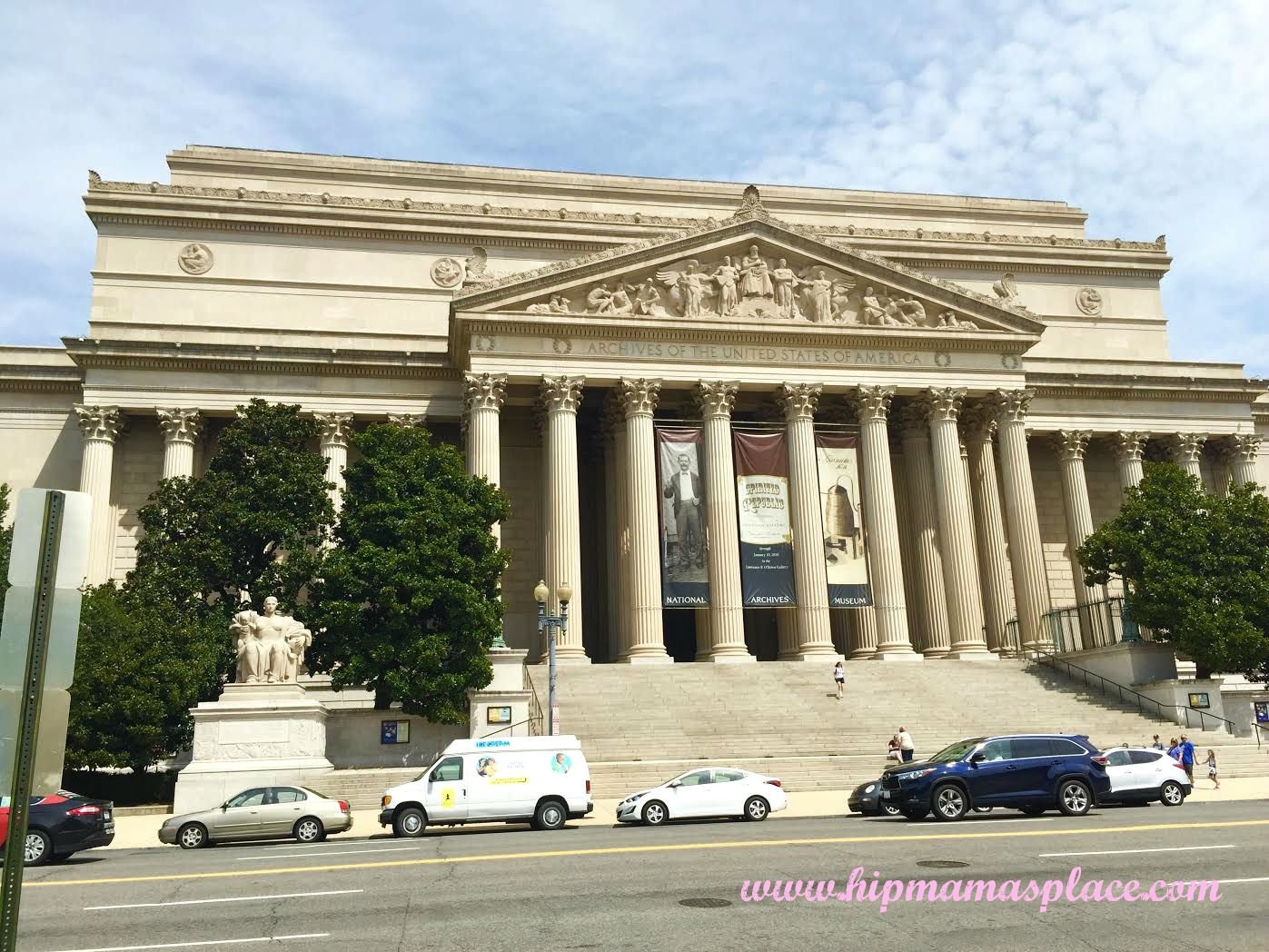 Our National Archives Museum tour was headed by Babs Pinette, Director of Marketing and Communications at the National Archives Foundation. We started the tour at the The Rotunda for the Charters of Freedom and learned that it's where the original Declaration of Independence, Constitution of the United States, and Bill of Rights are housed permanently. Did you know that these three documents, known collectively as the Charters of Freedom, have secured the rights of the American people for more than two and a quarter centuries? I know I've learned that from my history class, but it's neat how exploring a museum like The National Archives can refresh your memory and leave you feeling hungry for more stories like these about our country — and just by looking at or browsing through records and documents! There were also other additional records from the National Archives at The Rotunda that will help you understand the making of the charters and their influences, as well as their impact throughout our country's history.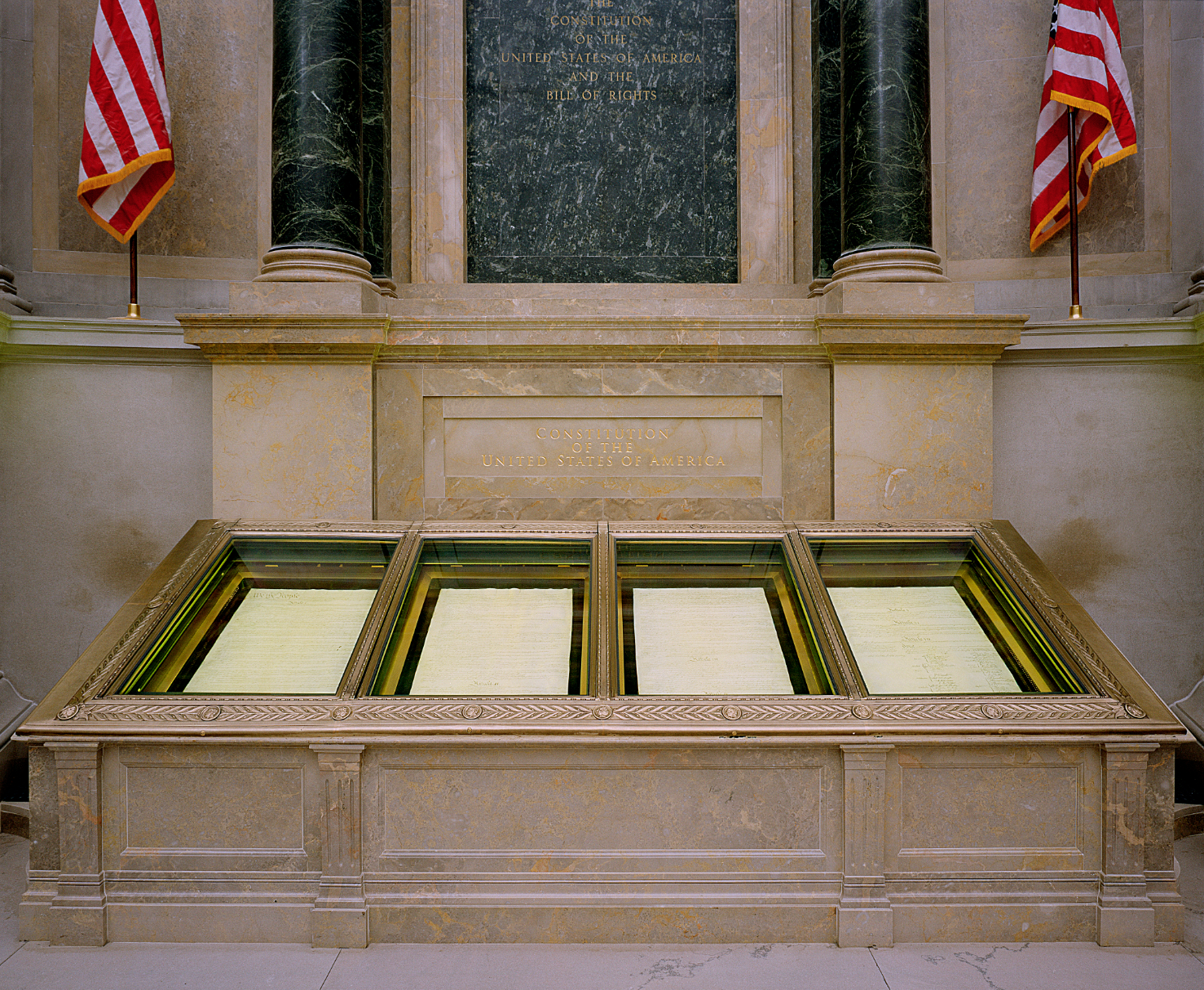 And let me just say, you'll stand in awe in the middle of this huge, ornate space called The Rotunda. It was designed by architect John Russell Pope as a shrine to American democracy. The two beautiful murals on each side of the wall was painted by American artist Barry Faulkner and depict fictional scenes of the "presentations" of the Declaration of Independence and the Constitution. It's really a sight to behold and I can say, your visit to the National Archives Museum won't be complete without exploring The Rotunda for the Charters of Freedom!
The "Public Vaults" is where you'll experience the feeling of going beyond the walls of the Rotunda into the stacks and vaults of the National Archives. It's a permanent exhibition in the National Archives Museum where you can find find 1,100 records — both originals and facsimiles — including documents, photographs, maps, drawings, and film and audio clips drawn from the more than 10 billion pages of textual records; 12 million maps, charts, and architectural and engineering drawings; 25 million still photographs and graphics; 300,000 reels of motion picture film; and 400,000 video and sound recordings that make up the records of the Archives… and more! For those that can't visit the museum physically to explore these records, you can still do so online through the Digital Vaults.
Another permanent exhibit worth exploring located on the main floor of the National Archives Museum is the "Records of Rights" exhibition in the new David M. Rubenstein Gallery. Here you'll learn documents and stories of many individuals, including African-Americans, women, and immigrants, whose struggle for rights in the decades following the Declaration of Independence. The exhibit also features the 1297 Magna Carta, the only copy of "the great charter" on public display in the United States. It's so neat that visitors can easily "read" the Latin document through a translation feature and to explore the connections between Magna Carta and American legal history, as well as the elements of Magna Carta that influenced our own Charters of Freedom – thanks to its state-of-the-art technology! At the center of the gallery and the "Records of Rights" exhibit, visitors can become part of the exhibit by exploring and sharing additional records at the 17-foot interactive table. You can also experience this exhibit online at recordsofrights.org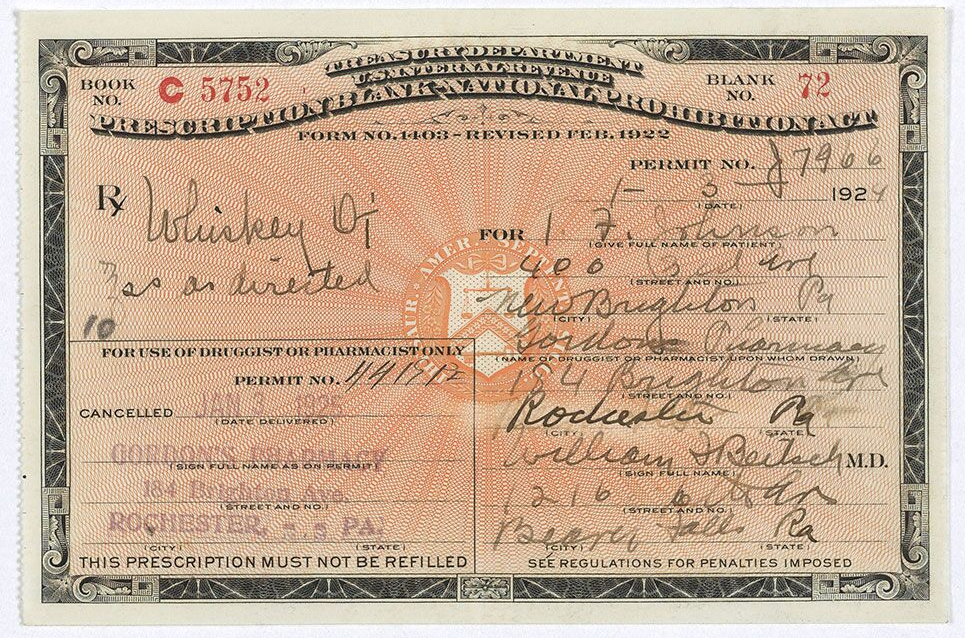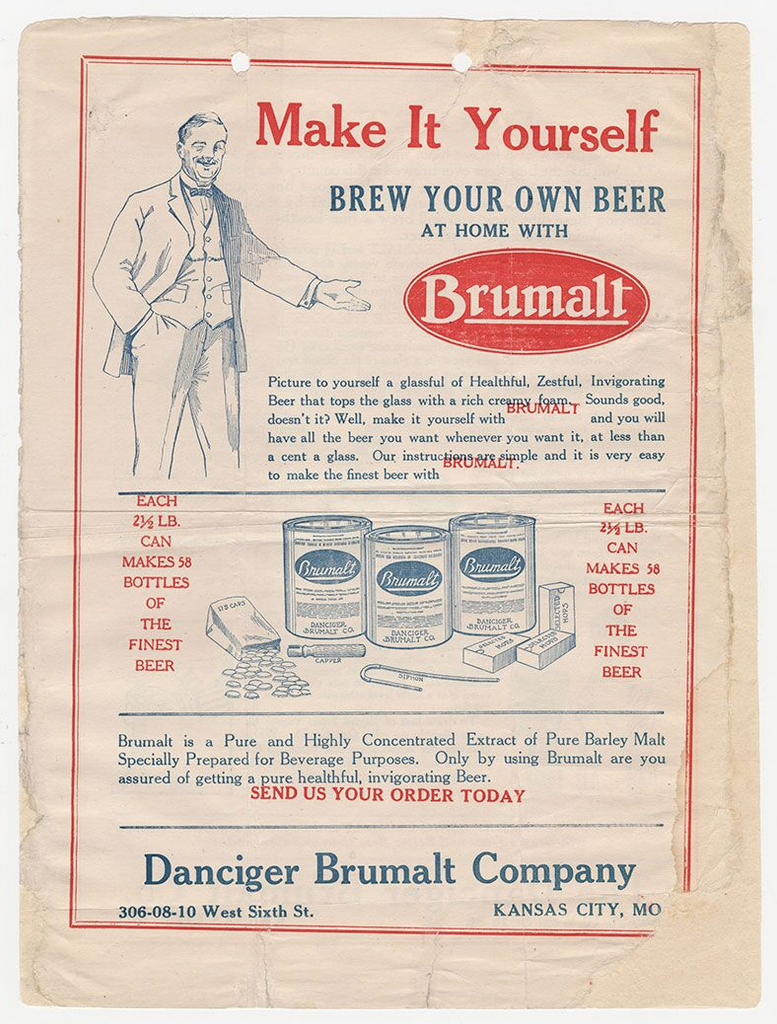 Our visit to the National Archives Museum also included seeing the "Spirited Republic" special exhibition at the Lawrence F. O'Brien Gallery. This latest temporary exhibition explores the role of the government and alcohol in American society. Here, you'll see through various moments of public debate, from the Civil War and Prohibition (and its repeal) to the 20th century when various alcohol and health public service campaigns were mounted. It was very interesting to see alcohol-related records such as posters, government created films, patent drawings, artifacts, and petitions at this exhibit. Equally fascinating was learning about the surprising role the Federal Government played in regulating, promoting, investigating, and prohibiting alcohol production, sale, and consumption in the early 1900's. In 1924, a doctor can prescribe whiskey for alcohol to treat a number of ailments such as cancer, indigestion and depression (see Prohibition Era Prescription for Whiskey, 1924. Source: National Archives). You can learn more about the current and upcoming special exhibits online at the Lawrence F. O'Brien Gallery page.
To complete our National Archives Museum trip, we stopped at their amazing MyArchives Store where one can find all sorts of one-of-a-kind gifts, books, apparel, jewelry, posters and more! I could browse through this store for hours and find lots of things for myself, my friends, my family.. literally for anyone here! I did get a cute mug for my husband and a super cool, vintage-themed shirt for our teenage son and they both loved them! 🙂
I know there are tons of wonderful places to explore in the capital city. But I'll tell you, please don't pass up on a chance to visit the National Archives museum if you have the time. I can assure you, you won't be disappointed! Our visit was truly memorable and one amazing experience I will always remember whenever I think of Washington, DC.
After exploring the National Archives Museum, our group went on a private bus tour to see some more of Washington, DC's most popular, "must see" historic places. I live not not far from this most lively, vibrant city and have been to all these places a few times before. But honestly, I'm still fascinated by them all …. just like the first time I've experienced seeing or exploring them!
How about you? Do you love exploring Washington, DC? What is your favorite historic place to visit here? Share your thoughts with me! 🙂
Disclosure: "This post is sponsored and written by me as part of my participation in the American Heritage Chocolate and National Archives Washington, DC Blogger Tour. I received samples of the products and compensated for my time and participation. All views and opinions are entirely my own".