Tomorrow, February 6 is National Frozen Yogurt Day and a few businesses are offering FREE frozen yogurt (FroYo). We love yogurt and we treat ourselves to it at our local yogurt place at least two times a week, usually as an after dinner dessert. 🙂

Here are a few places that are offering FroYo on February 6th:

Menchies – Go "Like" Menchie's on Facebook and score a coupon for the first 6 oz. of your mix FREE on February 6th. Enter your email to join their mailing list or sign up for Menchie's mySmileage club for exclusive offers and free rewards here.

Pinkberry – Go "Like" your local Pinkberry store Facebook page, and show your local store via printout or on a mobile device, and they will give you a FREE frozen yogurt at Pinkberry on February 6th between 3-7pm!

RaceTrac – Get a FREE Swirl World from 4 – 7 p.m. TOMORROW, Thursday, Feb. 6 at all Swirl World locations. Find the nearest store at www.racetrac.com

Yogurtland – They have already celebrated National Yogurt Day on Feb 3rd, but you can still register to be a Yogurtland Real Rewards member (free to join) now until February 7th to receive a FREE 6-ounces of frozen yogurt.


Don't miss out on the latest fab deals, cool freebies, fun giveaways, delicious recipes, DIY inspirations and more! Subscribe to the Hip Mama's Place email newsletter, Hip Mama's Place feed reader, or simply "Like" Hip Mama's Place on Facebook and/or follow Hip Mama's Place on Twitter!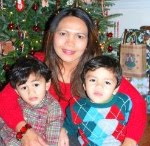 About the Author: Jocelyn Cañasa-Brown is a working mom of two boys and is a recognized blogger and mom influencer in the Washington, DC area. In her spare time, she designs and creates her own handmade jewelry, maintains her jewelry store on Etsy and is an active moms group organizer and leader both online and offline. Hip Mama's Place was nominated for Parents 2011 Best All-Around Mom Blog and named one of the Highest Rated Blogs and Sites on Nickelodeon ParentsConnect for the Washington, DC area. Follow Jocelyn on Twitter, Facebook and Pinterest.