Looking for something worthwhile (and free) to do with your kids this weekend? If you're in the Washington, D.C. metro area, you can head over to the National Geographic Museum to see Flying Monsters 3D movie for free, with the purchase of a Museum admission! This free offer is only valid this weekend, December 14th and 15th.
Movie overview:

For thousands of years, humans believed that flying monsters existed. They became mythologized, with stories about them shared around the world. Could they have really existed? Millions of years ago dinosaurs were on their rise to dominate Earth. But another group of reptiles was set to make an extraordinary leap: Pterosaurs were about to take control of the skies. The story of how and why these mysterious creatures took to the air is more fantastic than any fiction.

Go here for more details and show times. 3D movie tickets at the National Geographic Museum are regularly $7 each, but you can go enjoy a free 3D movie with your kids this weekend. Sounds like fun! 🙂
Don't miss out on the latest fab deals, cool freebies, high value coupons, fun giveaways, sweepstakes and more! Subscribe to the Hip Mama's Place email newsletter, Hip Mama's Place feed reader, or simply "Like" Hip Mama's Place on Facebook and/or follow Hip Mama's Place on Twitter!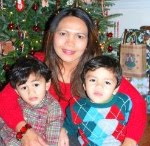 About the Author: Jocelyn Cañasa-Brown is a working mom of two boys and is a recognized blogger and mom influencer in the Washington, DC area. In her spare time, she designs and creates her own handmade jewelry, maintains her jewelry store on Etsy and is an active moms group organizer and leader both online and offline. Hip Mama's Place was nominated for Parents 2011 Best All-Around Mom Blog and named one of the Highest Rated Blogs and Sites on Nickelodeon ParentsConnect for the Washington, DC area. Follow Jocelyn on Twitter, Facebook and Pinterest.