Even as I sit down to write this in the comfort of my favorite coffee shop, I am hearing the sirens of the heroes that I respect and admire so very much. They work hard to serve and to protect my community every single day. When I think about how hard these men and women of my local fire and police departments work every day, and they do so tirelessly, I am not only grateful, but I also feel especially safe and secure.
It makes me rest easy just knowing that my family always has these everyday heroes only a phone call away. Whether you live in a small community or a large one, like mine, there are heroes everywhere doing their part to make sure we are always safe. These are the true heroes who day in and day out leave their families to keep our community safe!
I'm all about celebrating our everyday local heroes. That's why I'm excited to participate in Mrs. Fields' "Share Your Hero" campaign to help spread the word about embracing our local heroes who serve their communities all across the country!
I recently asked a good friend of mine, who after serving 10 years in the United States Army, and now is in his second amazing career as a police officer, why he chose to continue to serve in this type of way. His answer was very short and simple and he ever so humbly replied, "I love my country…and I love serving others." Now, that is a true hero. There are so many heroic people in our daily lives, even virtual strangers, who really don't get the recognition that they deserve.
So just a simple thank you can mean a lot. But imagine if along with that thank you, you offered them a sweet treat or two (or three, or four)? Like these delicious, soft and chewy Mrs. Fields Milk Chocolate Chip cookies best paired with milk!  (Yumm.. my whole family loves Mrs. Fields cookies!)
And how admirable that Mrs. Fields is encouraging everyone to visit www.MrsFieldsMoments.com now through October 31st, 2016 so that we can go nominate and vote for our hero/heroes!
What's sweet, your hero could win a $5,000 donation to the charity of their choice, a Hometown Hero event in their honor and $1,000 to thank them for their contributions to their community!  Plus, voters will also get a $1 coupon off a box of Mrs. Fields cookies!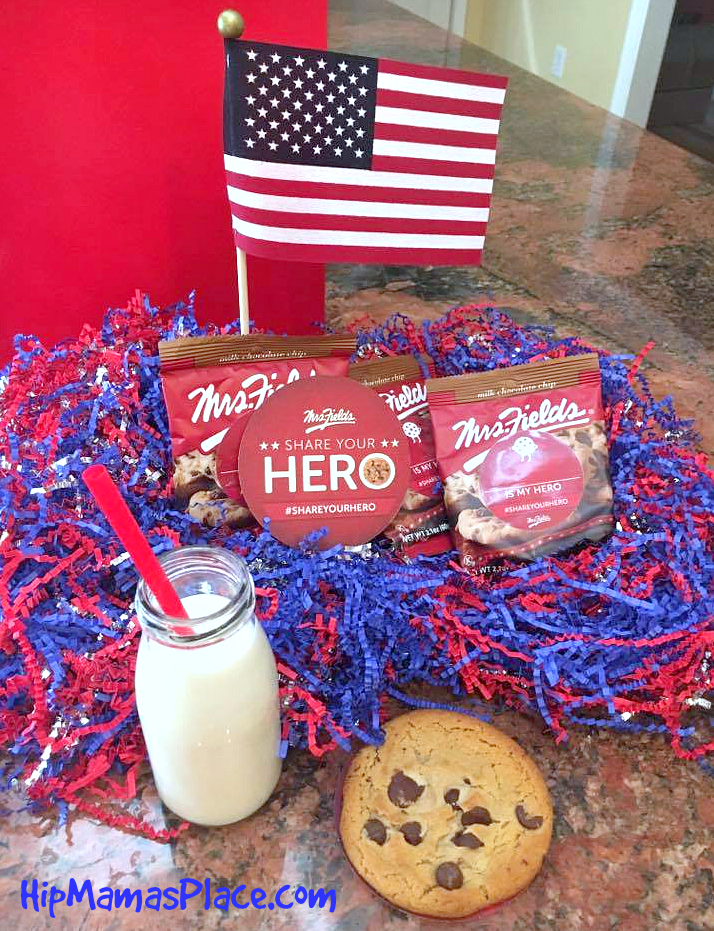 I bet if you sat down right this very minute and thought about it, you could think of someone in your city, town, or community that is a hero! Someone who is in public service maybe? Perhaps someone who you see volunteering at your local church every week? How about that person who is the first one to raise their hand at the PTA meeting?
Heroes are everywhere! They are the people you see who go out of their way to help others! Could you be a hero?