Lionsgate Home Entertainment and top educational toy maker LeapFrog Enterprises, Inc. have teamed up once again to release LeapFrog: The Amazing Alphabet Amusement Park and LeapFrog: Numbers Ahoy this January.
Parents can expect a great combination of education and fun for kids with these new LeapFrog DVDs. I like that they include beneficial bonus features that reinforce the kids' learning such as a parental curriculum, sing-along songs and more. The releases also introduce Scout, Tad and Lily's pet dog who communicates only through barking, yipping and using body signals. This animated character is wacky and mischievous and provides a chock-full of entertainment throughout each of the episodes.
I can be picky with what my kids watch on tv but I know I can never go wrong with LeapFrog DVDs. We owned a few of the earlier LeapFrog DVD titles and my kids have really enjoyed them. I love that LeapFrog really emphasizes on strong educational content in each of their episodes, the characters are all wholesome and lively and the songs are generally fun and catchy. Jaden, my three year old, is now really into the alphabets and really enjoys watching the LeapFrog: The Amazing Alphabet Amusement Park. On the other hand, my five year old Gabriel thoroughly enjoyed LeapFrog: Numbers Ahoy. Expect a lot of giggles, dance and sing alongs from your kids with these fun to watch, excellent educational DVDs from LeapFrog!
Synopses:
LeapFrog: The Amazing Alphabet Amusement Park


LeapFrog The Amazing Alphabet Amusement Park (Ages 3-6): When their firefly friend, Edison, takes Tad, Lily and Scout to the place of his childhood dreams, the gang is shocked to discover that Alistair Alphabelly's Amazing Amusement Park is… closed! To make matters worse, Edison has gotten himself stuck atop the Fantastical Ferris Wheel. The only way to save him is to turn on the rides in the park with the magic of the alphabet. Now the children must learn all of the letters, big and small, to save their friend, save the day and perhaps even meet the rhyme master himself, Alistair Alphabelly!
LeapFrog: Numbers Ahoy


LeapFrog: Numbers Ahoy (Ages 3-6): Tad and Lily need a little number sense to help them get through a complicated game. So their magical firefly friend, Edison, takes them on a fantastical journey under the sea! When a pirate mistakenly captures their cute puppy pal Scout, they must use their new understanding of counting, grouping and estimating to rescue him. Join them as they navigate the deep and face foes such as sharks, crab henchmen—even Pirate Pythagoras himself—and begin to see numbers in a whole new way!
Both LeapFrog: The Amazing Alphabet Amusement Park and LeapFrog: Numbers Ahoy are now available at Amazon and at leading book retailers for the suggested retail price of $14.98 each.
*WIN IT!
One of you, lucky Hip Mama's Place reader, will win both LeapFrog DVD titles: The Amazing Alphabet Amusement Park and Numbers Ahoy, courtesy of LeapFrog and Lionsgate Home Entertainment!
To enter the contest, leave me a comment by February 14th, 2011 at 12MN, EST. THIS IS YOUR MANDATORY CONTEST ENTRY.
This contest is open to U.S. ADDRESSES ONLY. Please leave your email address (if you don't have a blog). I will choose one (1) winner using Random.org and will be announced as a comment on this post. The winner will also be notified by email and/or through a comment on their blog (if available).
*IMPORTANT: PLEASE DO NOT CROSS-PROMOTE ANY OTHER GIVEAWAYS HAPPENING ON ANY OTHER BLOG OR WEBSITE. ANY SPAM COMMENTS WILL BE DELETED IMMEDIATELY.
*EXTRA ENTRIES for many chances to win!
Your comment is your one required/mandatory entry. To earn extra entries, just do the following:
1. Tweet this giveaway on Twitter however you like, but include this URL page and hash tags at the end of your comment: http://bit.ly/e4fmsR #Leapfrog #giveaways (5 EXTRA ENTRIES)
Example:



I want to win the LeapFrog DVD giveaways @hipmamasplace! http://bit.ly/e4fmsR #Leapfrog #giveaways
2. Like or Become a fan of LeapFrog on Facebook and post on their wall that Hip Mama's Place sent you (3 EXTRA ENTRIES)
3. Follow LeapFrog on Twitter (3 EXTRA ENTRIES)
4. Like or Become a fan of Hip Mama's Place on Facebook and post a comment on our wall and tell me why you like visiting Hip Mama's Place or reply to the latest post on our wall (3 EXTRA ENTRIES)
5. Follow Hip Mama's Place on Twitter (3 EXTRA ENTRIES)
6. Follow me or friend me on Google Friend Connect (link is under "Our Hip Followers" on the left side bar) (3 EXTRA ENTRIES)
7. Join the Hip Mama's Place Community and EARN 2 EXTRA ENTRIES. You can earn 3 more extra entries by creating a new post or join in on the conversations on the "Forum" section of our mom community. (5 TOTAL EXTRA ENTRIES)
8. Grab one of Hip Mama's Place's buttons under the "Grab Our Fabulous Buttons" on the right hand side bar on our main page and paste it on an HTML page on your blog sidebar. (5 EXTRA ENTRIES)
Remember, the more entries you have, the greater chances of winning! Please make sure to leave a separate comment for each thing you do for your extra entries (i.e. your name on HMP Community name, Google Friend Connect, blog posts, Facebook name, Twitter name and post links, etcetera). Good luck!
*Hip Mama's Place Disclosure: "My reviews and opinions are 100% my own. LeapFrog provided me the LeapFrog DVD titles mentioned in this post to facilitate this review and giveaway".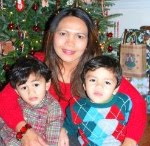 About the Author: Jocelyn Cañasa-Brown is a working mom of two boys and is a recognized blogger and mom influencer in the Washington, DC area. In her spare time, she designs and creates her own handmade jewelry, maintains her jewelry store on Etsy and is an active moms group organizer and leader both online and offline. Hip Mama's Place was nominated for Parents' Picks 2010 Best Parenting Blogs and named one of the Highest Rated Blogs and Sites on Nickelodeon ParentsConnect for the Washington, DC area. Follow Jocelyn on Twitter and/or Facebook.