Now through the end of April, kids can enjoy classic stories from legendary children's author and illustrator Eric Carle with his popular books: Brown Bear, Brown Bear, What Do You See? (written by Bill Martin Jr), 10 Little Rubber Ducks, The Very Busy Spider and Does a Kangaroo Have a Mother, Too for just $5 each at Kohl's. The books come with adorable coordinating plush toys that kids can cuddle up with while they read, which are also available for just $5 each.


These merchandise are being offered through the Kohl's Cares® cause merchandise program to benefit children's health and education initiatives nationwide. I love the fact that 100 percent of the net profit from the sale of these items is dedicated for this noble cause. For the past 10 years, the Kohl's Cares program has raised more than $180 million, making a positive impact on the lives of children in communities nationwide.
My children and I love Eric Carle's classic books. Our six year old Gabriel learned his basic numbers and colors quickly because of the book Brown Bear, Brown Bear, What Do You See?. We read it together many times since he was two years old until he could memorize and sing it like this. He loved it!
The books feature Eric Carle's renowned characters and colorful illustrations. From the bold, contrasting colors to an array of animals, each book inspires imagination while taking the child on a path of discovery and visual delight.
"The Kohl's Cares program is a wonderful way to encourage children to read and to help support programs that give back," said Eric Carle. "I'm thrilled that my books will be included and I hope the pictures and stories will entertain, delight, comfort and soothe each child who reads and shares these books."
*Kohl's Cares Cause Merchandise for Kids


Brown Bear, Brown Bear, What Do You See? – On each page, your child will meet a new animal through a rhyme about animals and colors.



10 Little Rubber Ducks – Take your child on a voyage of discovery while following 10 little ducks around the world and learning how to count.



The Very Busy Spider – While watching a spider weave her web, your child will learn about work and farm animal sounds as each animal tempts her to play.
Does a Kangaroo Have a Mother, Too? – Read aloud with your child in this question-and-answer format and learn about animal mothers and their babies.
What a wonderful and expensive gift! For only $10, you can get a classic Eric Carle book with a coordinating plush toy- perfect as a birthday gift for the little one, or as a baby shower gift for the mom to-be!
*Kohl's Cares Cause Merchandise for Parents


Kohl's Cares has a tasty and thoughtful treat for adults, as well with a new cookbook Crazy About Cookies by Krystina Castella which features recipes for delicious cookies that will be the highlight of any party. A set of 15 Eric Carle all occasion note cards will also be featured for just $5 each, which are blank inside and are perfect to use for any occasion.
All Kohl's Cares® cause merchandise items are available for just $5 each at all Kohl's stores nationwide and online at www.Kohls.com. While you're there, also check out the Kohl's Cares Women's Cause Merchandise items, now featuring a special collection exclusively created for Kohl's by Dana Buchman. The lovely items are offered at only $5 to $10 each and 100% of the net profit supports the fight against breast cancer.
In addition to the merchandise program, Kohl's Cares features the Kohl's Cares Scholarship Program, which last year recognized more than 2,100 young volunteers with a total of $410,000 in scholarships and prizes; the Associates in Action program, which encourages associate volunteerism and provided more than $10 million in grants last year to youth-focused nonprofit organizations and fundraising gift cards for schools and youth-serving organizations. For more information, visit www.Kohls.com/Cares.
*Kohl's Cares Eric Carle Gift Set Giveaway!
Lucky you, one Hip Mama's Place reader! Kohl's has offered to give away this wonderful gift set containing items offered from the new Kohl's Cares® Kids' Cause Merchandise program:
– all four (4) books by Eric Carle: Brown Bear, Brown Bear, What Do You See?, 10 Little Rubber Ducks, The Very Busy Spider and Does a Kangaroo Have a Mother, Too

– one (1) Kohl's Cares® Sheep Plush

– one (1) "Crazy About Cookies" cookbook by Krystina Castella

– one (1) set of Eric Carle 15-ct. All-Occasions Note Cards
To enter the contest, you MUST DO all of the following required entries:
1. "Like" Hip Mama's Place on Facebook
2. Follow Hip Mama's Place on Twitter
3. "Like" Kohl's on Facebook
4. Follow Kohl's on Twitter
5. Join the Hip Mama's Place Community, then comment on this post on the forum: "What was your favorite story book as a child and why?". Please include your email address, blog name (if any), and most importantly, your Twitter name and Facebook name to verify if you've done Entries 1-4.
*This contest is open to U.S. residents only and will end on March 6th, 2012 at 12 MN, EST. The winner will be announced on the Hip Mama's Place Community forum and here at Hip Mama's Place. All entry comments must be posted on the Hip Mama's Place Community. This post will be closed for comments.
*Hip Mama's Place Disclosure: "My reviews and opinions are 100% my own. Kohl's provided me the products mentioned on this post necessary to facilitate this review and giveaway."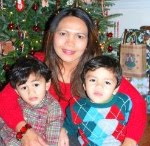 About the Author: Jocelyn Cañasa-Brown is a working mom of two boys and is a recognized blogger and mom influencer in the Washington, DC area. In her spare time, she designs and creates her own handmade jewelry, maintains her jewelry store on Etsy and is an active moms group organizer and leader both online and offline. Hip Mama's Place was nominated for Parents 2011 Best All-Around Mom Blog and named one of the Highest Rated Blogs and Sites on Nickelodeon ParentsConnect for the Washington, DC area. Follow Jocelyn on Twitter and/or Facebook.