There's no doubt that a healthier lifestyle is at the top of most everyone's New Year's Resolution. This year, my husband and I have vowed to make eating healthy and being more active physically become a habit (instead of a chore). That means, we're going to add exercise, eat less fast food and discover more portion-controlled meal options into our daily routine. We've started this new routine already and so far, we've been good! 🙂
And, to help you and me bring in 2011 on a healthier note, Ziploc has recently partnered with Food Network contributor, cookbook author and nutritionist Robin Miller to provide us moms the time and money-saving solutions we all need to create healthy and enjoyable meals and snacks for the whole family!
Here are Robin Miller's tips for the New Year:
Divide and Conquer – Send the children off to school with a nutritious snack each day by creating 100-calorie snack portions. Get creative and have fun by allowing the children to divide nuts, fruit, cereal and crackers into different sections before placing them into Ziploc® Brand Snack Bags. Also, keep a bounty of healthy snacks inside the home, office and car – having them on hand will help you avoid last-minute temptations at vending machines and convenience stores.
Save and Repurpose – Save leftovers in individual portions and enjoy them for lunch the next day. Store them in Ziploc® Brand Containers or Freezer Bags to keep them fresh and ready for on-the-go meals. And don't let those leftover holiday cookies go to waste – freeze and bring them out for a yummy treat when guests come over.
Store and Snack – Enjoy nutritious foods throughout the day to prevent overeating at mealtime. Portion out individual servings of fat-free dressings, vinaigrettes, pesto sauces and bean dips and eat them with baby carrots and zucchini sticks for snacks.
Bake a Batch – Fight the temptation to order take-out by reheating leftovers for another nutritious meal. Just double the batch of your healthy cooking and freeze the leftovers for later in the week.
Prep Multiple Meals– Be resourceful and create two (or more) quick, easy and nutritious meals at once. Look for multiple recipes that have at least four of the same ingredients and use Sunday as a cooking day to prep all the ingredients needed for them. Then simply store everything so each night it's easy and quick to whip up a delicious meal.
I am loving this recipe for Roasted Red Pepper Hummus.. so yummy and healthy!
Serving size:• Makes 2 1/4 cups (serving size: 1/4 cup)
Ingredients:• 1 can (16 ounces) chickpeas, rinsed and drained

• 1 can (16 ounces) white beans (Cannellini or Great Northern), rinsed and

drained

• 1 cup roasted red peppers, from water-packed jar, about 2 whole peppers

• 2 tablespoons fresh lemon juice

• 2 cloves garlic, peeled

• 1/2 teaspoon ground cumin
Optional sides:• Whole wheat pita pockets, cut into triangles

• Pretzel twists

• Carrot, zucchini and celery sticks
Directions:1. In a blender or food processor, combine all ingredients but the optional sides.

2. Puree until hummus is smooth and thick.

3. Serve with pita triangles, pretzel twists or carrot, zucchini and celery sticks.

4. Refrigerate leftovers in an airtight Ziploc® Brand Twist 'n Loc® Container

(hummus will keep up to one week in the refrigerator).
Tip: Divide servings of the recipe in Ziploc® Brand Extra Small Containers to grab for an easy on-the-go time and money-saving snack. Pair with pretzel twists and veggies in Ziploc® Brand Snack Bags for easy portion control and a healthy start to the New Year!
For more of Robin's tips on staying healthy year-round, visit Ziploc on Facebook today!
Hip Mama's Place Disclosure: "My reviews and opinions are 100% my own. I received Ziploc products mentioned in this post to facilitate my review. I was in no way influenced by Ziploc or any other party while writing this review".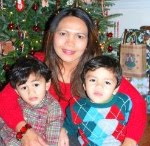 About the Author: Jocelyn Cañasa-Brown is a working mom of two boys and is a recognized blogger and mom influencer in the Washington, DC area. In her spare time, she designs and creates her own handmade jewelry, maintains her jewelry store on Etsy and is an active moms group organizer and leader both online and offline. Hip Mama's Place was nominated for Parents' Picks 2010 Best Parenting Blogs and named one of the Highest Rated Blogs and Sites on Nickelodeon ParentsConnect for the Washington, DC area. Follow Jocelyn on Twitter and/or Facebook.