Coca-Cola has recently launched a new lower-calorie soda in the U.S. called Coca- Cola Life and has chosen The Fresh Market as the exclusive retail partner. Starting today, August 25th, through mid-October, stop by The Fresh Market's 65 select stores across the Southeast in Georgia, Florida, North Carolina and South Carolina and enjoy this delicious, new lower-calorie cola sweetened with a blend of sugar and naturally sourced stevia leaf extract.
First introduced in 2013 in Argentina and Chile, Coca-Cola Life contains a third less sugar and a third fewer calories than leading colas. Coca-Cola Life's sweetness comes from a blend of sugar and stevia leaf extract. Stevia leaf extract is naturally sourced from the stevia plant, which is native to Paraguay. Sweeteners made from stevia are calorie-free and up to 200 times sweeter than table sugar. A 330-ml can of Coca-Cola Life contains 89 calories.

And if you're close to any of the 65 select The Fresh Market stores during the weekend of Saturday, September 27 and Sunday, September 28, you'll have the chance to sample Coca-Cola Life, plus receive a coupon for $1 off any eight ounce six-pack of Coca-Cola glass bottle products.
For more information on The Fresh Market locations carrying Coca-Cola Life, go here.
Don't miss out on the latest fab deals, cool freebies, fun giveaways, delicious recipes, DIY inspirations and more! Subscribe to the Hip Mama's Place email newsletter, Hip Mama's Place feed reader, or simply "Like" Hip Mama's Place on Facebook and/or follow Hip Mama's Place on Twitter!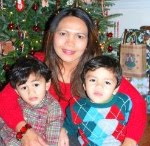 About the Author: Jocelyn Cañasa-Brown is a working mom of two boys and is a recognized blogger and mom influencer in the Washington, DC area. In her spare time, she designs and creates her own handmade jewelry, maintains her jewelry store on Etsy and is an active moms group organizer and leader both online and offline. Hip Mama's Place was nominated for Parents 2011 Best All-Around Mom Blog and named one of the Highest Rated Blogs and Sites on Nickelodeon ParentsConnect for the Washington, DC area. Follow Jocelyn on Twitter, Facebook and Pinterest.