This post was sponsored by La Roche-Posay as part of an Influence Central campaign and all opinions expressed in my post are my own.
Summer might be winding down, but it doesn't mean the temperatures have dropped yet. We're still sweating it out in the heat and humidity here in Northern Virginia and for me and my family, protecting our skin from the sun's damaging UV rays whenever we are outdoors is still high on the priority list.
Recently, we went to have our last summer beach vacation in the Outer Banks in North Carolina and boy, did we spend most of our time on the beach and outdoors while we were there. We did a lot of fun activities for the kids and enjoyed our vacation very well. Consequently, I also take sun protection for myself and for my family very seriously and thanks to the NEW La Roche-Posay Anthelios Dermo-Kids SPF 60 Sunscreen, my kids' skin were well protected.
So… here's some interesting fact for you all parents with young kids like I do:
Do you know that a majority of children are overexposed to UV rays, and that skin damage can occur within 15 minutes of stepping outside? Children are unable to assess the threat of overexposure, which contributes to accumulated skin damage that often doesn't appear until later in life. *Just 5 sunburns before the age of 20 can increase the risk of melanoma by +80%!
Now, that is quite alarming… but a good to know fact, isn't it?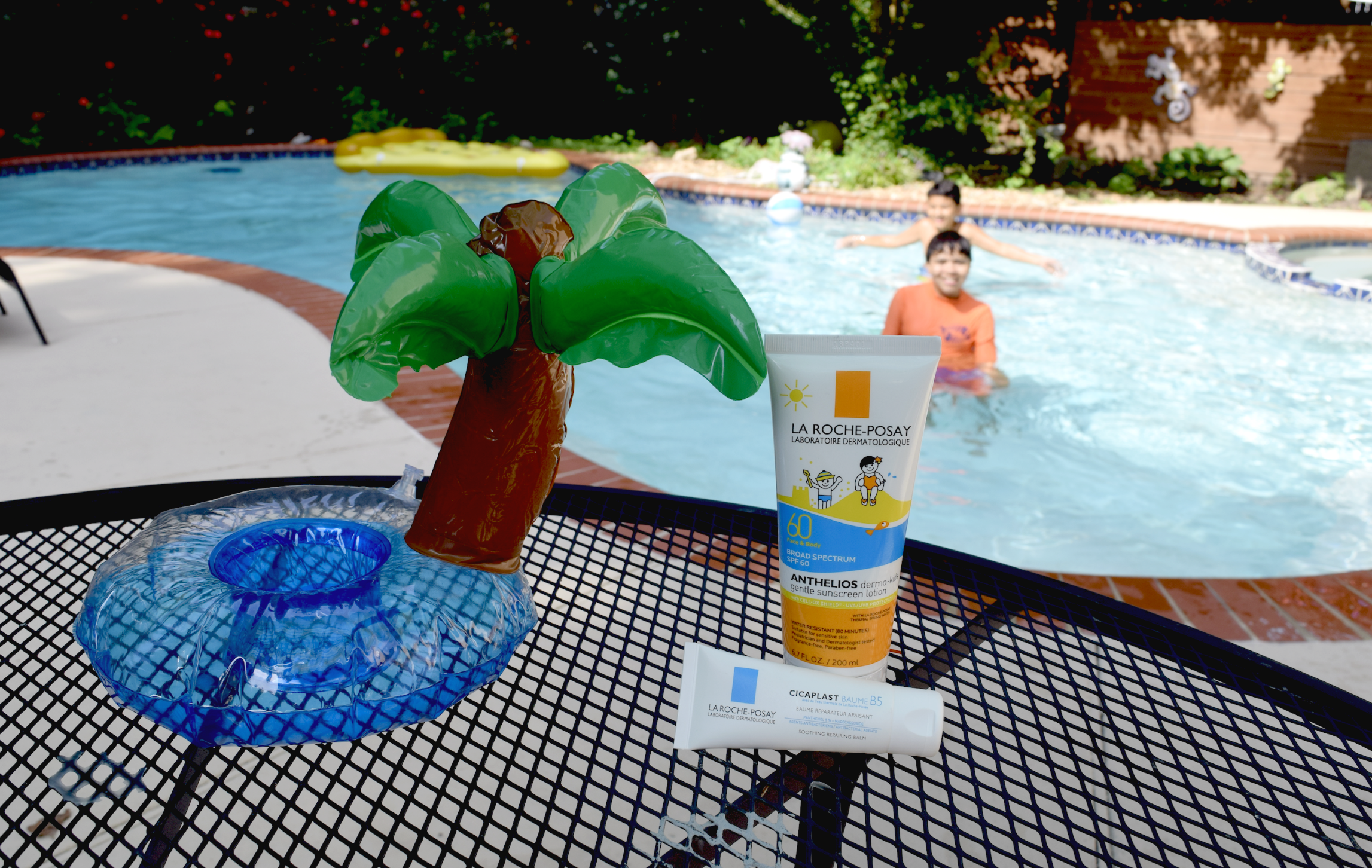 So I'm glad we have ANTHELIOS Dermo-Kids Gentle Sunscreen Lotion SPF 60 formulated with advanced CELL-OX SHIELD®technology: UVA/UVB protection + antioxidants such as Vitamin E to help neutralize UV-generated free-radical damage. I really don't like goopy sunscreens that leave a white film on the skin, so I love that this sunscreen has that lightweight texture and has safe, gentle ingredients that I'm confident to use on my children's sensitive skin.
Most kids are probably done being outdoors around this time of year.. but not for mine! We have a family swimming pool so my boys literally live in the swimming pool all summer! Yep. As long as we are home and the weather allows for it, they are in the pool! 🙂
So I love that ANTHELIOS dermo-kids gentle sunscreen lotion SPF 60 also provides 80-minute water resistant protection so that I don't have to re-apply the sunscreen to my kids every 30 minutes or so. It's also rich in antioxidant, soothing La Roche-Posay Thermal Spring Water and moisturizing glycerin. And a huge bonus? It contains no yucky stuff you'll find in other kids' sunscreens such as fragrance, parabens, oils, oxybenzone and retinly palmitate. My twelve year old would be the first to tell me he needs sunscreen before he goes out to swim or go outdoors. He's well-trained on sunscreen protection. 😉
La Roche-Posay Anthelios Dermo-Kids sunscreen also comes with My UV Patch, the first connected stretchable UV patch that's ultra-thin, ultra-water resistant and adapted to sensitive skin. It works with My UV Patch app to provide you with personalized information when you are exposed to sun. The UV Patch mobile app is available on both iOS and Android. You can get 2 free MY UV patches with any Anthelios Dermo-Kids Sunscreen purchase on La Roche-Posay's website, while supplies last.
Another product from La Roche-Posay that my family and I recently tested is the Cicaplast Baume B5 – a multi-purpose balm suitable for all dry irritated areas of the skin that immediately soothes and intensely moisturizes. Suitable for adults, children, and babies over six months, Cicaplast Baume B5 contains skin-soothing Panthenol (CVitamin B5), moisturizing glycerin, lipid replenishing shea butter, copper, zinc and manganese. I tried it on my dry lips and it left them soft and moisturized after a few applications. My elbows and knees also tend get very dry especially after a dip in the family hot tub, so I have been loving Cicaplast Baume B5 for these dry areas on my skin!
To check out these great La Roche-Posay sun care products for yourself and for your family, get them at your local CVS pharmacy store, Amazon.com and La Roche-Posay website, or use the La Roche-Posay store locator to find their skincare products near you!
For the latest news and updates on La Roche-Posay, follow them on their social media pages:
*http://www.skincancer.org/skin-cancer-information/skin-cancer-facts; Godar DE, Urbach F, Gasparro FP, Van der Leun JC. UV doses of young adults. Photochem Photobiol 2003; 77(4):453-457