The lovely music and style icon, Kelly Rowland, has been named this year's new Caress Fabulista.
Kelly is excited to inspire women to enjoy everyday experiences in a fresh, new way. She knows how important it is to start every morning feeling fabulous!

"As an artist, I am always looking for inspiration and to find the beauty in all that surrounds me. For me, it starts in the shower with a great fragrance that gets me in the right frame of mind and sets the mood for my day," said Rowland. "That is why I am so excited to team up with Caress®. The new Caress® Emerald Rush™ Body Wash is my current must-have because its scents of Lush Gardenia & White Tea are so uplifting–it revitalizes me every time I use it and I want women to experience the same thing!"
The new Caress Fresh Body Wash Collection brings freshness made with revitalizing fine fragrance and comes in three scents: Caress® Emerald Rush™ Body Wash and Beauty Bar infused with Lush Gardenia & White Tea Essence; Caress® Aqua Sparkle™ Body Wash infused with Lilac Blossom & Aquamarine Essence; Caress® Juicy Escape™ Body Wash infused with Sun Kissed Lily & Pink Grapefruit Essence.
Another style maven, Adriana Castro, is also named a Caress Fabulista. Adriana is a handbag designer, style trendsetter and founder of El Diario de la Moda. Watch Adriana and Kelly share seasonal style look books, plus tips and videos with fresh, on-trend beauty and style inspirations all year on the Caress® Facebook page.
Just recently, Caress sent me all of the Caress Fresh Body Wash Collection to try for myself and invited me to be a Caress Fabulista as well. I am so honored and how fabulistic for me- I already use and love Caress body washes! 🙂
Personally, I love the Aqua Sparkle scent. It reminds of the ocean.. the sweet smell of Spring . And if you love the scent of lilac flowers like I do, you'll love this body wash too! Thanks, Caress! 🙂
The new Caress Fresh Body Wash Collection is now available for purchase at your nearest grocery and mass retailers.
*Hip Mama's Place Disclosure: "This post is part of a sponsored campaign for Caress. While I receive products or compensation for my time, rest assured that my reviews and opinions are 100% my own. I only write about products and services that I like and/or already use and feel comfortable recommending to my readers".



Don't miss out on the latest fab deals, cool freebies, fun giveaways, delicious recipes, DIY inspirations and more! Subscribe to the Hip Mama's Place email newsletter, Hip Mama's Place feed reader, or simply "Like" Hip Mama's Place on Facebook and/or follow Hip Mama's Place on Twitter!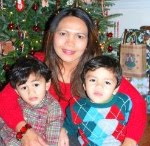 About the Author: Jocelyn Cañasa-Brown is a working mom of two boys and is a recognized blogger and mom influencer in the Washington, DC area. In her spare time, she designs and creates her own handmade jewelry, maintains her jewelry store on Etsy and is an active moms group organizer and leader both online and offline. Hip Mama's Place was nominated for Parents 2011 Best All-Around Mom Blog and named one of the Highest Rated Blogs and Sites on Nickelodeon ParentsConnect for the Washington, DC area. Follow Jocelyn on Twitter, Facebook and Pinterest.